Advertiser & Editorial Disclosure
If you need a short-term loan, Kabbage can be a pretty effortless way to get instant cash. It is a competitive option to credit card cash advances in terms of cost to borrow money. It takes just minutes to apply, and the Kabbage funding can be deposited in your checking account the next day. The efficiency is amazing…but you pay a price for it. It's important to note that the cost for Kabbage loans is higher than
online term loans
but is at the lower end for
cash flow loans
.
Kabbage Overview
Lending partner Kabbage offers access to working capital through a line of credit, currently from $2,000 up to $250,000. If you're approved, you can choose 6, 12, or 18-month repayment terms, depending on the amount you borrow.
Once you're approved for a certain amount, you are under no obligation to take the funds. Take some now and take more later when you need it. That's the beauty of a line of credit.
You can use the funds for anything you want in your business, including:
Buy inventory
Smooth out cash flow
Invest in equipment
Cover payroll
Expand your products or services
Invest in marketing
Hire employees
The Kabbage fee structure is fairly straightforward. Your monthly fee will range from 1.5% to 10% of the outstanding loan amount, based on your qualifications (see below). Monthly payments will cover both the loan principal plus that monthly fee. The first two months, you'll be charged a higher fee.
You have the option to get the Kabbage Card, which lets you pay for expenses using your Kabbage funds just like any debit card.
And the Kabbage mobile app is handy for applying for funds, looking at your balance, or paying on your loan when you're on the go. It's available for both Apple and Android devices.
In this Kabbage review, we'll look at both the pros and cons of getting a Kabbage loan, as well as what the actual application process looks like.
Kabbage Loan Pros
Applying for a Kabbage line of credit is fast and easy, and qualification requirements are generally transparent.  Decisions are generally made very quickly and funds are available quickly as well. You don't have to have perfect credit to qualify.  One benefit is that, rather than Kabbage only checking your personal credit scores to see if you qualify, it also looks at your business performance. If you have a business credit report, the company may also use that to determine whether you qualify.
If you don't have stellar personal credit, but do have solid business activity, you can still qualify without having to meet a minimum credit score, since that's only part of the qualification formula.
Kabbage Loan Cons
Like with any type of business financing, when you borrow money, you pay for the privilege. Short-term loans with an online lender like Kabbage have a higher interest rate than traditional loans and typically have a shorter repayment period.
And while most of the time, you can get approved within minutes, that only applies if you want up to $200,000. Lines of credit higher than that require a manual review, and that may take a few days.
Another drawback: Kabbage doesn't report your loan payments to credit bureaus, which means you won't build credit history through this financing tool.
Kabbage Loan Borrower Qualifications
Kabbage loan requirements state that your business needs to be at least a year old and that you should have annual revenue of $50,000 (or $4,200 a month over the last three months).
In addition to these qualifications, Kabbage looks at several financial performance indicators like how consistent your revenue is, your cash flow, and your personal credit scores.
If you sell products online, Kabbage can access your e-commerce data through sites like Etsy and Amazon, as well as your Paypal account to analyze your online revenues and determine how much money you qualify to borrow.
Curious what kind of financing you qualify for? Get your free business credit scores here to get started!
Kabbage Business Loan: The Application
It's one thing to look at different business financing options to see which seems best for you, but the real test comes from what the actual application process looks like, as well as how fast you can get your funds.
Here's a step-by-step walk through of the Kabbage application process so you know what to expect. (Note this application was completed January 2020. It may change in the future.) 
First, if you click on "Apply Now" at the top of the homepage, you'll be directed to this page to create an account.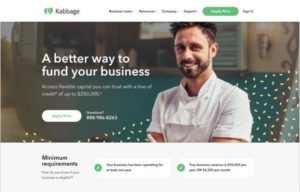 Next, you'll put in basic information about your business, including its name, address, and phone number. You'll also be asked about the industry you're in, revenue, and company structure.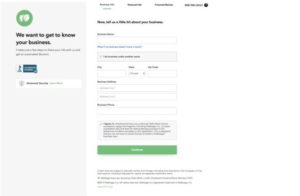 You will be asked to connect to one of your financial accounts. This allows Kabbage to analyze your business revenues.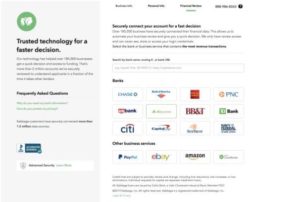 In addition to bank accounts, you also have the option of connecting e-commerce accounts.
In this example, we selected Bank of America from the options and were prompted to log in.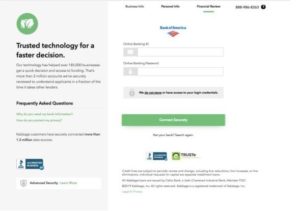 If you have more than one account with the bank you connect to, choose the one you use for the business you're borrowing money for.
Once you've done that, you'll need to submit to credit disclosure.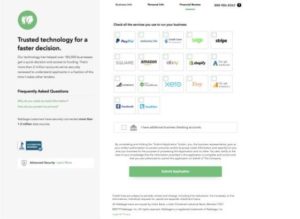 If you're approved, you'll now be shown how much you can borrow, as well as the total cost. In this example, we qualified to borrow $75,000. Note that you don't have to take out the full amount you qualify for. To illustrate, we will take just $10,000. The total cost of getting the loan will be 8% of the loan value. Loan terms will be to pay 2% for the first two months and 1% for the last 4 months.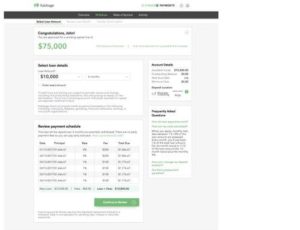 Next, you'll be asked questions about what you plan to use the funds for, and you'll need to specify which checking account the cash should go to. You may have to log into your bank again to specify the account.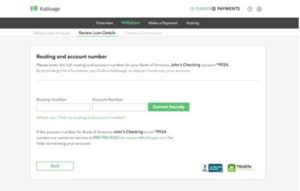 Once you confirm your bank account routing and account number, you should see a screen confirming that cash is on the way to your account.
Accept the loan agreement. You have the option to print it for your records.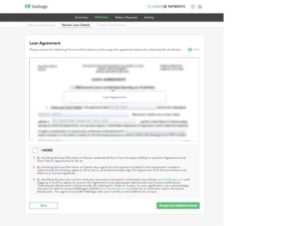 The money is on its way!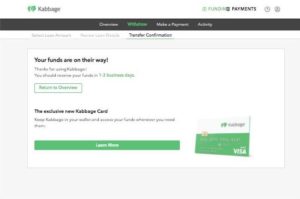 The whole application takes about five minutes. While you aren't asked to provide tax returns, bank statements, or financial statements, (which other forms of financing often care about) much of this can be gleaned by connecting to your bank account. Many users report receiving the money the next day. In terms of efficiency, Kabbage is unbeatable.
Once your monthly payments come due, log into your account to see how much you owe, including what the fee for the month is. You can automate your payments using the bank account information you already provided, or you can pay any amount greater than the minimum amount due. You can even pay off your loan early and reduce the fee you pay.
Kabbage APR
The better your credit scores and the healthier your cash flow on your bank accounts, the lower your net cost to borrow from Kabbage. Note that Kabbage talks about "fees," not APR. APR equivalent may be much higher than other types of financing, like traditional business loans or even credit cards.
It's important to factor that fee into your budget for your monthly payments and to be aware of how high it may be, depending on the repayment terms you get when you borrow from Kabbage.
According to the Kabbage funding website, its fees are between 1.5 and 10%. The fee for the first two months is typically higher than the subsequent months. There's no origination fee and no prepayment penalty. If you decide to pay a loan of $10,000 back in full 2 weeks later, per our example, you would only need to pay $10,200 (the loan amount + 2% Kabbage interest rate for the first month). This is much better than most other daily ACH loans or merchant cash advances, where, if you decide to pay back early, you still have to pay the full contract amount.
In this example we've used, 2% of the advance amount is comparable to taking up a credit card cash advance, and Kabbage lets us advance up to $75K, which is higher than the cash advance limits for most credit cards. In this case, a Kabbage loan is a fairly affordable financing option.
Kabbage vs. Other Short Term Lending Options
But what about those other lending options? How do they stack up against Kabbage?
The following table compares Kabbage to other short-term and online lender options we've written about. Kabbage is more expensive than LendingClub Business Loans but is pretty competitive with credit card cash advances.
When it comes to Kabbage vs. OnDeck and merchant cash advances, Kabbage has much lower rates for a short-term loan. 
For LendingClub Business Loans, you will need to submit your bank statements and tax returns and wait for a few days to get the loan processed. Your business also has to be at least a year old and have $50K annual revenue. In comparison, Kabbage only uses cash flows, bank balances, and credit scores for underwriting. Business owners appreciate the speed of approval without being required to talk to anyone or submit any documentation before sending the money over.
Pay close attention to any upfront fees as well as the interest rate that gets rolled up into the payments you make on your loan so you don't pay too much.
If none of these options appeal, check out our business credit card marketplace for other ways to get access to funds.
Nav's Verdict: Kabbage Loan Review
Overall, Kabbage is a very competitive lender focused on efficiency, and is friendly to less-established businesses.  For many business owners, being able to access cash within a day or two is quite appealing.
However, the cost is higher than a bank loan or what some online lenders offer. 
Kabbage can be a good option if you need fast funding or are not established enough to qualify for an online term loan or an SBA loan to meet your capital needs. If you've got solid revenue and a decent personal credit score, you should qualify. The fees you'll pay are transparent. 
Finally, understand that just because you can get the money easily doesn't mean you should. You should evaluate your business and make sure this cash infusion will actually help your business and make a positive return on investment before applying for any type of financing. Have a plan for how you'll use it as well as how quickly you can pay it back.
Rate This Article