Whether they're looking to supplement their regular income, work part time while attending school, help fund a small business, or earn full-time pay while setting their own hours, more and more people are turning to Uber as an alternative to traditional employment. If you've been thinking about giving it a try, here's how to become an Uber driver.
Getting in the Door
There are four basic requirements for starting your new life as a driver for Uber:
You have to be at least 21 years old with a clean driving record.
You have to have in-state registration, an in-state license, and in-state insurance.
You have to own a four-door sedan of a relatively recent make (car year requirements vary by city).
You have to own a smartphone.
Combine these requirements with a criminal background check and a car inspection at a pre-approved auto repair shop or an Uber activation center, and you're set to go.
Joining the Team
To become an Uber driver, visit their website and fill out an application. Once you pass the criminal background check and the car inspection, you'll need to sign a contract, but the fact that you're an independent contractor means that you can work for competing rideshare companies like Lyft if you want to bring in extra income.
Uber maintains quality control through a rating system that rates both drivers and passengers on a scale of one to five stars. If your car isn't clean, if you're grumpy, if you're late picking up a passenger or get lost en route to your destination, your client can reflect their displeasure with a subpar rating that's immediately reflected in your overall score, and which can have a major impact on your success. Uber riders are known to pass on drivers with low ratings, and if your rating gets low enough, Uber will give you the boot.
It works both ways, though. Ill-mannered passengers who insist on smoking, who throw up on your nice clean seats, or who are just plain rude and abusive can earn a low score that'll warn other Uber drivers in the future.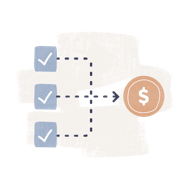 You're 3X more likely to get approved for a business credit card with MatchFactor.
Instantly see your top options for business loans and credit cards based on your business needs using Nav's MatchFactor.
Get matched

Making Money
In terms of sheer flexibility and freedom, Uber is different from most jobs you've ever had. You set your own schedule. Want to work? Turn on the Uber driver app and wait for a ride request. Want to take a break? Turn it off. It's really that simple.
The more often you leave the app on, the more chances you'll have to earn money. How much you earn depends on where you live and how frequently you're willing to drive, but experimentation can be helpful when you're starting out. Don't stick rigidly with one schedule; drive at different times and in different parts of your state and city until you learn when and where to go for peak hours.
The Uber driver app also tracks your earnings, which are paid to you weekly through direct deposit. Your earnings are based on mileage, with Uber taking a 20% cut of whatever you bring in. National studies have shown that consistent Uber drivers with high ratings average around $19 an hour.
Staying Organized
There are multiple convenient apps available for rideshare drivers, and you should take advantage of them. Keeping track of your mileage and expenses will save you time and money, and expertise with the latest mapping technology will make you a prompt, efficient driver and leave your passengers feeling satisfied.
Some Risks
Driving for Uber comes with downsides and risks. Taking advantage of the increased demand for rides on weekends can mean frequent run-ins with passengers with queasy stomachs overloaded with booze. You can avoid these human timebombs by switching off the Uber driver app before the sun goes down; otherwise, consider keeping barf bags in the car and kindly encouraging your more green-faced passengers to use them. If someone does ralph in your ride, take a photo of the mess and Uber will compensate you for the cleanup.
There's also the wear and tear on your car to consider, and the fact that you're responsible for paying for gas yourself. Finally, there's always an inherent risk in dealing with dozens of strangers on a consistent basis. Uber's rating system, and the fact that they have each passenger's credit card information, means that you're not left as open and vulnerable as a taxi driver, but it's still something to keep in mind as you go forward.
Tips for Small Business Owners
A 2015 survey conducted by Benenson Strategy Group suggested that many Uber drivers have at least one thing in common: 87% of them wanted to be their own boss. Business-minded Uber drivers should keep a few things in mind as they hit the road.
• Talk with your passengers. The ability to chat easily with strangers is an invaluable entrepreneurial asset. If you're shy, try coming up with a few memorized questions beforehand.
• Take advantage of the time you spend without a passenger in your car by listening to books on tape, business podcasts, news programs, etc. Don't just zone out with music. When you aren't teaching yourself to shoot the breeze with strangers, fill your mind with useful information.
• Be prepared to network. Keep business cards in your car and don't be afraid to share them with interested passengers. Be tactful but confident—you never know when an interesting opportunity will arise.
---
More answers to pressing questions:
What Is a Good Business Credit Score?
How to Get a $20,000 Startup Loan With Reasonable Interest Rates
Can a Sole Proprietor Build Business Credit?
Rate This Article