Bank of America® Business Advantage Cash Rewards Mastercard® credit card
Advertiser & Editorial Disclosure
With no annual fee and a 0% introductory APR, and up to 3% cash back, is a good option for business owners. Though anyone can apply for this card, Bank of America business checking customers have a distinct advantage. Not only can they send their cash back rewards directly to… Continue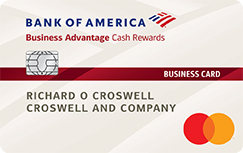 Rates and Fees
| | |
| --- | --- |
| Intro APR | 0% for 9 billing cycles on purchases |
| Purchase APR | 13.74% - 23.74% Variable APR on purchases |
| Annual Fee | $0.00 |
| Welcome Offer | $300 statement credit when you make at least $3,000 in net purchases within 90 days of your account opening. |
| Rewards Rate | 3% cash back on the category of your choice (for the first $50,000 in combined choice category/dining purchases each calendar year, 1% thereafter), 2% cash back on dining, and 1% cash back on all other purchases. |
Details
Get a $300 statement credit when you make at least $3,000 in net purchases within 90 days of your account opening - with no annual fee and cash rewards don't expire
Earn 3% cash back in the category of your choice, 2% cash back on dining and unlimited 1% cash back on all other purchases
You'll get 3% and 2% cash back on the first $50,000 in combined choice category/dining purchases each calendar year, 1% thereafter
0% Introductory APR on purchases for your first 9 billing cycles
Redeem your cash rewards as a statement credit, check, or have cash deposited into a Bank of America® checking or savings account
Get 75% more cash back on every purchase when you're a Preferred Rewards for Business Platinum Honors tier member. That means you will earn 5.25% on your selected choice category, 3.5% on dining and unlimited 1.75% cash back on all other purchases
Nav's Verdict
Bottom Line With your ability to choose rewards and a high cap, this card can bring in great rewards.
With no annual fee and a 0% introductory APR, and up to 3% cash back, Bank of America® Business Advantage Cash Rewards Mastercard® credit card is a good option for business owners.
Though anyone can apply for this card, Bank of America business checking customers have a distinct advantage. Not only can they send their cash back rewards directly to their checking account, but they can also earn up to 75% more cash back with this card when they enroll in the Business Advantage Relationship Rewards Program.
There are, of course, other Bank of America Business cards available, some of which may well suit your needs. For example, the Bank of America® Business Advantage Travel Rewards World Mastercard® credit card is a great option for frequent travelers, while the Bank of America® Platinum Plus® Mastercard® Business credit card card is great for those who prefer low-interest rates over rewards.
Features & Rewards
You'll earn a $300 statement credit when you make at least $3,000 in net purchases within 90 days of your account opening..
Earn 3% cash back on the category of your choice (for the first $50,000 in combined choice category/dining purchases each calendar year, 1% thereafter), 2% cash back on dining, and 1% cash back on all other purchases.
Card Review Details
With the option to choose your highest earning category for the this card may be a good choice. Any purchases in those categories can gain you 3% cash back, that's a solid opportunity to earn.
With that in mind, this card is also a good fit if you are an existing Bank of America business customer, or if you plan on becoming one.  The primary reason is the Business Advantage Relationship Rewards program, which can help you earn an additional 25% – 75% cash back in all categories.  
However, it's worth noting that your cash back rewards can be transferred directly from your card account into your checking account, should you choose to redeem that way.
The deal is sweetened when you factor in the introductory APR of 0% for 9 billing cycles on purchases and the $0.00 annual fee. Plus, qualifying customers may also find that this Bank of America credit card offers a lower APR when compared to others on the market.
Conversely, this card may not be right if the bulk of your business spending doesn't fall into the top earning categories, in which case another cash back rewards card may be a better fit.  This is particularly true for business owners who spend a significant amount of money on travel expenses like hotels, flights, and car rentals will only earn you 1% cash back.
What is the Foreign Transaction Fee?
Cardholders who use the Bank of America® Business Advantage Cash Rewards Mastercard® credit card to complete foreign transactions will be required to pay 3% of the U.S. dollar amount of each transaction.
The responses below are not provided or commissioned by the credit card, financing and service companies that appear on this site. Responses have not been reviewed, approved or otherwise endorsed by the credit card, financing and service companies and it is not their responsibility to ensure all posts and/or questions are answered.