Capital One® Spark® Miles for Business
Advertiser & Editorial Disclosure
If you have excellent credit, you may be eligible for this popular Capital One travel business card. The includes a competitive earning ratio and bonus miles offer for new cardholders. With no annual fee the first year, it's a card on which savvy travelers should take a chance. Pros and… Continue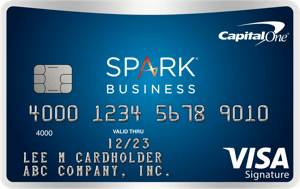 Rates and Fees
| | |
| --- | --- |
| Intro APR | N/A |
| Purchase APR | 18.74% (Variable) |
| Annual Fee | $0 intro for first year; $95 after that |
| Welcome Offer | Earn up to 200,000 miles: Earn a bonus of 50,000 miles when you spend $5,000 in the first 3 months and 150,000 miles when you spend $50,000 in the first 6 months of opening your account. Limited Time Offer |
| Rewards Rate | 2 Miles per $1 on every purchase, everywhere. |
Details
Limited Time Offer: Earn up to 200,000 bonus miles worth up to $2,000 to spend on travel—flights, hotels and more
Earn 50,000 bonus miles when you spend $5,000 in the first 3 months and earn 150,000 bonus miles when you spend $50,000 in the first 6 months of your account opening
Earn unlimited 2X miles per dollar on every purchase, everywhere, no limits or category restrictions, and miles won't expire for the life of the account
Earn 5X miles on hotel and rental car bookings through Capital One Travel℠ using a Spark Miles card
Transfer your miles to 10+ leading travel loyalty programs like JetBlue™, Air Canada, and Emirates™
Redeem your miles instantly for any travel-related purchases, from flights and hotels to ride-sharing services
Fly through security with one statement credit for either the $85 TSA Pre✓® application fee or the $100 Global Entry application fee
$0 intro annual fee for the first year; $95 after that
Nav's Verdict
Bottom Line A good option for businesses that want to earn rewards at a higher rate, as long as you pay on time.
If you have excellent credit, you may be eligible for this popular Capital One travel business card. The Capital One® Spark® Miles for Business includes a competitive earning ratio and bonus miles offer for new cardholders. With no annual fee the first year, it's a card on which savvy travelers should take a chance.
Pros and Cons
Perks include:
No foreign transaction fees
Waived annual fee the first year
Cons include:
No opportunities to earn higher mileage rewards rates for special categories
Requires an excellent credit profile
No lower APR intro rate
$95 annual fee after the first year
Summary of the
If you're looking to get into one of the many popular Spark business cards from Capital One, consider how the Capital One® Spark® Miles for Business can help you earn without complicated signups and category tracking. You get 2 Miles per $1 on every purchase, everywhere. And, there's a profitable bonus of Earn up to 200,000 miles: Earn a bonus of 50,000 miles when you spend $5,000 in the first 3 months and 150,000 miles when you spend $50,000 in the first 6 months of opening your account. Limited Time Offer. Cardholders love that the $95 annual fee is waived the first year for this travel-savvy Capital One card.
Full Review
As far a business travel cards go, this one has it all. A 2 miles per dollar earning ratio is competitive and handy; you can use the "miles" to buy airline tickets and hotels with no blackout dates or restrictions, directly from the Capital One travel booking site. Thanks to partnerships with over ten airlines, you can also transfer your Capital One miles to other loyalty programs combine with points you've earned elsewhere.
If you'd rather use your earnings on something else, however, that's allowed; use your miles for statement credit on travel purchases you've already made with the Purchase Eraser program that lets you "undo" full or partial purchases with your miles within 90 days of them clearing your account.
Don't forget about the bonus miles offer. It's not every day that you can get as many as 50,000 miles to use as you see fit; just spend $4,500 within the first three months to snag your promo bonus. There's also no annual fee the first year, making your first 12 months with this card among the sweetest in the industry.
Other travel perks include travel and emergency assistance, so your card can be replaced anywhere you are —  24/7. The desirable auto rental collision and damage waiver coverage is handy to have, too. It stands in place of that expensive "add-on" insurance the car rental places want you to buy and covers your rental in case of accident or theft. You'll also get all of the Capital One business perks that come with the Spark card family, so you know you're in good hands wherever you travel.
Is the Right for You?
There are very few cards on the market that balance the competitive 2 miles per dollar earning rate with a bonus offer as generous as the Spark Miles card, but that doesn't mean it's not worth your time to shop around. The following cards from the Capital One family have their strengths, as well:
Not everyone wants to pay an annual fee, so for those hoping to save the $95 annual charge, Capital One® Spark® Miles Select for Business business card may be a better fit. With a slightly smaller bonus offer, it gives you 1.5 Miles per $1 on every purchase.. It doesn't give you quite the same earning potential (just 1.5 miles per dollar instead of 2), but it has the same travel perks and protections business card owners love from the Spark card family. A zero-percent interest promo for nine months also makes this an attractive option for any wallet.
If you don't leave home often, or would rather just have cash in your pocket, there's no comparison to the Capital One® Spark® Cash for Business business credit card. This handy earner gives you a solid 2% back on purchases that can be cashed out at any time. There's also a Earn up to $2,000: Earn a $500 cash bonus when you spend $5,000 in the first 3 months and $1,500 when you spend $50,000 in the first 6 months of opening your account. Limited Time Offer. and a waived annual fee to help you make it worth your while.
Another cash back favorite is the simpler Capital One® Spark® Cash Select for Business card. It's a wise option for those who don't want to pay an annual fee, and with an interest-free nine months to use it, it's a popular choice for savvy savers. The cash back rate and bonus offer of $200 Cash Back once you spend $3,000 on purchases within the first 3 months from account opening give you lots of opportunities to buy, earn, and cash out.
If you don't think you can qualify for the cards mentioned above, consider one that's friendly to business owners with new or average credit profiles. Capital One® Spark® Classic for Business has lower requirements for approval but still comes with a very reasonable 1% cash back reward system. With no annual fee, it's a good way to get your credit history on track and still get rewarded for your business purchases.
Frequently Asked Questions
Consumers commonly have the following questions regarding the Capital One® Spark® Miles for Business:
Do miles ever expire? Is there a limit to earnings?
As long as you are a cardmember in good standing, your miles will never expire. You can earn unlimited miles for eligible purchases. Exclusions include balance transfers, cash advances, and other promotional transactions.
Do I have to use my miles for travel?
The miles have a value that can be redeemed for gift cards, merchandise and other partner offers –in addition to travel. They can also be used to transfer to partner mile programs, such as airlines, at a rate determined at the time of redemption.