U.S. Bank Business Leverage® Visa Signature® Card
Advertiser & Editorial Disclosure
For the small business owner who concentrates most of their spending on two main categories, the opportunity to earn is impressive with this card. pumps up the earning with an extra bonus points points to jump-start your first redemption. Pros and Cons Perks include: Redeem points for gift cards, cash… Continue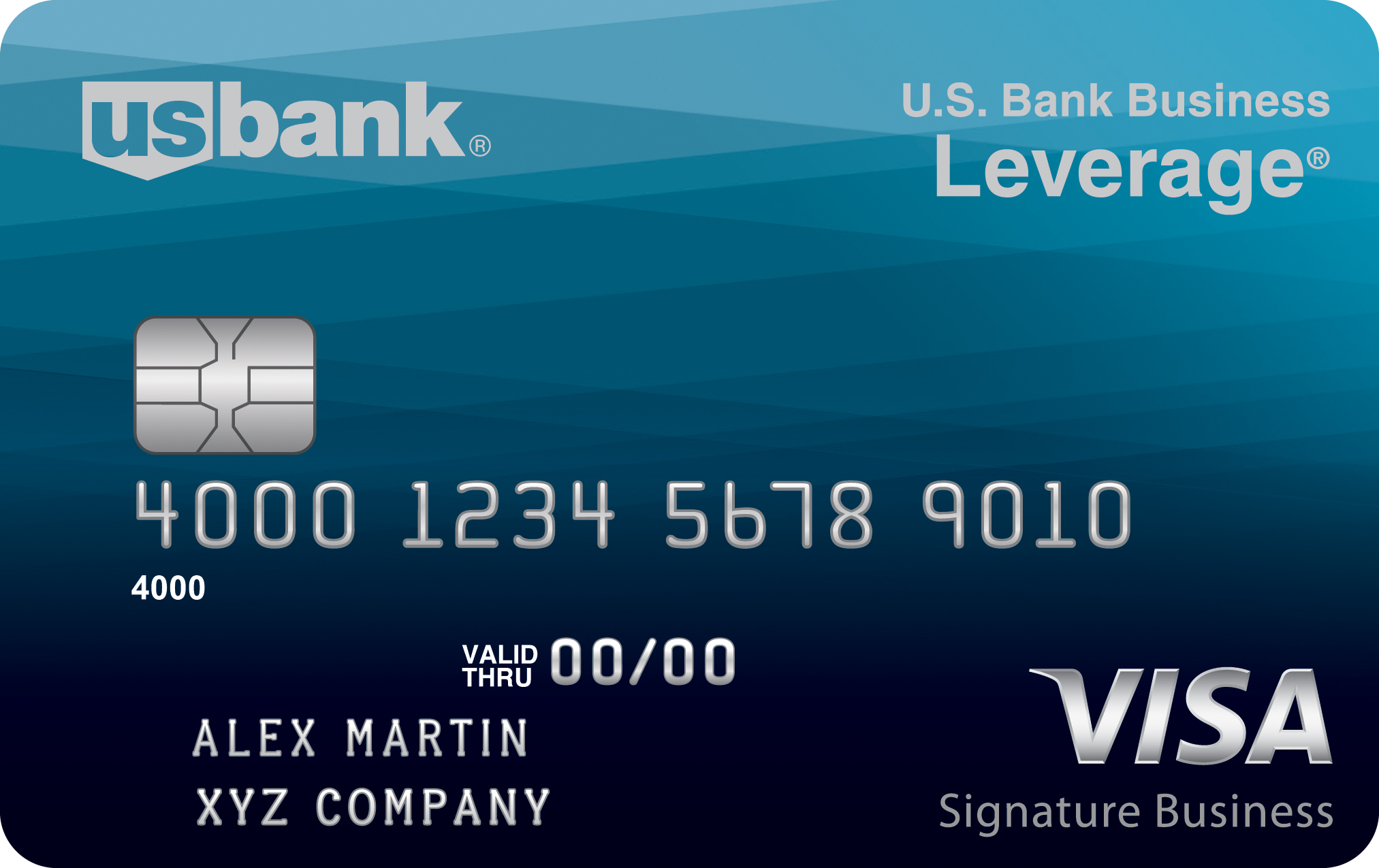 Rates and Fees
| | |
| --- | --- |
| Intro APR | N/A |
| Purchase APR | 16.49%* (Variable) |
| Annual Fee | $95* |
| Welcome Offer | Earn 75,000 points worth $750 cash back. Just spend $7,500 in eligible net purchases on the Account Owner's Card within the first four months of account opening. |
| Rewards Rate | Earn 2X points per dollar spent on eligible net purchases made in the top two categories where you spend the most each month - automatically. Earn 1X points per dollar spent on all other eligible net purchases. No caps or limits on the total points you can earn. |
Details
Earn 75,000 points worth $750 cash back. Just spend $7,500 in eligible net purchases on the Account Owner's Card within the first four months of account opening.
Earn 2X points per dollar spent on eligible net purchases made in the top two categories where you spend the most each month - automatically
Earn 1X points per dollar spent on all other eligible net purchases
No caps or limits on the total points you can earn
Earn even more rewards when you link you card to your U.S. Bank payment processing account. Only U.S. Bank rewards you for both taking payments and making purchases. Learn more at usbrelationshiprewards.com
Free employee cards
Nav's Verdict
Bottom Line A good option for heavy spending within similar categories. Even better when you use U.S. Bank's payment processing.
For the small business owner who concentrates most of their spending on two main categories, the opportunity to earn is impressive with this card. U.S. Bank Business Leverage® Visa Signature® Card pumps up the earning with an extra bonus points points to jump-start your first redemption.
Pros and Cons
Perks include:
Redeem points for gift cards, cash back, travel or merchandise
No annual fee the first year
Earn a bonus point per dollar spent in the first year (up to 75,000 points)
Free employee cards
Cons include:
1 point per dollar on other categories
Annual fee of $95 after the first year
No intro APR
Foreign transaction fees of 2-3%
Summary of the
Busy business owners have no time to calculate their best-earning categories, and the U.S. Bank Business Leverage® Visa Signature® Card ensures it's handled for you. Earn 2X points per dollar spent on eligible net purchases made in the top two categories where you spend the most each month - automatically. Earn 1X points per dollar spent on all other eligible net purchases. No caps or limits on the total points you can earn.. A waiver on the annual fee the first year lets you try it out and see if it's a good fit for the long-term.
Full Review
While this credit card has no interest-free promo periods, it's not the highest-priced card on the market by any means. With a relatively modest 16.49%* (Variable) rate and no annual fee the first year, you could earn some incredible point balances before you ever pay for interest or fees. Earn 75,000 points worth $750 cash back. Just spend $7,500 in eligible net purchases on the Account Owner's Card within the first four months of account opening..
This card does charge foreign transaction fees, which is something to consider if you travel a lot. There is no annual fee for employee cards; however, so domestic fleets and local sales teams can earn you rewards for future point offers without costing you a thing. If you use U.S. Bank for your payment processing, you'll earn even more through their partner program that rewards you for spending and selling.
Many happy U.S. Bank companies that already love their checking, savings, payment, and payroll services have found adding a business credit card a natural next step. This card offers a good balance of rewards, simplicity, and fees and will be accepted anywhere Visa is.
Is the ?
While this credit card doesn't offer the highest earning rate for purchases (just 2 points per dollar in its highest tier), it may be the most intuitive. Instead of having to track their purchases and guess which spending categories will be the most lucrative in the next quarter, cardholders can let this credit card do the work of automatically assigning the highest earning tier to those categories they spend the most. While not all categories are covered, most business niches are. For cardholders that want the easiest earning experience, this card may be it. If you'd like a more competitive earning rate or a better promo interest rate, consider these other cards from U.S. Bank:
Another points card that's proving useful to business owners is the , a good tool for accruing points fast that can be redeemed for many items. The 3 points per dollar earning rate is also an attractive feature of this card.
Frequently Asked Questions
Looking for answers regarding the U.S. Bank Business Leverage® Visa Signature® Card? Here are the most common questions with answers:
What are the U.S. Bank business credit card credit score requirements?
Each credit card has different features and cardholder profiles, with some aimed at those with better credit scores. Your credit score isn't the only thing that will be used to make a decision, however. Your type of business, assets, and revenue records will also be considered. A credit score is just one factor used to decide, but the better your score, the more likely you'll be approved.
How will I know if I've received a U.S. Bank business credit card approval?
Your notification of approval or denial may happen right away upon submitting your online application, but in many cases, it may take a few days. You should receive word of your decision within 7-14 business days at the contact information you provided or through U.S. mail.
Will my rewards expire?
Points expire after five years. There are no limits to earning.
The responses below are not provided or commissioned by the credit card, financing and service companies that appear on this site. Responses have not been reviewed, approved or otherwise endorsed by the credit card, financing and service companies and it is not their responsibility to ensure all posts and/or questions are answered.