U.S. Bank Business Platinum
Advertiser & Editorial Disclosure
If transferring high-interest balances from another card or financing purchases with no fees is your goal, the is hard to beat. This no-rewards business card has no earning program but offers a lower, non-promo interest rate of after the first year. Pros and Cons Perks include: No interest for the… Continue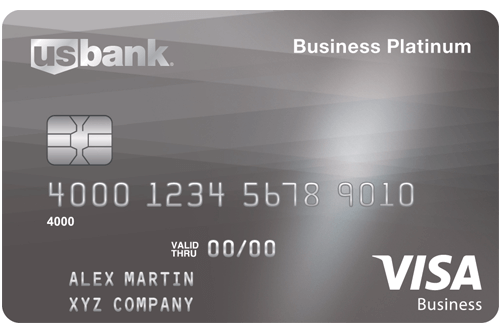 Rates and Fees
| | |
| --- | --- |
| Intro APR | 0%* for 20 billing cycles on purchases* |
| Purchase APR | 12.24%-20.24%* (Variable) |
| Annual Fee | $0* |
| Welcome Offer | N/A |
| Rewards Rate | N/A |
Details
0% Intro APR* on purchases and balance transfers for the first 20 billing cycles. After that variable APR currently 12.24% - 20.24%*
No annual fee*
Free employee cards
Zero fraud liability* protects you against unauthorized transactions
Nav's Verdict
Bottom Line A simple non-rewards card with a good introductory financing offer.
If transferring high-interest balances from another card or financing purchases with no fees is your goal, the U.S. Bank Business Platinum is hard to beat. This no-rewards business card has no earning program but offers a lower, non-promo interest rate of 12.24%-20.24%* (Variable) after the first year.
Pros and Cons
Perks include:
No interest for the first year on purchases and balance transfers
Lower non-promo APR than some cards
No annual fee
Free cards for employees
Zero-liability fraud protection
Cons include:
No cash back or earning program
3% foreign transaction fees
Summary of the
This no-frills business credit card has the backing of one of the top banks in the country and intro APR of 0%* for 20 billing cycles on purchases*  help make it shine. The potential for a lower rate after the first year and no annual fee make up for its lack of rewards. Use it to save money with balance transfers and build your business credit for more opportunities in the future.
Full Review
If you have debt on other cards with a high-interest rate and are looking for an especially valuable balance transfer opportunity, this card may be it (subject to transfer fees), as it offers no interest on balance transfers for a year. It also has a zero-percent APR for purchases during this time, so you can stock up on business supplies and not be subject to higher rates. After the promo period, the fees remain competitive, so you're still getting a good deal for a business card.
There are no rewards for this card, which is not seen very often. You still get all of the purchasing power of a credit card, excellent customer services provided by U.S. Bank's award-winning service teams, and the convenience of making purchases everywhere cards are accepted, however. Add in the opportunity to track purchases and use the info for making future business decisions, and it's still a good tool to keep in your pocket.
There is no annual fee, although this card does charge foreign transaction fees. Consider it a good way to establish credit and explore more of the products and services that U.S. Bank has to offer.  You can always add another card to your wallet down the road and keep this one to further building your credit profile. You'll also benefit from free employee cards and zero fraud liability if you find charges to your account that you didn't make.
Is the Right for You?
For those who are more concerned with getting and using credit than earning rewards, this is an opportunity to get your foot in the door of having a credit card and earning a having a no-interest rate window to spend and reduce debt. If getting cash back or points rewards is a must-have for your next business card, however, there are other products available from U.S. Bank that may be a better fit:
For a solid welcome offer, consider the U.S. Bank Business Select Rewards. Earn 20,000 bonus points after you spend $1000 in net purchases during the first 90 days after opening your account. Earn 3 points per dollar on net purchases in one category of your choice: Day-to-Day Expenses, Automobile or Travel & Entertainment. Earn 1 point per dollar on other net purchases. No cap on total points you can earn.
If you're planning on spending big this year, the U.S. Bank Business Leverage™ Visa Signature® Card has some stellar opportunities to earn points. Earn up to 100,000 bonus points in the first 365 days of account opening with an additional point on all eligible net purchases.. 
With a very sweet cash bonus offer, the U.S. Bank Business Cash Rewards World Elite™ MasterCard®is getting a lot of attention, too. Earn a new cardmember bonus of $200 after you spend $1000 in net purchases on your card within the first 90 days of account opening Earn 3% cash back on cellular, gas stations and office supply store net purchases. 1% cash back on other net purchases. No cap on total rewards and they never expire! Plus, a 25% Annual Cash Rewards bonus, up to $250. No annual fee also makes this earning card (offering 1% back on the other categories) a top prospect for business owners. Cardholders also enjoy an annual bonus of 25% in cash rewards on top of their regular earnings.  
Frequently Asked Questions
Need more information on the U.S. Bank Business Platinum? We have the answers to your questions here:
Where can I learn more about the U.S. Bank business credit card credit score requirements?
U.S. Bank will have all of the terms of its various card offers on its site, but there are no publicly-displayed scores to know if you'll be approved or not. They use a combination of profile details, such as your business assets, revenue, and personal credit history to make their decision. If you are not approved, they should be able to provide you with a reason, which can help you work toward a higher score in the future.
How long does it take to get a U.S. Bank business credit card approval?
Timing will vary on the card you apply for and the method of your application. If the bank needs additional information or needs to ask questions, this can delay processing. Expect to know within 7-14 business days if you have been approved.
Are there any rewards for this card?
No. The U.S. Bank Business Platinum does not have a cashback, points, or rewards program associated with it.
What does it cost to transfer balances?
There is no interest on balance transfer made within the first year, but there is a 3% fee on the total of the transfer (or $5, whichever is higher.) Consider this fee when deciding if you can save money by transferring higher-rate debt.