Nav's Small Business Grant
Nav Grant applications are currently closed.
Through our Grant Program, we've met thousands of inspiring business owners ready to unlock their next move. We're pausing this program for now so we can incorporate feedback from our customers and grant applicants, and so we can develop even more ways to support small businesses.
If you're looking for a grant for your business, here are some options: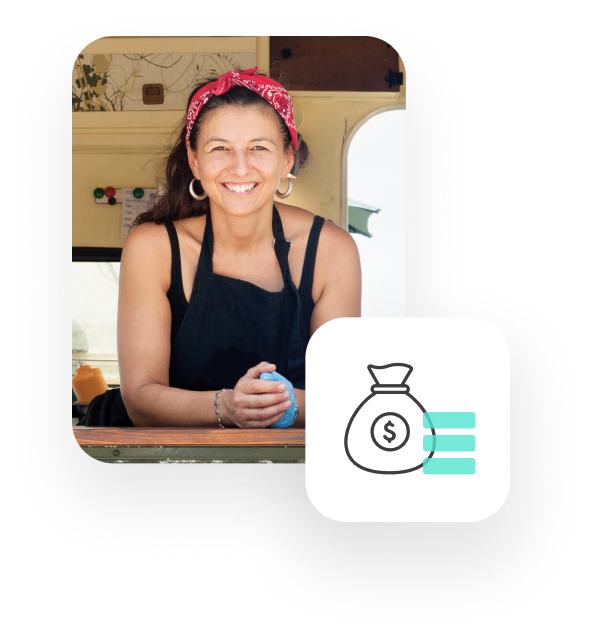 FAQs
Is the Grant Program going away?
Not completely. Our plan is to reimagine the Grant Program so we can find more ways to support more small businesses.
Why are you changing things now?
We're making these changes in response to feedback from our customers and grant applicants. We're also developing several new product offerings which will give us more ways to support small businesses moving forward.
Are the rules, entry requirements, award amounts, or other things about the Grant Program going to change?
We will update this page with news about the Grant Program.
How can I stay informed about what's next for the Grant Program?
We will update this page with news about the Grant Program.
Are there other ways I can get funding for my small business?
Nav can help you find loans, lines of credit, or banking services for your small business.
About Nav & The Grant
Like most small business owners, we're a little unruly here at Nav. Our co-founders are lifelong entrepreneurs who had to go over, through and around roadblocks in order to chase their dream. If this sounds familiar, we want to make your life easier.
Nav is a free service that gives business owners the fastest, easiest and most trusted path to financing. More than 1.4 million business owners use Nav today. We've launched the Nav Small Business Grant to give $10,000 to help a deserving business take their company to the next level. If you've ever dealt with a tough business challenge but refused to quit, we invite you to apply. It's easy!
Frequently Asked Questions
What if I can't sign up for a Nav account?
If you're having trouble signing up, please give our customer support team a call at 855-226-8388. As part of our sign-up process, we verify your identity so we can give you access to tools and data. If we're unable to verify your identity in the sign-up process, unfortunately you won't be able to enter to win the business grant this time around.
What if I'm already a Nav customer?
If you're already a Nav customer, you've already completed the first step of the application process. Congrats! Move on to step two.
How do I get my unique voting link?
After you submit the form above, you will receive an email that will contain your unique voting link. If you do not receive an email within 24 hours, please email
grants@nav.com
.
Can people vote for my business multiple times?
No. Individuals can only vote for a business one time during each grant round.
Does my business win if I receive the most votes?
No. The votes are used to narrow down the top 200 businesses. The finalists are chosen based on the content of the social media post and a check to see that you have a Nav account.
Does my social media post have to be on my business page?
It will help us learn more about your business if the post is on your business page. If you're nervous about sharing a business challenge with your customers for fear that they'll think your business is in trouble, remember that you can share a challenge that you've already tackled or are actively working on. Be creative!
The boring details our lawyers made us write:
Section 1. Agreement ("Agreement")
I (hereinafter referred to as "I," "Me," or "My") acknowledge that by submitting content to Nav Technologies, Inc. ("Nav"), I accept and agree to the terms and conditions of Nav's Legitify Your Small Business Grant Contest Agreement ("Program") as set out in this Agreement, on My behalf and the entity on behalf of which I am acting in an official capacity, if any. I further acknowledge that My submission does not automatically render Me eligible for the Program, and that My eligibility to participate in the Program will be determined solely by Nav as provided in this Agreement. I acknowledge that once deemed eligible for the Program, this Agreement governs My participation in the Program. I acknowledge that those persons (including Me), who are declared eligible will be referred to throughout this Agreement as "Participant".
Please print out a copy of this agreement for your records.
Section 2. Program.
I acknowledge that I have created a Nav account and am a Nav registered user and will remain a registered user throughout the contest. In the event that I am no longer a registered user, Nav has the right to terminate My participation in the Program. I acknowledge that I have been advised to read and review this Agreement and to print a copy for my records.
After filling out the participation form, to apply for the Program Participants must:
Write a post on your business's Facebook, Instagram, or LinkedIn account including your unique voting link, #navsmallbusinessgrant, and explaining:
1. What your business does
2. A challenge your business has overcome in the past and a challenge you continue to struggle with; and
3. How the grant funds will help you overcome your challenge and detailed specifics about how you plan to use the prize money.
4. Share your unique voting link from step 2 in your post and encourage your followers and customers to vote for your business. Individuals can only vote for a business one time during each grant round.
Winners will be selected by Nav from among the 200 entrants which receive the most votes via their unique voting links. Receiving the most votes does not guarantee that you will be selected as a winner.
By My submission, I acknowledge that all content submitted to Nav under this Program may be used by Nav in accordance with Nav's general Terms and Conditions, incorporated by reference herein and acknowledged through My Nav account. I further acknowledge and agree that all content provided to Nav pursuant to the Program is considered property of Nav and I hereby grant to Nav an irrevocable license in any such content included in My submission, including but not limited to any, copyright, trademark, service mark, patent and trade secret rights. Notwithstanding the foregoing, nothing in this Agreement shall obligate Nav to publish or otherwise use any content provided by Me. I further acknowledge that the Program is in no way sponsored, endorsed or administered by, or associated with, Facebook Instagram, or LinkedIn, and I release Facebook Instagram, or LinkedIn, from any claim or liability related to my participation in the Program.
Section 3. Restrictions.
(a) A Participant's valid email address must be provided during the Nav account creation process. Participant's participation in the Program constitutes Participant's permission for Nav to use such email address to communicate with Participant.
(b) Participants must be 18 years of age or older and have a U.S.-based billing address.
(c) Participant acknowledges and agrees that their Nav information and data may be used in accordance with Nav's general Terms & Conditions.
Section 4. Term of Program.
The Program shall remain in effect until the application deadline of October 26th, 2021. Nav reserves the right to (a) modify the application period for the Program; (b) alter or modify the Program or this Agreement; and, (c) suspend or terminate the Program or this Agreement, or terminate a Participant's participation in the Program, all at any time for any reason through a notice posted by Nav on Nav.com, or as otherwise provided by Nav. In the event a Participant is later determined not to be eligible for the Program after being notified that Participant was eligible, Participant's participation in the Program will be terminated.
Section 5. Controlling Law and Severability.
This Agreement shall be governed by and construed in accordance with the laws of the U.S. and the State of Utah, without reference to its conflicts of law provisions. If for any reason a court of competent jurisdiction finds any provision of this Agreement, or a portion thereof, to be unenforceable, that provision shall be enforced to the maximum extent permissible so as to effect the intent of the parties and the remainder of this Agreement shall remain in full force and effect. This contest is subject to all federal, state and local laws and regulations and is void where prohibited by law.
Section 6. Complete Agreement.
By participating in the Program, each Participant agrees to indemnify and hold harmless Nav and its parent, affiliate and subsidiary companies from any liability, damages, losses or injury resulting in whole or in part, directly or indirectly from the Participant's participation in the Program or the acceptance, use or misuse of any prize that may be won.
ALL FEDERAL, STATE AND LOCAL TAXES ASSOCIATED WITH THE RECEIPT OR USE OF ANY PRIZE IS SOLELY THE RESPONSIBILITY OF THE WINNER.
Section 7. Complete Agreement.
This Agreement constitutes the entire agreement with respect to the Program and supersedes any prior or contemporaneous understandings, representations, statements or agreements, written or oral. No amendment to, modification of, or waiver of any provision of, this Agreement will be binding on Nav without written consent which must be identified as an amendment, modification or waiver.