Capital One® Spark® Classic for Business
Advertiser & Editorial Disclosure
For business owners just starting to build credit, or who need to get their first business card, the is a solid choice. With a  annual fee and a simplified 1% cashback earning program, it's a good card for those with average credit who want to enjoy the perks of a… Continue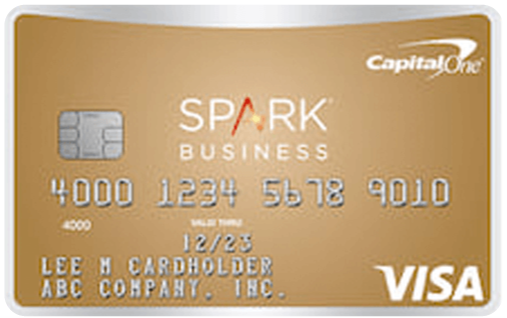 Rates and Fees
| | |
| --- | --- |
| Intro APR | N/A |
| Purchase APR | 24.49% (Variable) |
| Annual Fee | $0 |
| Welcome Offer | N/A |
| Rewards Rate | 1% Cash Back on every purchase. |
Details
Earn unlimited 1% cash back for your business on every purchase, everywhere, no limits or category restrictions
No annual fee
Build and strengthen credit for your business by using this credit card responsibly
$0 Fraud Liability if your card is lost or stolen
Free employee cards, which also earn unlimited 1% cash back on all purchases
Rewards won't expire for the life of the account, and you can redeem your cash back for any amount
No foreign transaction fees
Nav's Verdict
Bottom Line A great option for starting to build business credit, if you can pay on time and limit your balance.
For business owners just starting to build credit, or who need to get their first business card, the Capital One® Spark® Classic for Business is a solid choice. With a $0 annual fee and a simplified 1% cashback earning program, it's a good card for those with average credit who want to enjoy the perks of a Capital One-backed product.
Pros and Cons
Perks include:
Redeem cash at any time
No foreign transaction fees
No caps on earning
annual fee
Open to those with just average credit
Cons include:
No special lower intro interest rate
No bonus offers
High APR
Summary of the
No annual fees, no transaction fees, no limits on earning – these are just a few of the perks that come with a basic business card like the Capital One® Spark® Classic for Business. Aside from the cash back earnings of 1%, it's a no-frills product, giving no intro offers or bonus programs to lure new customers. Instead, you'll have a steady card for business expenses that many with just average credit will qualify to own.
Full Review
Not everyone has a perfect credit score, but that shouldn't stop you from carrying a Capital One business card in your wallet. With the addition of the Classic card to the popular Spark line of cards, Capital One has made it easier for those with average credit to have a card with no annual fee and a very clear cash back earning model. You get 1% Cash Back on every purchase. It's a simple way to earn on things you buy for your business.
There are no eye-catching promo offers for this card, so you won't earn bonuses or get zero-interest buying windows. With a $0 annual fee, however, and unlimited earnings, it's still a very rewarding card. For those who have yet to establish a solid business credit profile, it's also one of the few cards on the market who may consider approving someone based on an average personal credit score.
If you don't find the 24.49% (Variable) interest rate to be a bargain, just pay your card off each month and work your way into a better credit score. After that, it will be easy to upgrade to a card that has a bit better rewards and a much lower rate. In the meantime, this card is a great tool for those who can use credit responsibly for their everyday business purchases and want the reputable card protections that Capital One has known to offer.
Is the Right for You?
Because this card is made for those with average credit, it may be a good solution for anyone who may be ineligible for other cards. It is the perfect card for building credit and makes a good option to keep in your wallet while not having to think about reward categories or promotional offers. Since the interest rate is high, you'll want to pay off the balances in full each month. This gives you the best balance of earning rewards and having a flexible, no-annual-fee card without being overwhelmed with interest.
If you have a bit better credit profile, something that could be considered in the "excellent" range, you may find these other Spark business cards to have more rewards and a lower interest rate:
For a promo offer that rewards for bigger buying, the Capital One® Spark® Cash Select for Business business credit card might be a better fit. It gives new cardholders an attractive $200 Cash Back once you spend $3,000 on purchases within the first 3 months from account opening. This card also has a $0 annual fee, and the earnings structure is a bit sweeter; get 1.5% for purchases instead of the lower 1% offered by the Classic card.
Another cash card option is the beefier Capital One® Spark® Cash for Business card. It gives the best earning opportunities, with 2% Cash Back for your business on every purchase, everywhere.. There is also a more competitive intro offer for this card; it gives new cardholders a Earn up to $2,000: Earn a $500 cash bonus when you spend $5,000 in the first 3 months and $1,500 when you spend $50,000 in the first 6 months of opening your account. Limited Time Offer.. There is an annual fee of $0 intro for first year; $95 after that, and no break on APR for those first months.
If travel perks are more your style, consider either the Capital One® Spark® Miles for Business card (with 2 miles per dollar spent) or the Capital One® Spark® Miles Select for Business(offering 1.5 miles). Both cards give you a bonus offer of either 20,000 miles (Select card) or 50,000 miles. There's no annual card for either card in the first year.
Frequently Asked Questions
The most common questions applicants and cardholders have about the Capital One® Spark® Classic for Business are these:
How much cashback can I earn in a year?
The earning rate is 1% Cash Back on every purchase.. There are no caps or maximums so that you can earn virtually unlimited rewards on eligible purchases. Some transactions, such as cash advances or balance transfers, will not earn any cashback rewards, however.
What are my odds of being approved for this card?
This card is the only card in the Capital One Spark® business card line that's designed for consumers with less-than-excellent credit. Because it is open to those who may still be building their credit profile or are new to the business world, it has higher rates and lower rewards than some other cards for those with excellent credit. It is still a great tool for earning and saving, especially if you have never been approved for a business card before. No everyone who applies will be approved.
The responses below are not provided or commissioned by the credit card, financing and service companies that appear on this site. Responses have not been reviewed, approved or otherwise endorsed by the credit card, financing and service companies and it is not their responsibility to ensure all posts and/or questions are answered.