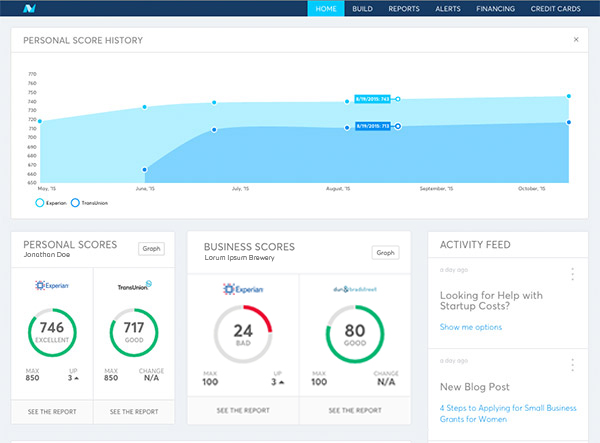 Nav makes it easy for you to get funding, save money and protect your assets
• Transparent financing options personalized to your profile
• Simplified business credit reports and VantageScore 3.0 personal reports*
• Tools to build better business credit
• 24/7 credit monitoring, alerts and ID theft protection
We make it easy to understand and build your business credit, so you can:
Get Funding
Manage Cash Flow
Lower Costs
Protect Personal Credit
Turns out knowing really is half the battle
Use our easy tools to lower your costs and save time
Improve your approval chances by accessing financing based on your credit
Whether you're looking for financing, need quick cash to cover operations or just want to get your credit tuned up so you're more likely to get approved when you need it, our Financing section gives you access to lending offers, credit cards and business services based on your credit scores.
Get credit reports you can actually understand
We designed our credit reports to be easy for anyone to understand whether you have an accounting degree or not.
We break down your business and personal reports by category and give you customized information on how you can improve.
Build your business credit and solve credit problems
Our step-by-step guide helps you build a strong business credit profile, and our tools make it easy to spot and correct credit report errors.
BusinessLauncher: guides you through the steps of establishing your business and getting everything in place to build a solid business credit profile.
CreditSweeper: helps you find and dispute incorrect information on your personal and business credit report.
CreditTarget: helps you identify the areas of your credit that need work and then set and achieve your financial goals.
Business Credit Card Offers
Based on your scores, we can show you which business credit cards you qualify for and let you apply immediately. Opening and paying your credit card bills on time can help you build stronger credit, so you'll qualify for even more financing down the road. Alternatively, you can browse all of our business credit card offers.
Business Loans & Offers
We partner with lenders to provide you with customized offers based on your credit scores. If you don't qualify for lending, we show you the minimum requirements and guide you on how to improve. Alternatively, you can browse all of our business loans & financing offers.
Your credit changes all the time–stay on top of it
Our free Android and iOS apps keep you connected to your business credit and financing while on the go. It's the power of Nav in the palm of your hand.
Enjoy peace of mind with 24/7 personal and business credit monitoring
Nav continually monitors your credit and can alert you via email or text whenever there's a change. Plus, our identity theft protection and live member services team can help you recover if you ever have an issue.
• Instant alerts to changes
• Identity theft protection & insurance
• U.S.-based member services team
*Like other credit scores offered to consumers, the credit score Nav provides is the Vantage 3.0 score and is not likely to be the same score used by lenders or other commercial users for credit decisions. There are various types of credit scores, and lenders use a variety of different types of credit scores to make lending decisions.