State Business Credit Snapshot 2017
Like personal credit, business owners have a separate business credit score based on their company's risk profile. Both scores matter when it comes time to getting a business loan, credit card or insurance. The higher a state's average business credit score, the easier it is for its entrepreneurs to get money to buy equipment and hire more people.
Numerous studies look at personal credit scores, but very little information exists on the state of business credit in America. Nav's State Business Credit Snapshot used business credit data from 15,500 of its small business customers to shine a light on which regions of the country are enjoying the benefits of strong business credit scores, as well as some surprising trends.

Average Business Credit Score By State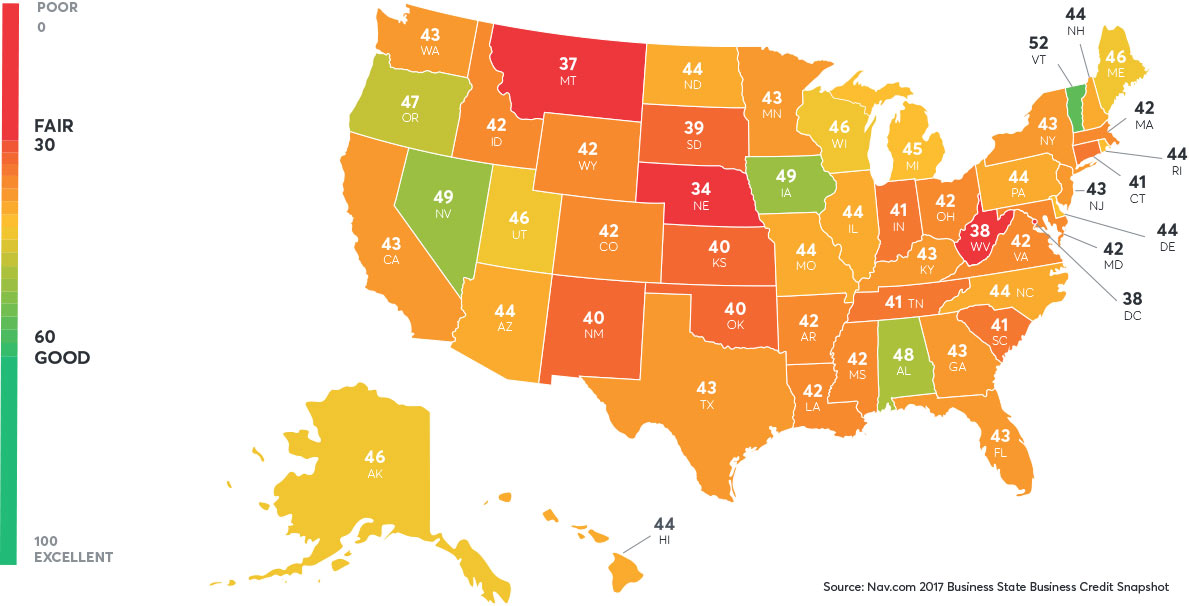 The Experian Intelliscore Plus℠
Experian's Intelliscore Plus℠ business credit score is a numerical score that ranges from 1 to 100, and can provide insight on how much of a risk a business may be.
BAD SCORE
1-10


HIGH RISK
POOR SCORE
11-25


MEDIUM-HIGH RISK
FAIR SCORE
26-50


MEDIUM RISK
GOOD SCORE
51-75


MEDIUM-LOW RISK
GREAT SCORE
76-100


LOW RISK

10 States with the Highest Business Credit Score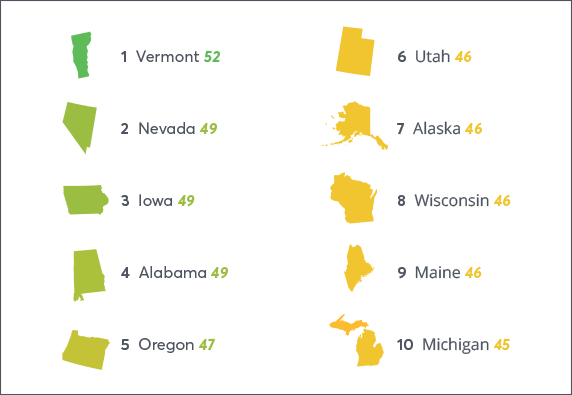 10 States with the Lowest Business Credit Score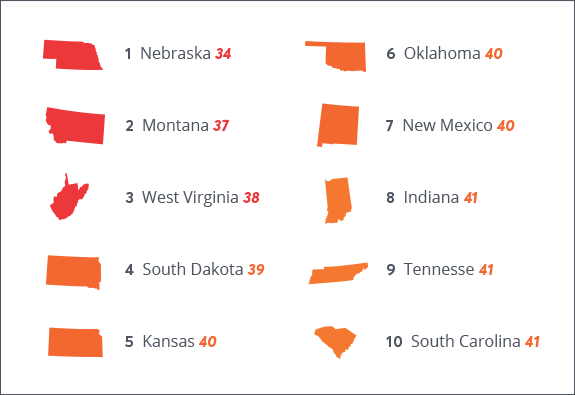 Alabama 48
Alaska 46
Arizona 44
Arkansas 42
California 43
Colorado 42
Connecticut 41
Delaware 44
Florida 43
Georgia 43
Hawaii 44
Idaho 42
Illinois 44
Indiana 41
Iowa 49
Kansas 40
Kentucky 43
Louisiana 42
Maine 46
Maryland 42
Massachusetts 42
Michigan 45
Minnesota 43
Mississippi 42
Missouri 44
Montana 37
Nebraska 34
Nevada 49
New Hampshire 44
New Jersey 43
New Mexico 40
New York 43
North Carolina 44
North Dakota 44
Ohio 42
Oklahoma 40
Oregon 47
Pennsylvania 44
Rhode Island 44
South Carolina 41
South Dakota 39
Tennessee 41
Texas 43
Utah 46
Vermont 52
Virginia 42
Washington 43
West Virginia 38
Wisconsin 46
Wyoming 42
Washington DC 38

Average Personal Credit by State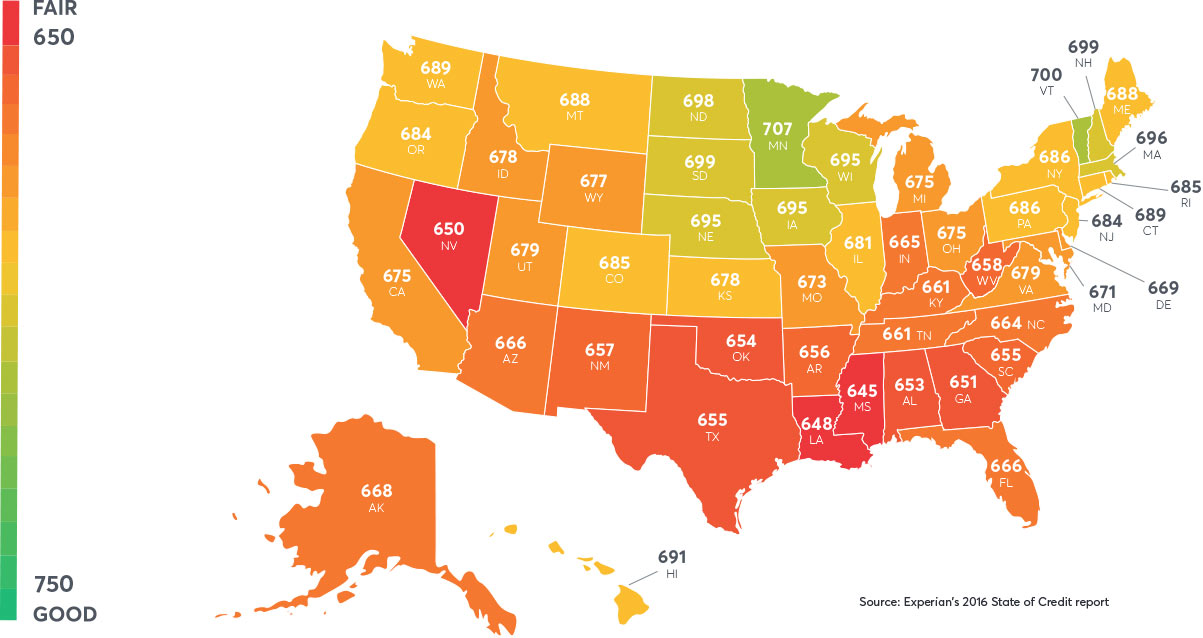 Additional Business Credit Trends
A tale of two New Englands
While VT, ME, RI and NH enjoy stronger scores, their Yankee counterparts of MA and CT are behind the pack.
Sweet home Alabama
Small businesses in the southeast have some work ahead of them on their scores with the strong exception of Alabama which is in the top 10.
Midwest
The Midwest has some challenges in their scores. However, Iowa absolutely shines and North Dakota holds its own.
Swing states
The swing voting red states of Pennsylvania, Wisconsin and Michigan are in the top 20 for their stronger scores.
Rust belt
Indiana and West Virginia are states in this region that could use help in building small business credit scores.
Methodology
To generate average business credit scores by state, Nav examined Experian's Intelliscore Plus℠ business credit score from 15,500 of its small business customers. Each credit score was grouped together by state and Nav averaged together each business's' credit in each state. Personal credit report data was reported by Experian's 2016 State of Credit report.