Brex Card for Startups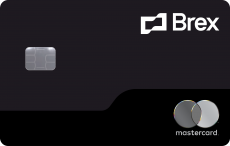 7
/10
Bottom Line
A great card for startups that meet the minimum balance required and have cash on hand to pay in full each month.
Pros
Does not take personal credit into account. Big rewards in popular business expense categories. No annual fee and no foreign transaction fees.
Cons
Only available to venture-backed startups with at least $100,000 in their corporate bank account. No signup bonus on initial spending.
Features & Benefits
Program Benefits
Signup discounts with providers of the startup ecosystem (e.g., AWS, Google Ads, WeWork, Salesforce, etc.) worth over $25,000 in value.
Purchase APR
All charges made on this charge card are due and payable when you receive your periodic statement.
Rewards Rate
7x on rideshare, 4x on travel, 3x on restaurants, 2x on software subscriptions & 1 point per dollar on all other purchases.
Foreign Transaction Fee
None
Reviews
Reviews Disclosure: The responses below are not provided or commissioned by the credit card, financing and service companies that appear on this site. Responses have not been reviewed, approved or otherwise endorsed by the credit card, financing and service companies and it is not their responsibility to ensure all posts and/or questions are answered.