Divvy Credit Builder for Business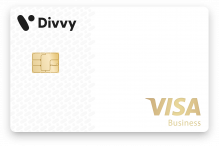 Introducing Divvy Credit Builder—a program designed to give every small business the tools they need to build their credit, even without a credit line. The charge card with credit card rewards. Not all businesses can be approved for a line of credit right away. But with a pay-as-you-go option, the Divvy Credit Builder program puts every small business on a path to obtain a credit line, while providing them with the same easy-to-use expense management software and rewards as our standard card programs. Divvy is designed to give customers the credit they need to grow. With Credit Builder, every small business has the tools to track business spend and automate expense reports—all while working towards their own line of credit.
Reviews
Reviews Disclosure: The responses below are not provided or commissioned by the credit card, financing and service companies that appear on this site. Responses have not been reviewed, approved or otherwise endorsed by the credit card, financing and service companies and it is not their responsibility to ensure all posts and/or questions are answered.