The Essential Plan
Personal Credit Scores and Insights for Business Owners
Click here for all of our Business Plans.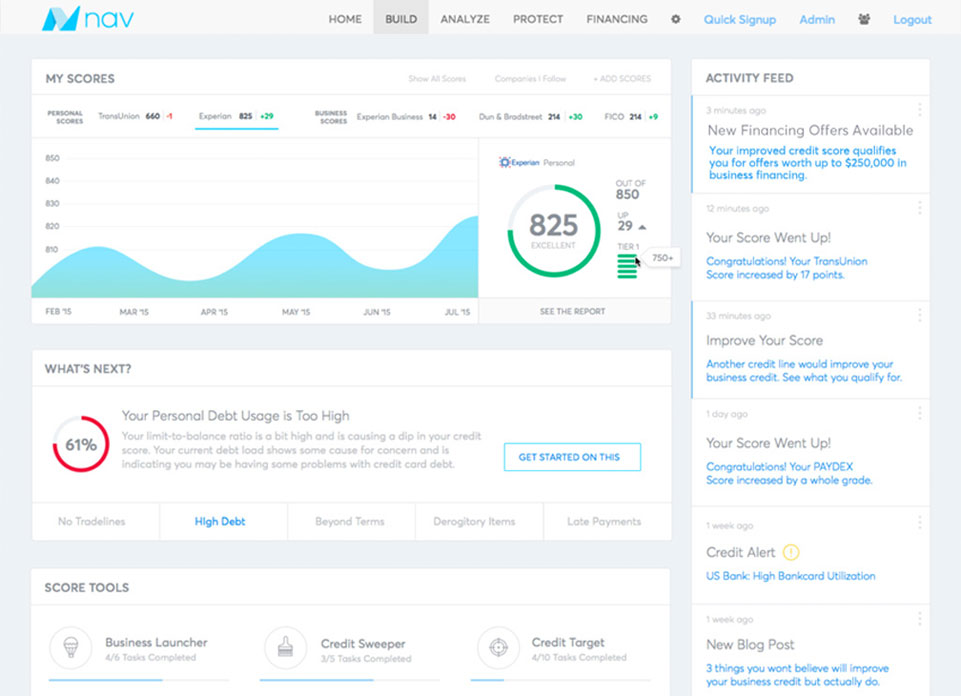 Nav's Essential plan provides instant access to two of your personal credit reports and scores – TransUnion and Experian. Plus, we give you personalized advice to help you improve your scores.
When starting out in business, your personal credit will always play an important role. That's why we offer a personal credit package designed for small business owners. It gives you easy-to-read reports and monitoring from both the Experian Vantage Score and TransUnion. But if you're serious about running a strong business, we highly suggest you start establishing your business credit right out of the gate.
Once your business is up and running, you should immediately take steps to build your business's credit profile, and stop relying on your personal credit for business. This lets you protect your personal credit and assets.
Check out our FREE Business Credit Package and Tools to get start establishing business credit.
BusinessLauncher: Step-by-step guidance to help you build business credit.
CreditSweeper: Scans your reports for errors and provides dispute help.
CreditTarget: Sets important financial and credit goals, and tracks your progress.
The Essential Plan Includes:
Monthly Credit Reports:
Experian VantageScore 3.0 Personal Report
TransUnion VantageScore 3.0 Personal Report
Credit Scores:
Experian Personal Score
TransUnion Personal Score
Anytime Access Dashboard
Email Alerts
Text Alerts
Live Customer Support
$1M Identity Theft Protection
Identity Recovery Services
Common Questions
Why is this better than free services?
First off, no free business credit services exist. On the personal credit side, while there are many free options out there, the reason they are free is that they are showing you advertising or selling your information, like any business they have to make money too. Nav is built to provide you the facts; not sell your information.
How is Business Credit Used?
Business credit really is the lifeblood of any business. Credit impacts different businesses in various ways; whether it's securing funding, leasing equipment, negotiating payment terms, or potential clients running your credit, and more. Monitoring your business credit is an important element in running a healthy business.
Why is this a subscription, don't I just need a report once?
There are specific times when you will need to provide a credit report, but your credit is a constantly evolving picture of the health of your business. In addition to providing these reports, Nav will keep track of your credit and alert you the moment something happens that impacts it so that you won't have any "surprises" the next time you need a credit report.
Learn more: Experian business credit report