Southwest Rapid Rewards® Premier Business Credit Card
Advertiser & Editorial Disclosure
If you frequently use Southwest Airlines, the may be a great fit for your business. You'll save money on flights, may qualify for elite status and a Southwest Companion Pass. If these don't perks don't matter to you, we suggest you look to other Chase business credit card options like… Continue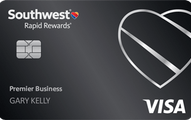 Rates and Fees
| | |
| --- | --- |
| Intro APR | N/A |
| Purchase APR | 17.99% - 24.99% Variable |
| Annual Fee | $99 |
| Welcome Offer | Earn 60,000 points after you spend $3,000 on purchases in the first 3 months your account is open. |
| Rewards Rate | 2 points per $1 spent on Southwest® purchases. |
Details
Earn 60,000 points after you spend $3,000 on purchases in the first 3 months your account is open
6,000 bonus points after your Cardmember anniversary
2 points per $1 spent on Southwest® purchases and Rapid Rewards® hotel and car rental partner purchases
1 point per $1 spent on all other purchases
Earn points on employee spending
Employee cards at no additional cost
No blackout dates when you redeem points, no seat restrictions, bags fly free®, and no change fees
No foreign transaction fees
Nav's Verdict
Bottom Line A good option for business owners that regularly travel and fly with Southwest.
If you frequently use Southwest Airlines, the Southwest Rapid Rewards® Premier Business Credit Card may be a great fit for your business. You'll save money on flights, may qualify for elite status and a Southwest Companion Pass.
If these don't perks don't matter to you, we suggest you look to other Chase business credit card options like its Offermeta "title" not found in API data., which may provide more airline points for your spending and more flexibility.
Card Review Details
You should always do a little comparison shopping when choosing a credit card. Think about how your business spends money and what features and perks are most important to you.
If Southwest Airlines benefits are what you care about most, then a Southwest business credit card will almost certainly your best option. If not, Nav has reviews on other airline business credit cards. You can get the details and our verdict for the American Express Delta Business Credit Cards.
Also keep in mind that Southwest doesn't fly all over the world. It mainly flies in the United States, as well as limited spots in Mexico and the Caribbean. So if you're an international jet setter, it's best to look elsewhere.
If you don't fly frequently, other cards may be better options. Chase has stepped up its game with all types of business credit cards. You can check out the details on the Offermeta "title" not found in API data. or the Offermeta "title" not found in API data..
Southwest Business Credit Card Requirements
Well, one of the first requirements is that you actually own a business. How qualifications are defined for this may be a little different than you think. It's really not that difficult to qualify as a business. Do you sell anything? Either services — are you a music teacher? Or even online for sites like eBay? Act as a freelancer? If the answer is "yes" than that could qualify you as a business owner.
When applying for the card, you will be asked what type of business you own, as well as your business tax ID number. If you don't have a separate number for your business, you can state that you're a sole proprietor and use your social security number as your business tax ID.
In addition to qualifying as a business owner, you'll need to have a good credit score. Even though it's a business credit card, the bank will look at your personal credit score when evaluating your for the card. You typically need a score of 660 or higher to qualify.
If you're credit score is less than stellar, you may want to check out our review of business credit cards for fair credit.
Qualify for the Southwest Companion Pass
As of this writing, you need to earn 110,000 Southwest points within a calendar to receive a Companion Pass. If you fly a lot, this is attainable and is a great perk. If you get the card right now, the sign up bonus gets you over half of the way there.
Here's how the Companion Pass works. It lets you pick one other person to fly with for free. This could be someone on your staff, a partner, a friend or a family member — anyone you want! Not only is the pass valid for the remainder of the year in which you get it, it also good for the following year.
If you travel frequently with SouthWest, you could save serious cash with this perk. Regularly using your Southwest Rapid Rewards® Premier Business Credit Card will make it easier to hit that 110,000 point threshold.
Southwest Credit Card Tier Qualifying Points
By earning tier qualifying points you can get upgraded to Southwest's A-List program. There are two different tiers for A-Lis: standard A-List and A-List Preferred. Here are the benefits for each:
A-List
Priority boarding, which means you are automatically assigned a boarding seat, typically in the low A section.
25% earning bonus
Security Lane Access (Fly By), which is like TSA Pre-Check.
A-List Preferred
All the benefits of A-List, plus
100% earning bonus
Free inflight Wi-Fi
If you travel a lot for your business or personal life, it's fairly easy to qualify for A-List because the program is primarily based on flights. As of this writing, you'll need 25 one-way flights or 35,000 Tier Qualifying Points.
A-List Preferred is more difficult, requiring twice as much of either category: 50 one-way qualifying flights or 70,000 Tier-Qualifying Points.
Once you meet any of these thresholds, you'll get the benefit for the rest of the year and the following year.
Customer Reviews
Reviews Disclosure: The responses below are not provided or commissioned by the credit card, financing and service companies that appear on this site. Responses have not been reviewed, approved or otherwise endorsed by the credit card, financing and service companies and it is not their responsibility to ensure all posts and/or questions are answered.