I have a friend who pays for everything in cash. And, not too many years ago, he wasn't the only one. That's not the case today. Although some customers still do pay in cash, with debit cards, smartphones, and RFID (Radio-Frequency Identification) technology, a cash box, or even a cash register, might not be enough to accept payment for your goods and services. A Point of Sale System (POS) is an important tool for any business. But, choosing the best POS system for your business can be challenging with all the options available.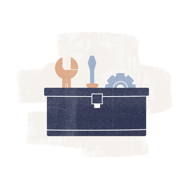 The tools your growing business needs
Running a business is tough, but there are plenty of services that make it easier. From bookkeeping to payroll to credit help — get the services you need to thrive.
Browse Business Services

What is a POS system?
A POS system enables the transaction between your business and your customers—regardless of the payment type. Barcode scanners, cash registers, and credit card scanners are all connected to a computer network that is made up of a main computer and the different payment systems. What's more, a POS system can even be mobile today, making it easy for merchants to do business at a trade show, an art fair, or a farmer's market, for example.
POS systems are often designed to meet the needs of specific industries. For example the needs of a retail store might be different than the needs of a hotel or restaurant, so there are systems designed to meet the needs of many different businesses.
What to consider when choosing a POS system
Depending on your business and what your needs are, here are 7 things you should consider when choosing a POS system for your business.
Is it user friendly? Running a business can get complicated, but your POS system shouldn't be. As you shop for a POS system, the more intuitive the better. You shouldn't need a computer science degree or week of intensive training to figure out how to use it.
What type of hardware will you need? Will you need cash registers, do you take credit cards, or do you need to be able to read the chip from a smartphone to accept something like Apple Pay? You may also need to connect to receipt printers, barcode scanners, scales, or other devices.
Will it integrate with your current hardware and software systems? Does the POS system software integrate with your PC or your Mac computer? Is it compatible with the hardware you've determined you need to do business? Some POS systems have native software that could lock you exclusively into their tools. Look for a system that easily integrates with other third-party hardware and software.
Does the system require a lot of manual inputs? For example, does it flag you when inventory on a certain item is low or will you have to manually track that. If automating tasks and systems is important to you, make sure your point of sale system will accommodate that.
Is your POS system secure? Small businesses are more vulnerable than ever to cyberattacks. Make sure any POS system you consider is PCI (Payment Card Industry) compliant to protect both yours and your customers sensitive information.
Will there be support after your POS system is up and running? Because many small businesses operate at all times of the day and night, will you have 24 hour access to service via email, live chat, or telephone. Will you have the support you need should your system go down during your business hours—even if that happens to be 2:00 am?
What does the system cost? The cost of the system, including the hardware you'll need can make a big difference in the system you choose. Many providers offer software and hardware bundles, but depending on the stage your business is in, you may need something that will allow you to slowly build your software and hardware needs as your business grows. What's more, if you already have a credit card processor, you will likely want a system that will allow you to use the processor you want—some do not.
What features does your business need?
Depending on the nature of your business (a retail business, a wholesale business, or a hospitality business, for example), you may need some of these features. Here's a list of some of the common features that you might consider when looking for a Point of Sale System.
Does the POS offer quick keys or easy product lookup? This may sound like an insignificant feature, but in a retail setting quick keys can give you shortcuts to the items you regularly sell, making checkout quicker for both you and your customers.
Will the POS accept multiple payment options? Most point of sale systems will enable cash and credit card transactions, but as mobile payments from a smartphone become more popular, you may want to be able to accept that payment type as well. Also, the ability to split payments between multiple gift cards or some combination of cash and credit card may be a needed feature.
Does the POS easily accommodate returns and refunds? If you accept returned merchandise, you will likely want a POS system that makes that simple and painless at the register.
Will the POS accommodate multiple user accounts with different permissions? A POS system that enables you to password protect each user or log in to the POS system before use can be an easy-to-initiate safety system.
Does the POS integrate with mobile registers? If you occasionally are on location outside of your business but still need to accept payments, you'll need to ensure that your POS system is cloud-based so you can run software on mobile devices like a smartphone or a tablet.
Does the POS system offer a customer-facing display? If your customers are accustomed to being able to watch as the transaction is rung, you'll want functionality that allows for a customer-facing display.
What types of data does your business need from a POS system?
A POS system can help make data collection easier for many small businesses. Some of the different types of information you may want your POS system to collect could include:
Product Reports: If your POS system tracks all your inventory data it can help you identify the products that are selling well and those that are not so you can better manage your inventory and costs.
Employee Reports: If your POS system tracks employee logins, it can also help you know who your best salespeople are and whether or not you are hitting your sales targets.
Customer Reports: Who are frequent customers? Who are your best customers? Customer reporting will empower you with the data you need to turn your good customers into great customers.
Customizable Reports: Some systems will also allow you to create custom reports depending on your needs.
Costs and fees of POS systems
The costs of a POS system will vary from software to software, and come in two forms. The cost of the hardware and the annual fee to use the software.
Many POS systems will charge a percentage of every transaction, so in addition to your annual fee to use the software, they may charge 2.5% + 30 cents per transaction, for example.
The average cost of a single register system will likely be around $1,200 and $1,000 annually to use the software. There is really no standard, so you can negotiate with the vendor before you sign on the dotted line.
The Best POS Systems for Small Businesses
There are numerous Point of Sale Systems that will address the needs of many different industries. With the exception of Clover (a Nav strategic partner), we don't work with a POS system within our partner network, but here are the POS systems we think are worth considering.
Clover offers solutions for restaurants, retail businesses, kiosks, and service businesses. The Clover platform makes taking orders online, curbside, or in your place of business easy.
Clover Strengths
Doesn't charge based upon your number of employees
A POS system that will scale with you as your business grows
A cloud-based system that allows you to do business anywhere
Easy to use
Clover Weaknesses
More costly than some of their bare-bones competitors
Can't separate the POS from payment processing
Clover pricing is pretty straightforward and based upon a selection of plans designed to meet the needs of many businesses.
Clover Go: $69
Clover Flex: $499
Clover Mini: Prices start at $749
Clover Station: Prices start at $1,349
Payments Plus: 2.7% + $0.10 per in-person transaction, and 3.5% + $0.10 for keyed-in transactions
Register Lite: $14 monthly fee, plus 2.7% + $0.10 per in-person transaction, and 3.5% + $0.10 for keyed-in transactions.
Register: $29.95 monthly fee, plus 2.3% + $0.10 per in-person transaction, and 3.5% + $0.10 for keyed-in transactions.
Since its introduction a few years ago I've seen Square used by small businesses all over the country. It's relatively easy to use, easily plugs into a tablet or smartphone, and allows a business owner to do business anywhere.
Square Strengths
Zero monthly cost for the basic plan
Software and hardware that's easy to set up and use
Transaction fees are transparent
Square Weaknesses
It's more costly than some of their competitors
There are higher fees for manual entry
Although Square doesn't have a monthly fee, the do charge transaction fees (which are pretty simple and transparent).
Tapped, dipped, and swiped payments: 2.6% + $0.10
Keyed-in and card-on-file payments: 3.5% +$0.15
Square Register payments: 2.5% + $0.10
Shopify is considered one of the leaders in the space for retail businesses and boasts over 1 million business customers worldwide. It's web-based platform is relatively easy to set up and is highly customizable to fit a business' specific needs.
Shopify Strengths
Affordable basic subscription and processing fees
Free 14-day trial
Robust e-commerce capabilities
Shopify Weaknesses
It requires a subscription
Limited reporting on their basic plan
There are extra fees for using third-party payment providers
Shopify offers four payment options (one is for doing retail business on Facebook only).
$29 Basic Shopify
$79 Shopify plan
$299 Advanced Shopify pan
$9.00 Shopify Lite (for Facebook only)
Online transaction fees range from 2.4% + $0.30 to 2.9% +$0.30, depending on the plan you choose. In person transactions fees also vary depending on the plan and will range from 2.4% to 2.7%.
ShopKeep offers three different plans and each of the plans have a different set of features. For example, the Essential and Advanced plans have Quickbooks integration, while the Basic plan does not. The Advanced plan also has a customer loyalty program and social media tools that are not included in either the Basic or Essential plans.
ShopKeep Strengths
Inventory management
The software is easy to use
24/7 customer support
ShopKeep Weaknesses
Difficult-to-understand pricing
Limited support for multiple locations
It's an iPad-only POS system
ShopKeep does not make their pricing public, so you will need to contact a sales representative to talk specifically about your business.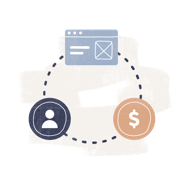 Check out Business Boost
Get your full business credit reports & scores, PLUS Nav reports your account payments to the business bureaus as a tradeline.
Explore Business Boost

Choosing a POS System for Your Small Business
There are literally hundreds of POS systems available for a myriad of different businesses. For example, if your business sells Tai food in Southern California, there's a POS system for that. Don't let that dissuade you though, a good POS system will make doing business easier for both you and your customers. Don't be afraid to shop around, ask others in the industry about what they're using, and speak with two or three providers before you decide.
Rate This Article