Small business credit cards offer myriad benefits: rich rewards and flexible credit lines with credit limits that are often higher than on personal cards. Plus, there's an added bonus that small business owners don't always recognize at first: A business credit card may help you build business credit.
Getting one of these cards may help put your business on the map when it comes to building business credit, provided the card issuer reports information to commercial credit agencies. Not all cards have the same policy when it comes to reporting to business credit bureaus, though, and it's important to understand how each one works. (In a separate article, we explain how business credit cards may affect a business owner's personal credit.)
How Business Credit Cards Report to Business Credit
There are a number of commercial credit reporting agencies in the U.S. Separately, the Small Business Financial Exchange (SBFE) serves as a repository of business credit information for its members, which include major financial institutions and lenders of all types that provide financing to small businesses.
The SBFE doesn't compile or sell credit reports. Instead, it works with SBFE Certified Vendors, which are credit reporting agencies that are permitted to include credit information reported to the SBFE exchange in the reports they sell to members of the SBFE. SBFE Certified Vendors currently include major business credit bureaus like Equifax and Experian.
Credit reporting is entirely voluntary. No issuer is required to report information to credit bureaus, whether it's personal or commercial credit information. And with business credit in particular, it can be difficult to find lenders and vendors that report. That's why having a credit card that reports can be so helpful.
We reached out to major business credit card issuers for details on where they report small business credit card payment history. The chart below summarizes findings.
Information may also appear on credit reports from bureaus not listed below. One reason is due to the SBFE Certified Vendor model. Information reported to SBFE may also be included in reports compiled by SBFE Certified Vendors.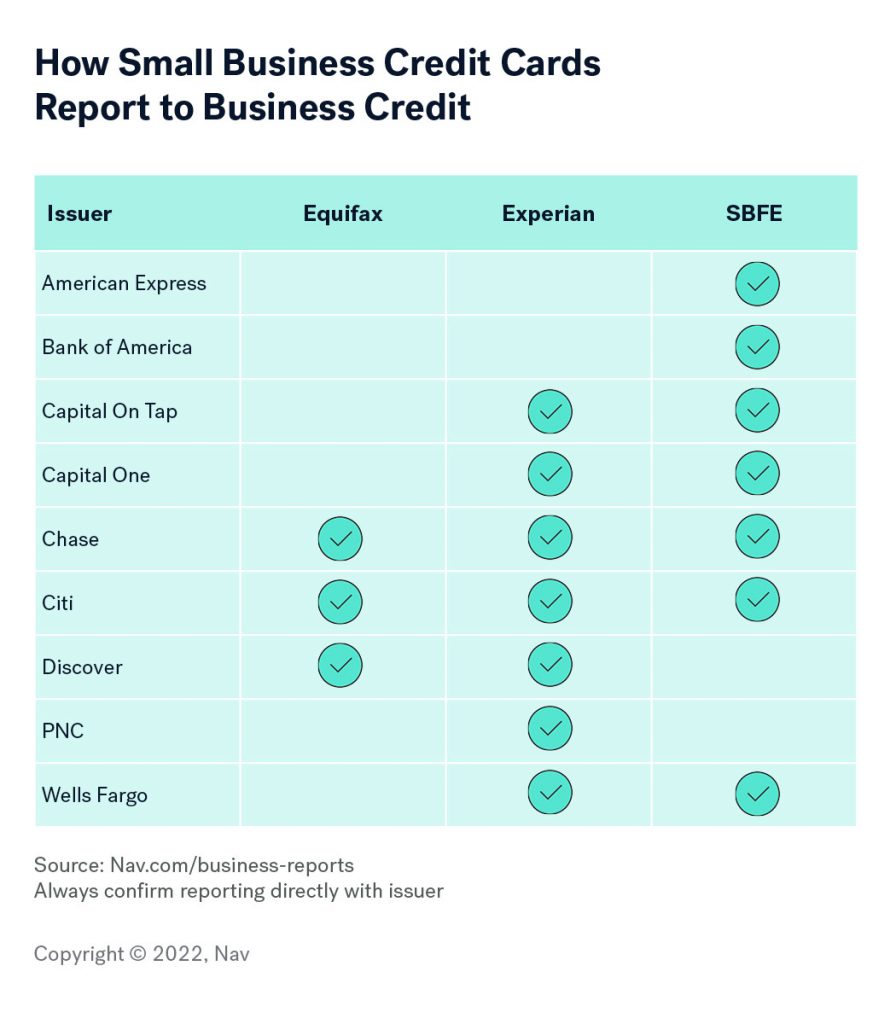 Issuer policies may change. Be sure to check with the issuer for current information on credit reporting policies.
How to Get a Business Credit Card to Build Credit
Small business credit cards are available to small business owners with good personal credit scores and sufficient income to meet the issuer's minimum income requirements. A few important qualifiers to keep in mind:
You will almost always need to provide your social security number when you apply, and there will be a personal credit check. Most issuers require at least a good personal credit history to qualify, and that usually means you need a FICO score of 650-680 or above to qualify. Some cards require excellent personal credit scores to qualify.
There is almost always a personal guarantee required as well. You may be asked for some basic information about your personal finances (such as income).
Startups, freelancers, contractors and sole proprietors may qualify as long as you meet the issuer's requirements.
It's a good idea to get an Employer Identification Number before you fill out a credit card application to help ensure your new card gets reported properly under the name of your business.
What to Look For in a Credit Card to Build Credit
Business owners looking for a credit card have many choices. If your primary goal is to build business credit, then you'll want to find a card that reports to multiple business credit bureaus. On-time payments can help your business build credit.
Other secondary goals to consider:
Rewards: Think of all the money you spend in your business, then think about all the credit card perks you may earn if you use a credit card to pay for those business expenses. For many businesses, it adds up quickly.
Cash back rewards are universally popular, as business owners can always use cash! Some cards offer bonus cash back for spending in bonus categories (such as office supply stores) so it's helpful to review your typical business purchases before you choose a card. Points are also popular, and are most often used for travel, but can be redeemed for other rewards such as gift cards.
Financing: Don't overlook the fact that a business credit card is essentially a line of credit your business can use when needed. Unlike a business loan, no one will question why you need financing. Some cards even offer balance transfers or introductory APRs of 0% for a year or longer. That low-cost financing can be very helpful to new businesses or any business that is experiencing tight cash flow.
It's essential, though, that you use this financing for essential business spending. Otherwise you may find your business with a credit card balance at a high interest rate once the introductory rate expires.
4 Best Business Credit Cards to Build Credit
If your goal is to build business credit, while enjoying the benefits small business credit cards offer, here are five card offers to consider:
1. Chase
Chase reports to all the major commercial credit reporting agencies, making it a good choice if you want to build business credit. The Chase
is a particularly attractive card. It offers a generous sign-up bonus: . That's $1,000 cash back or $1,250 toward travel rewards when you redeem through Chase Ultimate Rewards®, their travel portal.
Ongoing reward points are solid as well:
Shipping purchases
Advertising purchases made with social media sites and search engines
Internet, cable and phone services
Travel
Earn an unlimited 1 Point Per $1 spent on all other purchases. Points do not expire as long as the account is open. You can also get free employee cards.
The annual fee is
and there are foreign transaction fees.
2.
Divvy reports to the SBFE and a major business credit bureau.
streamlines spend management by combining corporate cards with free expense management software. It gives admins complete control over employee spending with spending limits that can be adjusted in seconds. Divvy can help your business eliminate expense reports, spend within your budget and build business credit.
The annual fee is
. And the rewards program is competitive:
3.
If you're looking for a straightforward cash back rewards card, the
is a solid choice. American Express reports business credit cards to the SBFE, which means that information may appear on multiple business credit reports, depending on the report purchased by a lender.
You can get
which make this card appealing for businesses looking for low-cost financing. There's also a welcome offer:
Rewards come in the form of cash back.
Amex cards require excellent credit to qualify.
4.
Capital One reports to the SBFE and Experian Small Business. (It should be noted that it may report activity to the cardholder's personal credit. Learn more here.) If you decide a Capital One Spark Card is right for you, this is a great pick for businesses that want to carry a balance with an introductory APR.
There's
annual fee and it offers an intro APR of with APR after that. You can also earn unlimited Good credit is required.
Secured vs. Unsecured Credit Cards
If you can't qualify for a small business credit card due to bad credit, you may want to consider a secured credit card. These cards require a security deposit as collateral. Pay on time and can build credit, eventually qualifying for an unsecured card.
However, there are not a lot of issuers offering secured business credit cards. Bank of America is one of the few major issuers that does so. Learn more about business secured cards here.
Tips for Building Business Credit With Credit Cards
If one of your goals is a good business credit rating, consider getting a business credit card. Many entrepreneurs think their business has to be well-established and profitable to qualify, but that is not always the case. Card issuers are often more interested in the personal credit score of the owner who applies, and will often consider income from a variety of sources, not just the business itself.
To build strong business credit using a business credit card, make sure you:
Pay your credit card on time. Payment history is the most important factor in personal credit scores and can be an even greater factor with business credit scores. Some business credit scoring models rely almost entirely on payment history.
Keep balances low. Business credit reports are different from personal credit reports in several ways. One is that issuers don't typically report credit limits. Unlike personal credit scores, where debt usage is based on the balance compared to the credit limit, with business credit the balance may be compared to the highest balance reported. Your business may appear "maxed out" more easily this way. Not all commercial credit scoring models will evaluate debt usage, but when they do, lower balances can be a benefit.
Check credit often. Another way business credit reports are different than personal credit reports is that they do not list the name of the lender (or card issuer). As you begin to build business credit, keep track of your business credit reports to identify when one of these accounts reports. You'll then be able to track how various accounts impact your credit history.
Credit cards can be a flexible and relatively low-cost way to borrow for your business and can offer lucrative rewards that provide additional value at no cost when you pay your balances in full. As with all types of credit, you want to be careful and cautious so you don't put your business finances at risk.
FAQs
Can a Personal Credit Card Build Business Credit?
The answer is "no", a personal credit card will not build business credit because it will not appear on business credit reports. To build business credit, you'll want to choose a small business card that reports to business credit.
Can you get a business credit card with a 600 credit score?
Most business credit cards require good or excellent credit to qualify. If your credit scores are below 650, you may need to consider a secured credit card or other options to build business credit, such as net-30 vendor accounts.
How can I build my business credit fast?
The fastest way to build business credit is to establish accounts with companies that will report your payment history, including business credit cards, business loans and vendor accounts. (Not all of these companies will report, so be sure to check before you apply.)
This article was originally written on February 6, 2018 and updated on September 20, 2023.
Rate This Article