The Dun & Bradstreet PAYDEX Score Explained
by Gerri Detweiler
What is the PAYDEX score?
The PAYDEX® score is a business credit score that's generated by Dun and Bradstreet (D&B). Their model analyzes a business' payment performance (i.e., if it pays its bills on time) and gives it a numerical score from 1 to 100, with 100 signifying a perfect payment history.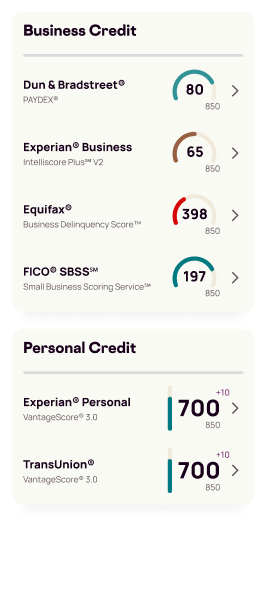 Just like a consumer's creditworthiness hinges on a FICO score, a business's creditworthiness is determined by a scoring system as well. One business credit score that is typically used by lenders, vendors, and suppliers to judge whether a business is qualified for different financing products is the PAYDEX score.
A business' D&B PAYDEX score is used much like an individual's FICO score. It helps lenders, vendors and suppliers determine whether to approve you for financing and on what terms. Typically, the better the score, the more generous the terms extended. This can save your business money and give you more time to pay for supplies or services, leveling out cash flow.
In order to establish a PAYDEX score, you'll need a Dun & Bradstreet number, or a DUNS number.
What is A Good PAYDEX Score?
The PAYDEX score ranges from 1 to 100. Maintaining a PAYDEX score of at least 75 shows lenders, vendors, and suppliers that you're relatively low risk and likely to make repayments on time. A score below 75 may indicate you have a high risk of late payments, and a score below 40 is poor.
Read on for more on how scores are calculated and what each score range indicates about your ability to make payments.
How is My PAYDEX Score Calculated?
To determine your business's PAYDEX score, Dun & Bradstreet gathers data from the suppliers and vendors with which you do business over a rolling 12-month period. Each supplier/vendor is considered a tradeline account, and the payments you make to that supplier/vendor is considered a payment experience. According to Dun & Bradstreet, two tradelines with at least three credit experiences are needed for a PAYDEX score; however, in Nav's experience, business owners need at least three tradelines reported to create a score.
Dun & Bradstreet analyzes the promptness of your payments against the terms of sale for each payment experience. So, the faster you pay your bills, the better your score.
PAYDEX scoring is dollar-weighted, which means that each payment experience is weighted in terms of the number of transactions and the overall dollar value of those transactions. That means your transactions with your IT vendor, with whom you spend thousands of dollars monthly, comprise a greater percentage of your D&B PAYDEX score than your transactions with the carpet cleaner who comes out to steam your rugs annually for a few hundred dollars, for example.
It's important to note that a Dun & Bradstreet PAYDEX score of 100 does not indicate that a business has made on time payments — in fact, it indicates that a business has consistently paid suppliers 30 days in advance. Here's a breakdown of what your Dun and Bradstreet number means: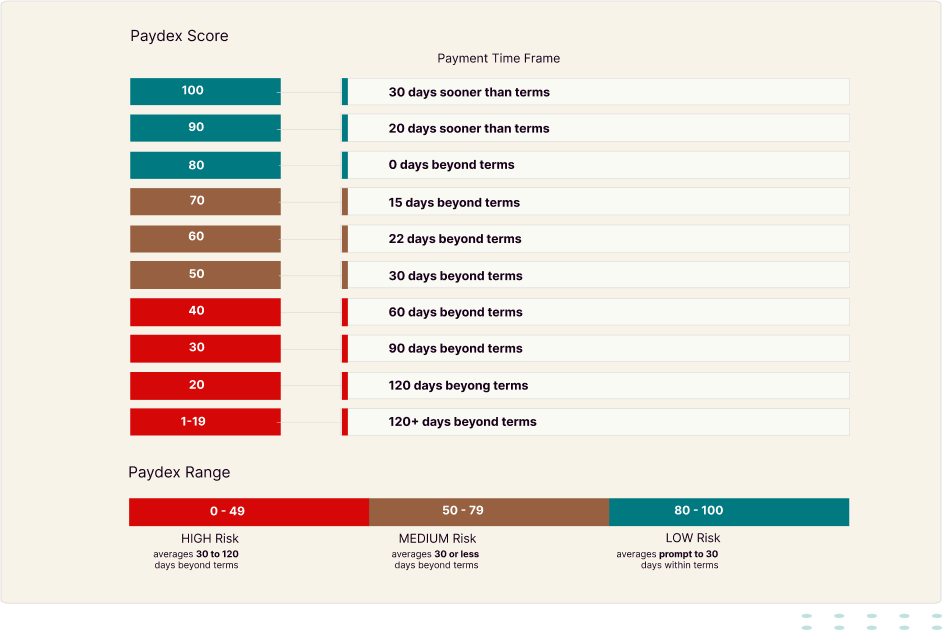 How is My PAYDEX Score Used?
PAYDEX is primarily used by vendors and suppliers to judge your business when determining what terms to extend on trade credit (e.g., net 30, net 60, etc.) This is important because having more time to pay your bills can help you better manage cash flow.
Lenders and creditors can also consider your PAYDEX score before extending lines of credit or loans to your business. You should aim to maintain a PAYDEX score of 75 or higher to ensure qualification for these types of financing.
How Can I Improve My D&B PAYDEX Score?
Since your PAYDEX score is based entirely on the promptness of your payments to vendors and suppliers, the only way to improve it is to make sure you are paying on time. Remember: paying on time will only earn you a score of 80. For a perfect PAYDEX score of 100, you need to pay early.
You should also make sure you have at least three open tradelines to generate a PAYDEX score on your business. Having no PAYDEX score is just as bad as having a low one.
Wondering how to get PAYDEX score for free and start improving it? Nav lets you check your Dun & Bradstreet PAYDEX rating online, for free (no credit card required). You'll also get tips and insights to potentially impact your score, so you may negotiate better vendor terms, save money and more easily manage cash flow.
What Are the Best Lenders for Businesses With High PAYDEX Scores?
Businesses with high PAYDEX scores are more likely to qualify for small business loans that require good business credit. You'll find a few options to consider below. To instantly compare all your best options based on your business data, sign up for Nav.
What Are the Best Lenders for Businesses With Low PAYDEX Scores?
For businesses with a low PAYDEX score, here are a few loan options to consider. As mentioned above, create a Nav account to instantly compare all your best options based on your credit score, annual revenue, and other business data.
These are designed for businesses that don't have excellent business credit, and may request collateral in exchange for funding.
PAYDEX Scores Frequently Asked Questions
How Do I Establish Business Credit?
To establish business credit, first make sure your business is registered in your state. Next, obtain a D-U-N-S number by applying with Dun & Bradstreet. Once these steps are complete, start doing business with companies or organizations that report payment history to business credit agencies. Examples include vendors, suppliers, credit builder accounts, and business loan offers. You can also build business credit by getting business credit cards.
Now you're ready to start building your credit profile. Meet payment terms and make payments on your open accounts on time. Make early payments if possible. Remember: Payment history is the single most important factor for building business credit. Timely payments will strengthen your score, while late payments can hurt it.
For a detailed breakdown on how to build business credit scores, read our blog. You can also create a Nav account, where we'll provide you with all the tools you need to succeed, including free business credit score summaries and one-on-ones with credit specialists. Our Business Boost and Business Loan Builder plans also report your account payments as a tradeline, which can help build your credit score.
How Do I Get A Free Business Credit Score Report?
The best way to get a free business credit report summary is to sign up for Nav's free business credit builder plan. Nav is currently the only online platform that offers this, and it includes information from the major commercial business credit bureaus, which includes Dun & Bradstreet, Experian, and Equifax. The free plan also comes with personal credit score summaries, 24/7 business and personal credit alerts, cash flow alerts and insights, and one-on-ones with credit and lending specialists.
For a full credit score report, you'll need to upgrade to a paid plan.
Do I Need A PAYDEX Score For My Business In Order to Get A Loan?
The PAYDEX Score is generated by Dun & Bradstreet, a major commercial credit bureaus. Most lenders check your business credit score during the business loan application process, so if you want to get a loan, you should have a PAYDEX score.
This article was originally written on October 17, 2019 and updated on August 23, 2023.
Rate This Article
Have at it! We'd love to hear from you and encourage a lively discussion among our users. Please help us keep our site clean and protect yourself. Refrain from posting overtly promotional content, and avoid disclosing personal information such as bank account or phone numbers.
Reviews Disclosure: The responses below are not provided or commissioned by the credit card, financing and service companies that appear on this site. Responses have not been reviewed, approved or otherwise endorsed by the credit card, financing and service companies and it is not their responsibility to ensure all posts and/or questions are answered.