The preferred embedded financing solution for your SMB users
Contact Us
82% of businesses fail due to cash flow problems
Nav's embeddable financing solution takes verified business credit, personal credit, intent and cash flow data to power intelligent financing recommendations via a proprietary data engine for your SMB customers that need financing.
The Nav Solution
Nav aligns financing qualifications, predicts needs, and facilitates transactions between data providers, lenders, partners, and small businesses.
Business Financing
Increase Retention
Plug-and-Play Features
Increase Retention
Nav's personalized user experience drives return engagement and creates revenue growth opportunities for your business.
Plug-and-Play Features
Nav APIs enables you to connect your business website, mobile app, or backend servers directly to Nav. We offer a variety of API integrations so you can find a solution specifically for your SMB customers.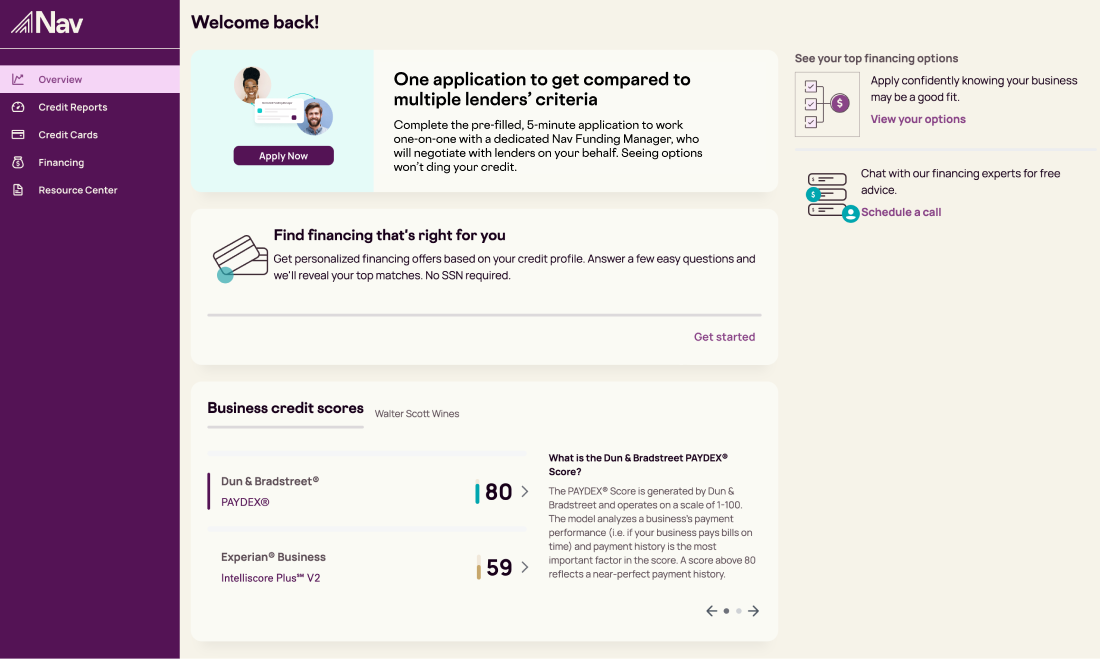 CASE STUDY
Clover & Nav
Clover's point-of-sale device and SMB services are connected to hundreds of thousands of merchants across the U.S.
Clover's Goal
Create more engagement & increase revenue from Clover customers by partnering with complementary business services and tools.
Nav's Solution for Clover
A fully configurable & compliant collection of credit card and financing options
A call-to-action API to serve new and data-driven engagement, conversion opportunities and upsells
Expanded team of Funding Managers to support small business owners in their financing journey from start to finish
Premium features for Clover merchants who upgrade, including alerts, full reports and score updates
Free business credit score matching and score updates from Experian and Dun & Bradstreet via an autoprovisioned widget on Clover devices
Full marketing support
"We strive to empower our merchants with best-in-class business solutions. That's why it was the natural choice to partner with Nav where our merchants can get their credit data as an easily digestible datapoint to help them make better business decisions, access extensive options to find financing and credit card options, learn from Nav's financial education tools, and subscribe to premium solutions to support them in running their business better."
TB
Travis Balinas
Director of Product Strategy, Clover
Nav's Embedded Financing Features
Financial Data
Using OAuth technology and connections with more than 50,000 financial institutions across the U.S., Nav is powering cash flow and revenue insights for small business owners. Use this feature to:
Target SMBs who need a financing solution

Verify revenues for SMBs

Understand customer revenue trends

Increase engagement on your platform
Business Financing Options
A custom financing solution unique to your needs. Nav's one-stop-shop financing options can be configured so you:
Improve customer engagement and retention

Serve underfinanced SMB customers with no additional risk for SMBs

Power new or additional revenue streams
Become a Nav partner
A member of our account management team will reach out to set up a call.