It's no secret that a main formula for measuring the health of your business is how much cash you have in the bank. More cash coming in–and less going out–is a shared goal for businesses everywhere.

Banks and lenders view the health of your business in the same manner. When you apply for business financing, most lenders will ask to look at your bank statements from the last six months in addition to your profit and loss statement and financial projections. Healthy cash flow is key to getting a low-cost loan, and lenders are only able to accurately measure a business's cash flow if the business has a checking account separate from their personal one.

Findings from Nav's 2018 Business Banking Survey echo the importance of business checking accounts. We polled 648 business owners from across the U.S. and found that 70% of small business owners without a business checking account were turned down for a business loan in the past two years.
Business Banking Survey Findings
Other findings from the survey reveal banking preferences and a desire to open a business bank account.
Business owners lack the time it takes to open a business checking account
50% of business owners without a business bank account want to open one but haven't had the time to set one up.
Those without a business bank account consider closing doors at almost twice the rate of those with a separate account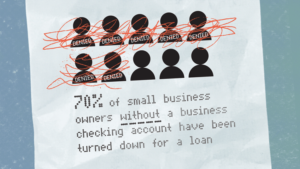 26% of businesses lacking a business checking account had considered closing their business in the past two years.
14% of businesses with a bank account considered closing doors.
Of those who considered closing their business, 60% cited cash flow issues as the main reason they considered closing. 50% cited access to capital as the main reason.
Convenience is the main determining factor behind where business owners choose to do their business banking
47% chose the same bank with which they bank personally.
46% cited location as the main reason for choosing their business bank.
17% chose their bank because it was least expensive.
13% chose the bank with the best perks.
Business owners are engaged with their bank on a regular basis
60% of respondents check their business bank account at least once per day.
93% check their account at least once a week.
Small businesses often bank with large banks
57% of participants claimed they bank with a large bank.
18% bank with community banks.
15% keep their accounts with a credit union.
6% used an online bank.
Key Takeaways
Diligently keeping track of cash flow keeps doors open for small businesses in America. According to Nav's Business Banking survey, opening a business bank account has a significant impact on the financial success of a small company. Separating personal and business finances has made a difference for many small businesses trying to qualify for a loan they can actually afford.
This article was originally written on April 24, 2018 and updated on December 21, 2021.
Rate This Article