---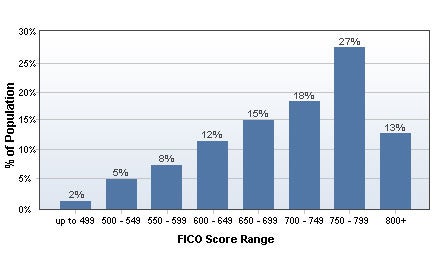 Before you try any credit hacks with your personal credit score, you should understand the basics. In our post on How your FICO Score gets determined, we cover the basics for keeping your FICO scores healthy. Do those things first. For example, Payment History makes up 35% of your FICO scores. The best thing you can do for your FICO scores is to make sure you always pay on time. It won't happen overnight, but it is the single biggest thing you can do to improve you personal credit score.
I'm not really a fan of the phrase credit hacks, but once you've got the basics down, here are some tricks that can help you further improve your credit scores and work your way up into a higher FICO score range:
Monitor your credit score
It's human nature to positively impact the things you pay the most attention to. Regularly (monthly is not too frequently) monitoring your personal credit score will encourage you to take actions that will increase your FICO score. This might sound over-simplistic, but it works. The people who monthly monitor their score generally tend to have FICO scores that are moving up.
Additionally, it will give you an opportunity to make sure all the information in your credit profile is accurate and up to date. I've personally had a relationship with Experian for many years and have appreciated the monthly report and alerts. With a free Nav account, you can have have access to both your business and personal credit scores.
Reduce credit utilization
After Payment History, the next biggest chunk at 30% is Amounts Owed, (or the percentage of credit you have compared to the credit you use) which is called credit utilization in the business. The goal should be kept below 30%. The lower, the better.
The goal is to reduce your credit obligation, so if you are carrying higher balances on your personal credit cards for instance, you should be trying to pay the balances down. Focus on the card with the biggest balance first. Pay more than the minimum payment every month until you have it payed off, then tackle the next highest balance while paying the minimum balance on any other credit cards you might have.
One simple hack to reduce your credit utilization is to make multiple payments during each billing cycle. Paying more frequently during the month is another way to reduce your balance.
Another way to reduce your utilization is to increase your overall credit limit. HOWEVER, increasing your card balances can be tricky if you run up the balances. Remember the goal is to keep your utilization below 30%, the lower the better.
Strategically manage your revolving credit usage
Carrying a balance on your revolving credit isn't bad. To build a strong personal credit score, you want to strategically manage your revolving credit utilization and keep that percentage as low as possible. In other words, it's not using your credit that is a problem, it's maxing out your available credit that will hurt your score. In other words, don't max out your credit cards.
Manage delinquencies to build a stronger FICO score
Everyone experiences a hiccup from time to time, but if you miss a payment, don't miss the second payment.
Your FICO score starts improving the minute you bring your accounts current. Don't allow a late payment to discourage you into thinking it's too late to do anything about it to save your credit score. Keep in mind that:
Your score is measuring the time since your last late payment in months, so if you can bring your account current quickly, your score will start to improve.
A late payment will impact your score less as time passes. Minor delinquencies have less negative consequences after a couple of years.
How many late, or missed, payments you have makes a lot of difference. If you can keep your delinquency to only one account, it will help minimize the damage to your FICO score.
After seven years, delinquencies typically fall off your credit report. Charge-offs and certain types of bankruptcies can stay on your report for 10 years.
Don't close any credit accounts
The age of your credit accounts matters too. The older the better. If you have a credit account that is seven or eight years old, it's a good thing. It can be tempting to close old accounts, but avoid the temptation, creditors look at your oldest credit account (the older the better)
Don't worry about applying for the credit you need
Yes it's true, new credit enquiries can lower your score, but it's a relatively insignificant amount. New enquiries amount to about 10% of your FICO score, which means, don't apply for credit everywhere, but if you need another credit card, applying won't impact your score significantly, and it will return to where it was in relatively short order.
There are no shortcuts and the credit bureaus aren't dumb
You may have heard about credit repair agencies that, for a substantial fee, can repair your credit overnight. There are no shortcuts to resurrecting a bad FICO score. It takes consistent good credit practice over time. And, if they want to charge you before they do anything, it's not only unethical, it's against the law.
You may have already heard about cancelling credit accounts and moving balances around. The credit bureaus have been wise to this, and other sketchy tactics for a long time. Employing them will not only NOT help your FICO score, it could hurt it. Consistently making your credit obligations and reducing your credit utilization is the best way to positively impact your personal credit score over time.
There are a lot of myths when it comes to credit reports and credit scores. There are lots of good resources (here and elsewhere) that you should read up on before taking action.
This article was originally written on June 26, 2014 and updated on March 3, 2021.
Rate This Article