If you're new to FICO Scores, we recommend you first read Introduction to FICO Scores and How your FICO Score gets determined.
---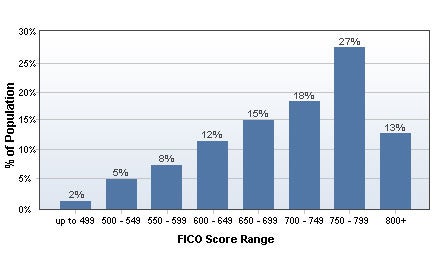 Before you try to hack your credit score, you should understand the basics. In our post on How your FICO Score gets determined, we cover the basics for keeping your FICO scores healthy. Do those things first. For example, Payment History makes up 35% of your FICO scores. The best thing you can do for your FICO scores is to make sure you always pay on time.

Hack Your Credit Score With A Nav Account
When you sign up for a free Nav account, you'll get access to your personal and business credit scores and reports for free. Checking won't hurt your credit scores.
Get Started

Once you've got the basics down, here are some tricks that can help you further improve your credit scores and work your way up into a higher FICO score range:
Reduce credit utilization
After Payment History, the next biggest chunk at 30% is Amounts Owed, which is all about credit utilization, which should be kept below 30%. The lower, the better.
One simple hack to reduce your credit utilization is to make multiple payments during each billing cycle. Your credit utilization is a snapshot of the balance you carry at the time your credit card company makes a report to a credit bureau.
Another way to reduce your utilization is to increase your overall credit limit. HOWEVER, be aware that each card you open will result in a hard inquiry. Hard inquiries can reduce your credit score, but more importantly, if you apply for multiple cards it can be a sign of desperation, that you expect trouble ahead.
Another way of increasing your credit limit, and therefore improve your credit utilization, is trying to ask to have your credit limit increased on existing credit cards. Note that some credit card companies may do a hard inquiry to reevaluate your credit worthiness.
Be mindful of taking out more debt like an MCA, business loan, or other type of business financing.
Other hacks
There are a couple hacks we've heard about that are a bit hacky or shady. We're not encouraging these approaches, but think you should be aware of them.
An ABC News post mentions that if you report a card lost, credit card companies make a new account and copy over all the old information, including the original open date. It can help increase your average credit history, though sometimes credit card companies report it to credit bureaus, in which case it might not work.
You can try to dispute old, small collection accounts. If they collecting agency doesn't respond, they can get dropped (they get dropped after 7 years either way). This may help, but it might not make a difference since credit scoring systems already ignore amounts under $100.
If you have a parent or close relative with a long credit history and high credit limit, you can piggyback off their account if they're willing to add you as an authorized user on their account. This would help increase the average age of your accounts. It can help or hurt your credit utilization, depending on how high a balance the other card holder tends to carry. Some credit scoring will weigh being an authorized cardholder less than being a primary cardholder.
Bonus: What not to do
One thing you definitely shouldn't do is pay so-called credit repair companies. Despite their claims of being able to scrub credit reports, it simply isn't true. Anything they can do you can do yourself. Be weary of any claims of quick fixes.
There are a lot of myths when it comes to credit reports and credit scores. There are lots of good resources (here and elsewhere) that you should read up on before taking action.
Rate This Article