Dun and Bradstreet (D&B) is a data warehouse that collects business data from over 30,000 sources worldwide and analyzes that data to help business owners make informed decisions. They have a wide range of products, most of which focus on risk management and sales and marketing.
Amongst D&B's credit building products is CreditBuilder™ Plus, which helps business owners build their D&B business credit file and is available for $159 per month, or $1,599 annually, through D&B's website. Businesses can consult your D&B credit file before to evaluate whether or not they want to extend you credit.
You can build your business credit profile for free with a site like Nav, but the process can take a few months. Paying for CreditBuilder™ Plus is supposed to make it easier for you to build credit more quickly.
For some business owners, this makes sense, especially if you have a "thin" file with little-to-no tradelines (vendors or supplier relationships that report your payment history to D&B). Getting more than three of these tradelines reporting, and consistently paying these suppliers on time or early can improve your business scores. This could mean getting even more credit and with better net payment terms—giving you more time to pay for the goods and services your business uses.
We tried this product to get an idea of what $159 per month will get you, and here's what we found.
CreditBuilder™ Plus Components
To get started with CreditBuilder™ Plus, you will be asked to fill out a simple, three-minute form asking for your business and principal information.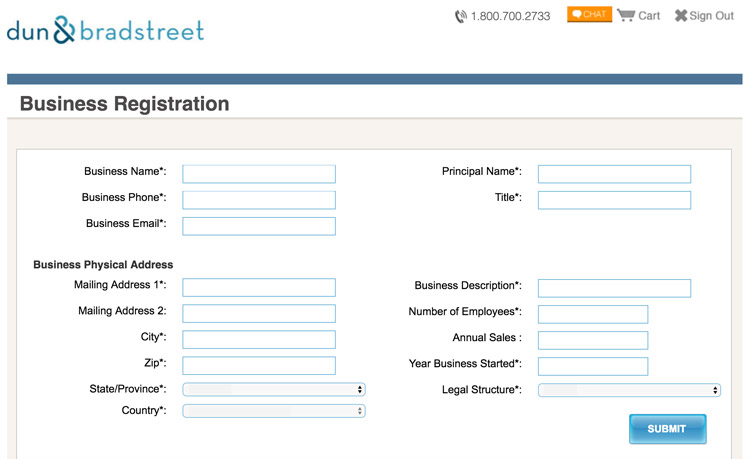 After completing your profile information, you'll be taken to your dashboard. Your profile takes up to five days for D&B to put together, as they need to gather payment intel from suppliers, vendors, and creditors that you've worked with. As your profile is being built, you will also be assigned a D-U-N-S number. Your D-U-N-S number is a unique nine-digit number for your business that serves as your identification number when other businesses inquire about your company's creditworthiness.
You could also register your business for a D-U-N-S number for free via D&B's website or through your Nav account. Getting a D-U-N-S number for free will take about 30 to 45 days, whereas if you register your business using a paid D&B account like CreditBuilder™ Plus, you'll have your D-U-N-S number in five days or less.
Once you create your business's profile, it'll appear under "My Companies" on your CreditBuilder home dashboard.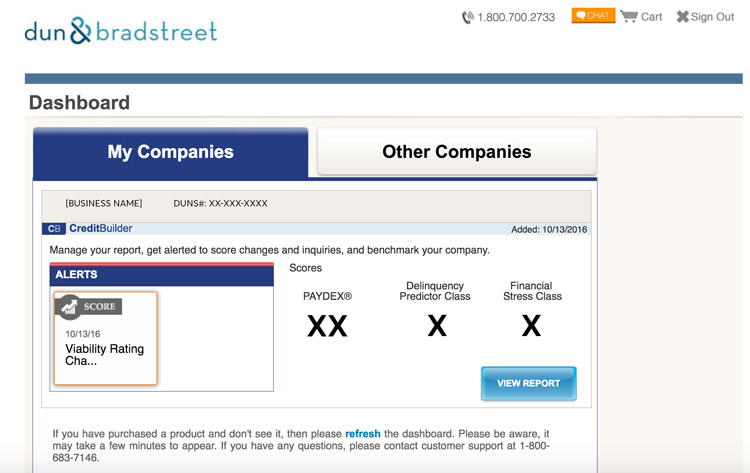 There are many components to your CreditBuilder account. Your summary page shows you an overview of your company information, the scores associated with your company, and any alerts you have activated on your profile to monitor your business credit information. You can also see all the add-ons that come with a CreditBuilder™ Plus account, including:
1. A section dedicated to peer companies you'd like to track. The peers section allows you to benchmark your company against other businesses similar to your own across key areas including credit scores, inquiries, and financial performance. You might choose companies you plan to do business with, or competitors whose financial health you'd like to monitor. CreditBuilder Plus allows you to track eight peer companies.
2. A section for inquiries that allows you to see who is looking at your company's business credit information. Inquiries indicate the number of D&B customers who have purchased a report on your company. If you see multiple inquiries but few inquirers, this might be an indication that some companies are monitoring the credit of your business.
You can also view the number of inquiries made on your peer companies as well as when they were made in comparison to your own.
3. A section that allows you to request additional trade references that D&B may have missed while building your business credit profile. This can include rent paid to your business's landlord, a supplier whose payments may not have shown up as reporting, and more. A CreditBuilder account allows you to add up to 12 trade references beyond what D&B finds while building your profile.
There are two ways to add a reference, (1) connect your Quickbooks account if that is what you use for accounting software, or (2) you can search the D&B database for a company you do business with and submit your account details to add them to your account.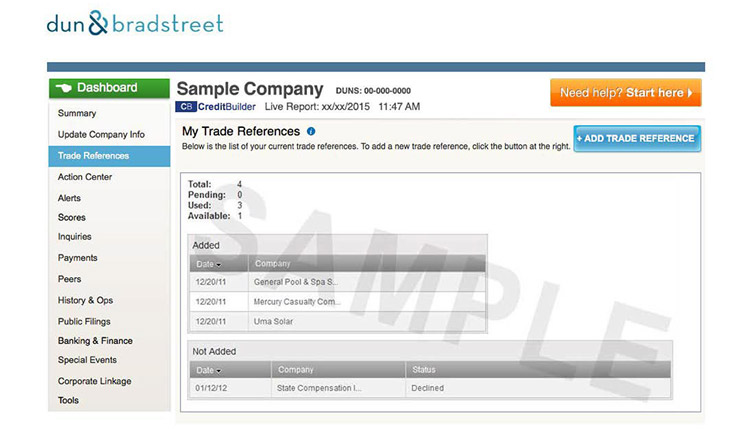 Company Scores Available via CreditBuilder Plus
You have a number of different scores within your D&B account that help to indicate your company's financial health. These scores are both historical and predictive, and other factors such as geographical location and industry can come into play depending on the score.
PAYDEX score: This indicates how likely your company is to pay its bills on time based on how you've paid your bills in the past. Learn more about the PAYDEX score here.
Delinquency Predictor: The Delinquency Predictor Score indicates how likely a business is to make severely delinquent payments over the next 12 months. D&B defines a severely delinquent firm is one in which 10% of its dollars are 91+ days late on payments. Your business is categorized into a class from 1 to 5, 5 being the highest-risk class and 1 being the lowest, and this score will be affected by your payment experiences reported, your geographic region, years in business, and industry.
Financial Stress: The Financial Stress Score is an indicator of the likelihood of financial stress, such as bankruptcy, causing the business to shut down within the next 12 months without paying all it's debts in full. This score ranges from 1,001 to 1,875, the higher the score the lower the probability of business failure. This score also features a "risk class" rating, which ranks your business on a scale from 1 to 5, 5 being the highest-risk class and 1 being the lowest. This score is affected by payment experience reported, your business's age, and legal structure (sole proprietor, LLC, S-corp, etc.).
Supplier Evaluation: This score tells the likelihood of supplier failure and is derived from the Financial Stress score, applying a secondary set of rules that govern the score. This score ranks your business on a scale of 1 to 9, 9 being the highest risk of failure and 1 being the lowest risk. Factors affecting this score include business age, its geographic region, and how active the business has been in the last 12 months.This score is also affected by your financial statements, which you can add to your D&B profile to make it more robust via the company update section of your profile.
Credit Limit Recommendation: The credit limit recommendation assigns your business a class on a scale of 1 to 5 (similar to the delinquency predictor score), 5 being the highest risk and 1 being the lowest risk. This score gives you an idea of how much credit you'd be approved for based on your company's profile and on the profiles of similar companies. You'll see a conservative credit limit, which is a benchmark for creditors who want to extend less credit to minimize risk, whereas an aggressive limit would be for creditors looking to extend more credit with more risk.
The last two scores are proprietary to D&B. The D&B Rating is D&B's own estimate of your company's financial health and financial stress. The D&B Viability Rating has four subcategories:
The viability score assesses the probability that a company will no longer be "viable" (be in business or become dormant) within one year as compared to all other businesses in the D&B database. The score ranges from 1 to 9, where 9 indicates the highest risk of business failure and 1 is the lowest risk.
The portfolio comparison is similar to the viability score, but compares your business to similar businesses across four profile segments: (1) available financial data, (2) established trade payments, (3) limited trade payments, (4) firmographics and business activity.
The depth of data indicator essentially shows you how robust your viability score and portfolio comparison are. This indicator assigns your business a grade from A to G, A being a high level of data available, and G being a minimal level of data. If D&B deems your company to be "high risk," there's a separate H to N grading scale with which they will evaluate your business. Each lender indicates a different form of risk, for example H indicates a business is out of business or bankrupt, K indicates severely high risk, and N indicates insolvency.
The company profile section is just a description of the financial data D&B has on you, the trade payments being reported on your business, and the size and age of your company.
Each scoreboard features an action center that tells you what you'll need to do to improve your score.
Additional Profile Components
The following sections of your profile give you a closer look at the data D&B has on your company and build a more accurate profile.
Updating Your Company's Information
D&B allows you to request updates to your D&B report, dispute payment experiences and public filings that have been incorrectly reported on your profile, and upload your financial statements or banking information. Uploading your financials allows you to build a more robust profile should your company not have much in the way of payment experiences on file with D&B.
History & Operations
History & Operations allows you to see background and history on any key persons in your company, including management team and principals, details on related companies, your SIC and NAICS codes. Also included is a description of your company operations, the number of employees and facilities you have, details of a parent company if there is one, the geographic scope of the business, and key holdings.
Public Filings
Public filings inform you of past and present legal activities that could impact your financial stability. Public filings can include bankruptcies, lawsuits, liens, judgments, and UCC filings. You can also see what public filings appear on your D&B report from your free Nav account under your PAYDEX score report. D&B claims that they pull public record information from every U.S. state, all federal bankruptcy courts, and all business-related failures filed in the U.S.
Banking & Finance
D&B allows you to benchmark your company against your industry and peers. To use this section, you'll need to first use the Company Update feature to upload financial statements, as well as any banking information and existing lines of credit to your D&B profile.
Nav's Take: Is CreditBuilder™ Plus Worth It?
CreditBuilder™ Plus may be a good fit if you are in an industry where it is common to work with a number of different suppliers and are willing to pay to quickly build a robust business credit profile. Doing so may let you qualify to do business with them and/or have them extend you credit (net payment terms).
Here are three features that would make it easier for you to quickly build out your profile:
Peer benchmarking: As mentioned, the peers section allows you to add up to eight peer companies, which you can use to benchmark yourself against in terms of inquiries, financial projections, public filings, inquiries, and each score D&B has on your account.
Financial and banking statements: When a company inquires about your business credit, seeing that you've given thought to maintaining your financial health in the future and diligently tracked your financial history could be a good sign that you're a company they'd like to work with.
Action items: Each score available via a CreditBuilder™ Plus account comes with a set action items that indicates what steps you'll need to take to bring up your score.
When your business credit profile comes into question, however, many vendors and suppliers are going to first and foremost look at your D&B PAYDEX score. For many business partners, a score of 80 out of 100 or higher will be enough to qualify you to do business with them. If you're just looking to monitor your business credit and ensure that you're maintaining a high enough PAYDEX score to do business with those you want to work with or are currently working with, there are free services you can use that make it hard to justify paying $159 a month for CreditBuilder. If you haven't yet explored the BusinessLauncher section of your Nav account, we suggest you do so now.
If you are considering CreditBuilder™ Plus to build your business credit profile, here are two things you should keep in mind:
Be prepared to receive a number of phone calls selling you on different products.
You can also do a Google search for customer reviews of the platform from those who are in the same industry as you. This can give you a better idea of whether or not it makes sense for your type of business to pay for a D&B credit product.
Remember, just adding tradelines to your business credit profile doesn't mean you'll have a high Paydex score. You need to show a strong history of paying your tradelines on time or early. Also of note is that Paydex is one of a few different business credit scores that are used for different reasons. For example, lenders for most business loans or credit cards use Experian's score.
---
More answers to pressing questions
Business Credit Cards for Bad Credit
What Is a Good Business Credit Score?
How to Establish Business Credit
Rate This Article