Lending Club and Prosper are two giants in the consumer lending space, thus they are often overlooked by business owners considering different financing options. However there's good news for small business owners about these lenders: both Prosper and Lending Club offer loans for business in addition to their personal loan products.
Lending Club and Prosper loans for small business are offered at reasonable interest rates with attractive repayment terms. You can prequalify for a loan from either of these lenders in just 5 minutes online. (Before you try to get pre-qualified for any business or personal loan, we recommend you understand your business and/or personal credit scores. You can do so with Nav here for free.)  Check out the details on each lender below to find out if one is right for you.
Lending Club
Whereas individuals can secure up to $35,000 through Lending Club's personal loan platform, businesses can secure as much as $300,000. Business loans through Lending Club have 1 – 5 year repayment terms, total annualized rates ranging from 8 – 32%, and origination fees from 0.99 – 5.99%.
Lending Club's online application takes about 5 minutes to complete. Once you've been approved, it takes around 7 days for the funds to reach your bank account.
Here's an example of a $100,000 business loan offer from Lending Club. The offer includes the choice of a one, two, or three year repayment term.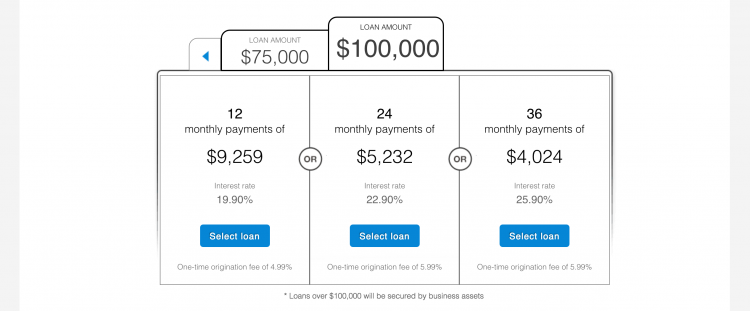 Using Nav's business loan calculator, we can figure out the cost of each of these loan offers. The least expensive option is the 12-month term loan, where the $100,000 loan will cost a total of $16,094. That's an APR of 29.93%. The 36-month term loan, which has the lowest monthly payments ( but paid over a longer period), is actually the most expensive at 30.63% APR and a total cost of $50,844.53.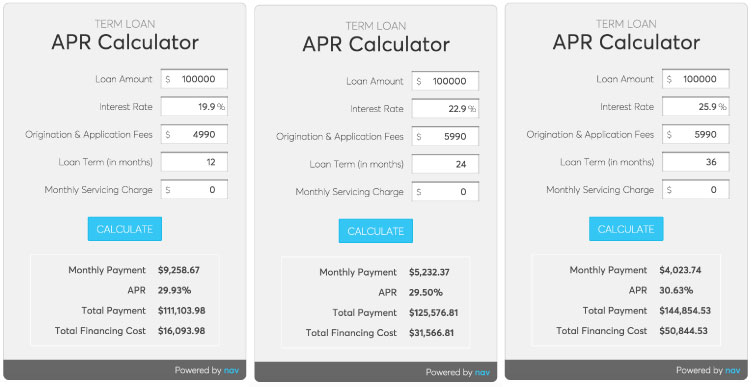 Lending Club just announced that they now offer a business line of credit. The line of credit is very similar to the business loan product in terms of cost and amount available. The difference between these funding types, like all loan and line of credit products, is the structure. Instead of receiving the full loan proceeds upfront, businesses who opt for the business line of credit will have an available line of credit they can draw from as needed, and only pay interest on the amount that is drawn.
The business line of credit is good for businesses that need extra cash in case of an emergency, or need flexibility with repayments. The line of credit has no cost to open, maintenance fees, or inactivity fees, but there is a 1 – 2% draw fee (plus interest).
Prosper
Prosper brands their business loans as "personal loans for business use." Because these are technically personal loans, there are no business requirements. You should have a credit score of 640 or above and a debt-to-income ratio of 30% or less before applying.
Prosper's loan amounts only go as high as $35,000, but they offer to connect you with OnDeck for business loans between $35,000 – $500,000.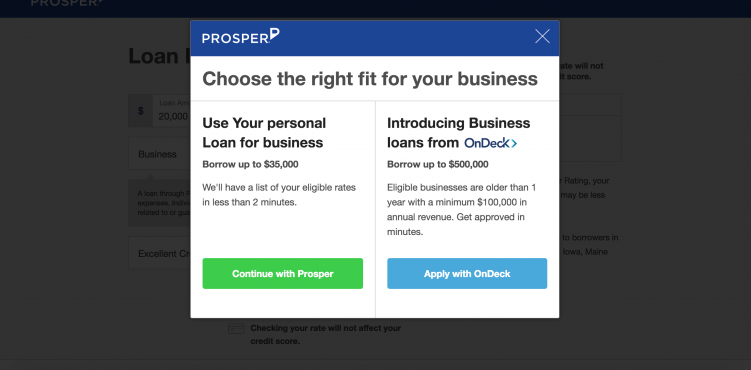 Prosper's APR ranges from 5.99 – 36% with a repayment term of 1 – 5 years and no prepayment penalty. During their pre-qualification process, they will ask what range your credit score falls under (e.g. 640+, 700+, 760+). I was quoted the same 12.88% APR on a $20,000 loan regardless of whether I indicated that my credit score was 640+ or 760+.
12.88% is a very reasonable rate, but if you are considering Prosper's personal loan for business use and have excellent credit, my suggestion would would be to get a representative on the phone to see if you can get that rate lowered. Although there are other factors that will affect your rate (i.e. amount of income, stability of income, etc.), perhaps you'll find that your high credit rating can knock a few points off the quoted APR.
Which lender is right for you?
Lending Club — Loans
Prosper
Lending Club — Line of Credit
Basic requirements
24 months in business

$75,000+ in annual sales

No recent bankruptcies or tax liens

You own at least 20% of the business

Have at least fair or better personal credit

640 credit score
Prosper prefers a debt-to-income ratio of no more than 30%
48 months in business

$75,000+ in annual sales

You own at least 20% of the business

Have at least fair or better personal credit

collateral for lines over $100,000

Fees
0.99% – 5.99% origination fee
1 – 5% origination fee
1 – 2% draw fee
APR
8 – 32%
5.99 – 36%
6 – 21.6% (variable rates)
Loan Amount (for 7(a) loans)
Up to $300,000
Up to $35,000
Up to $300,000
Prepayment penalty?
No
No
No
Repayment terms
1 – 5 years
1 – 5 years
draws repaid over 25 months or less
Time to funding
~7 days
<~14 days
~7 days
Prosper and Lending Club have comparable rates, repayment terms, and fees. Both lenders have high customer satisfaction.
One big difference that is the loan amount — Prosper's loans for business max out at $35,000, while Lending Club loans are available up to $300,000. If you need more than $35,000 to take your business to the next level, a Prosper loan will not be in the cards for you.
However, Prosper would be a wonderful option if you are startup in need of a small amount of cash at a decent rate. Unlike Lending Club, Prosper has no business requirements because their loans are "personal loans for business use." As long as you have a decent credit score, low debt and meet other requirements such as income, Prosper will lend to you.
Lending Club's business line of credit is another huge differentiator between the two lenders. If you need a more flexible funding option, Lending Club's business line of credit is reasonably priced.
There are a large and growing number of online business loan providers — Lending Club and Prosper can be good options, but be sure to shop around and compare rates with other lenders. Use the Nav marketplace to discover other business loan options for which you might qualify.
This article was originally written on November 9, 2015 and updated on December 29, 2021.
Rate This Article