Advertiser & Editorial Disclosure
It's a digital age, but your business card still matters. Not only does it make your networking efforts more personal, it gives you a chance to make a lasting impression with everyone who sees it.
If you're on the hunt for business cards that'll set you apart, Moo is an online printing and design shop you should consider. There are more than seven different types of business cards offered through Moo. The standard cards offered feature thick, premium paper, and the quality increases from there—there's even a gold foil option if glitter is in keeping with your business's brand.
Like other online printing shops, business cards are not the only printing option through Moo. From postcards, to flyers, stickers, and invitations, Moo has a variety of products. Here's an overview of what it's like to use Moo to create stunning business cards.
What It's Like to Use Moo Printing for Business Cards
Moo offers four sizes of business cards—standard, "Moo size," square, and mini. The Moo size is longer and more narrow than the standard size, and the square size is smaller and comes at an added cost.
You have three options to design your card: use a Moo template, design your own card using their design editor, or upload a full design on your own.
If you choose to design your own, there are Adobe files you can download with guidelines on where the safe areas and bleed areas are. I strongly suggest using a downloadable template to avoid "udderly" unhappy surprises when you receive your cards in the mail.

If you go with a Moo template, you can search by industry for card examples that might make the statement you're going for. They have hundreds of templates to choose from.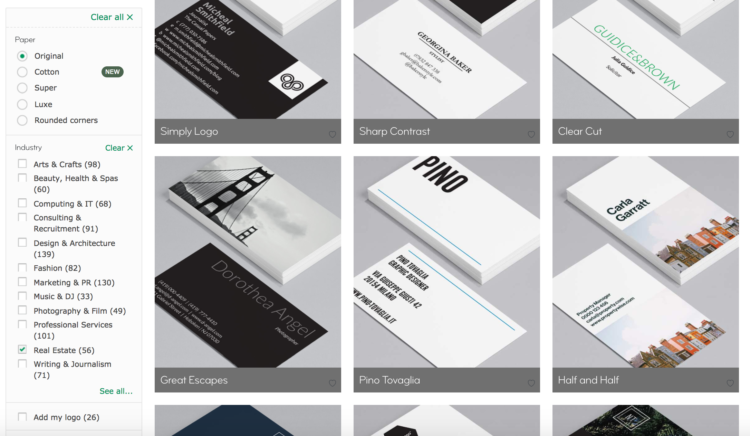 I played around with the design-your-own-card-in-Moo option to see what the editor is like.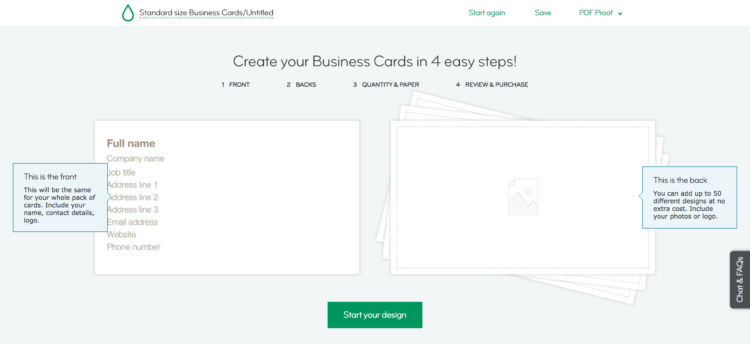 I uploaded a logo for my business, plus all the information I wanted on the card. You can change the background color and layout, or toggle the corners between square and rounded to see what floats your boat (rounded corners are an added fee).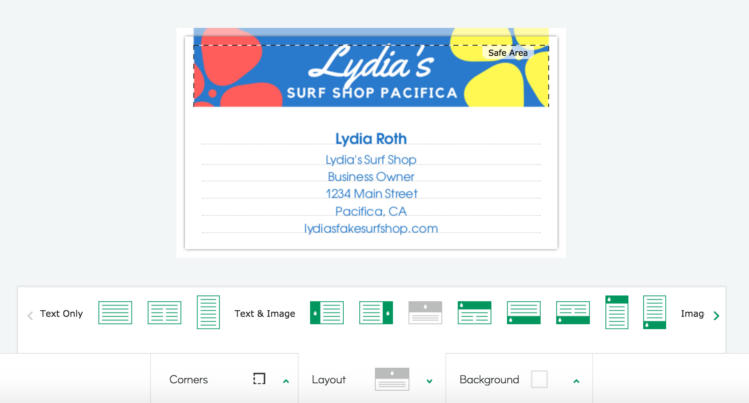 For the front of my card, I was asked to upload a photo or logo, or change the format for more text. I uploaded a design of my own and was promoted to upload a higher quality image. Moo checks whether your card will have white edges or the image will be blurry, and lets you know to change any issues before you go to print.
After adding the fronts and backs, I chose the quality and quantity of my business cards. Then I got to review my cards. As I reviewed, I was again notified of any issues in my design before I checked out.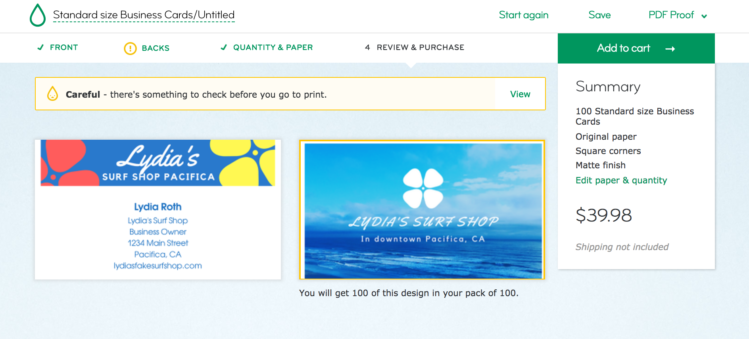 It's obvious that Moo spent time and effort in making the Moo experience great for their customers. When I received my cards in the mail, they came in a nice carrying box for storing my own cards and the cards of others. The example below depicts the matte cards, but there also is a gloss (very glossy) version for no added cost.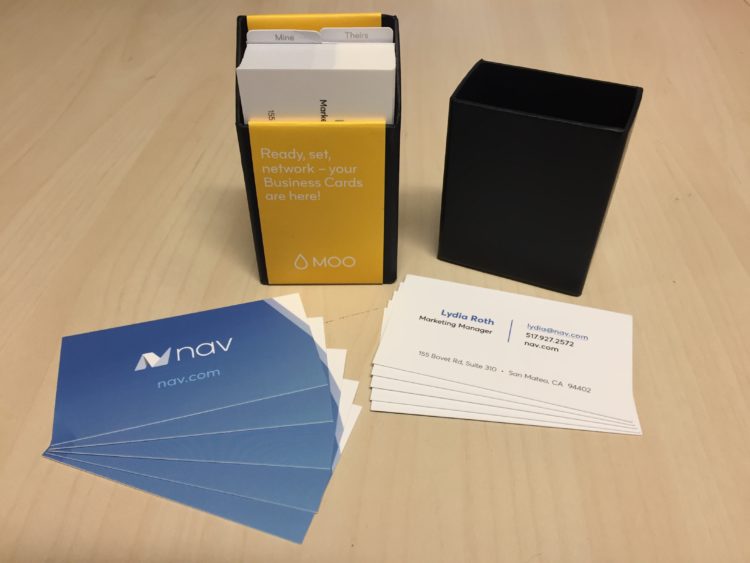 If there are problems with your printed design due to a Moo error, you can work with them to get your order reprinted.
Price Comparison
Here's pricing for a couple of different nationwide business card manufacturers for basic cards.
| Moo | VistaPrint | GotPrint | JukeBox |
| --- | --- | --- | --- |
| Price for 100 cards, standard 3.5″ x 2″ size, 16pt thickness, smooth matte or shiny gloss, front & back. | Price for 100 cards, standard 3.5" x 2" size, 16pt thickness, matte finish, front & back. | Price for 100 cards, standard 3.5″ x 2″ size, 16pt thickness, muted matte finish, front & back. | Price for 100 cards, standard 3.5″ x 2″ size, 16pt thickness, semi gloss coating, front & back. |
| $38.98 | $32.00 | $17.40 | $35.00 |
Next-day shipping for 100 standard business cards cost me almost $50, and standard shipping was close to $10.
The price difference between Moo and other providers doesn't seem too big, but if you're ordering large quantities of cards, Moo gets expensive in comparison to other options. One differentiator is that they allow you to print multiple designs in a single order, for no additional cost.
Moo Business Cards: Yay or Nay?
What's the main purpose that you want your business cards to serve?
If your answer is that you just want something simple and inexpensive, Moo is not for you. Their basic paper is high quality, 16pt thickness, and it's not cheap. Other providers have a more basic, 14pt thickness paper for less than half the price of Moo for 100 business cards.
If you want cards that stand out from the herd, though, you may want to consider Moo. There is no option for low quality paper from Moo, though. Even their most basic paper level is high quality, and the business card templates offered by Moo can help business owners with no design background to design and print stunning cards in a short amount of time.
This article was originally written on September 14, 2017 and updated on December 29, 2021.
Rate This Article