If you're considering a Merchant Cash Advance (MCA) or OnDeck loan, you should consider a credit card cash advance first — it'll usually be the cheapest of the three options.
Credit cards are normally used to buy on credit, but most credit cards also have a cash advance option. Instead of making a direct purchase, you can use the cash advance to withdraw money, like you would with an ATM/debit card. Unlike an ATM card, you aren't withdrawing your own money, but effectively you're borrowing it (getting an advance). The interest charged for credit card cash advances will be higher than the interest you would pay for using your credit card normally, and you'll usually be limited to 6-20% of your credit limit.
Assuming you have a business credit card, you can usually look up the card's pricing and terms on Google. The following shows the pricing sheet from the very popular Amex SPG Business Credit Card.
[Editor's note: The below information is for illustrative purposes only. The terms and rates may have changed after the original publish date].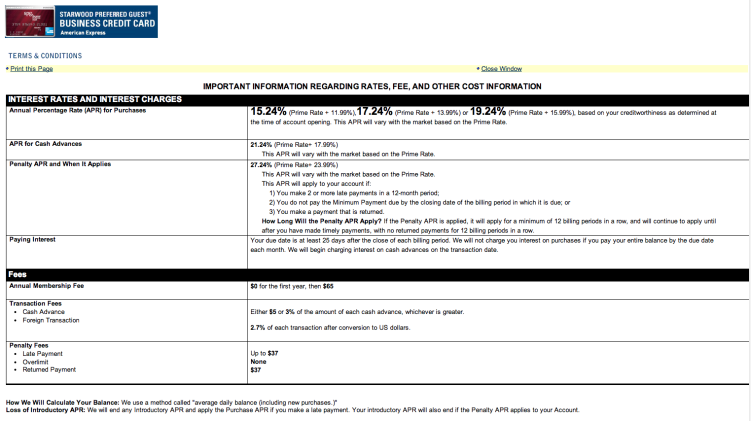 As you can see, the APR (or the interest rate) is highest for cash advances. So for business purchases, it's always preferable to pay with credit over an advance. However, if you are in need of capital for things that cannot be paid by credit card (i.e. payroll or tax), a cash advance becomes a good option.
Let's figure out the APR for a credit card advance comparable to a merchant cash advance, whose repayment period is around 6 months. Let's say you want to get an advance of $5,000. On the pricing sheet, it says there's a 3% cash advance fee and the cash advance APR (actually means interest rate in this case) is 21.24%.
Using the following Term Loan APR Calculator below, put in $5,000 for the loan amount, 21.24% for the interest rate, $5,000*3% = $150 for the origination fee, 6 months for the loan term, and $0 for the monthly servicing charge.
Once you hit calculate, it shows the APR as 32.11% and the total financing cost is $464.28, or 9.57% of the advance. The percentage is a a lot lower than the a Merchant Cash Advance or OnDeck loan. The following table compares the three emergency cash options as shown in our decoding series.
| | | | |
| --- | --- | --- | --- |
| | Credit Card | OnDeck | MCA |
| APR | 32.11% | 88.69% | 115.84% |
| Cost of a $10K Loan | $957 | $2,307 | $3,289 |
As you can see, the credit card cash advance costs less than 1/3 of the Merchant Cash Advance and less than 1/2 of the OnDeck Loan in terms of both APR and dollar amount (assuming a 6 month term). If you don't need a large amount, the credit card cash advance is usually a better option than the other two. The caveat is that most credit cards only let you advance 20% of the credit limit. So if your credit limit is $20,000, you can advance at most $4,000 in cash.
Before you start using credit card cash advances, you should definitely shop around. There are credit cards which offer lower advance fees and interest rates, or let you advance a higher amount. For example, [the BarclayCard Ring MasterCard ] has no advance fee and a low 8% APR. The [PenFed Platinum Rewards Card] offers low APR and cash advances up to 100% of your credit limit. While you might not need it now, we highly recommend getting a business credit card in case of emergencies. It'll help you avoid being forced into taking out an expensive, very high APR loan.
This article was originally written on June 11, 2014 and updated on December 20, 2021.
Rate This Article