We will be talking about Amazon Lending. It's an invitation-only loan product offered exclusively to Amazon Sellers. Amazon loans offer a very competitive 10.9 – 12.9% interest rates and no pre-payment penalty. It's a great financing product for Amazon Sellers.
---
If you have been selling on Amazon with solid sales, chances are Amazon Lending will invite you to get a loan to grow your business on Amazon. The following is what you will see after clicking on the invitation to register for a loan: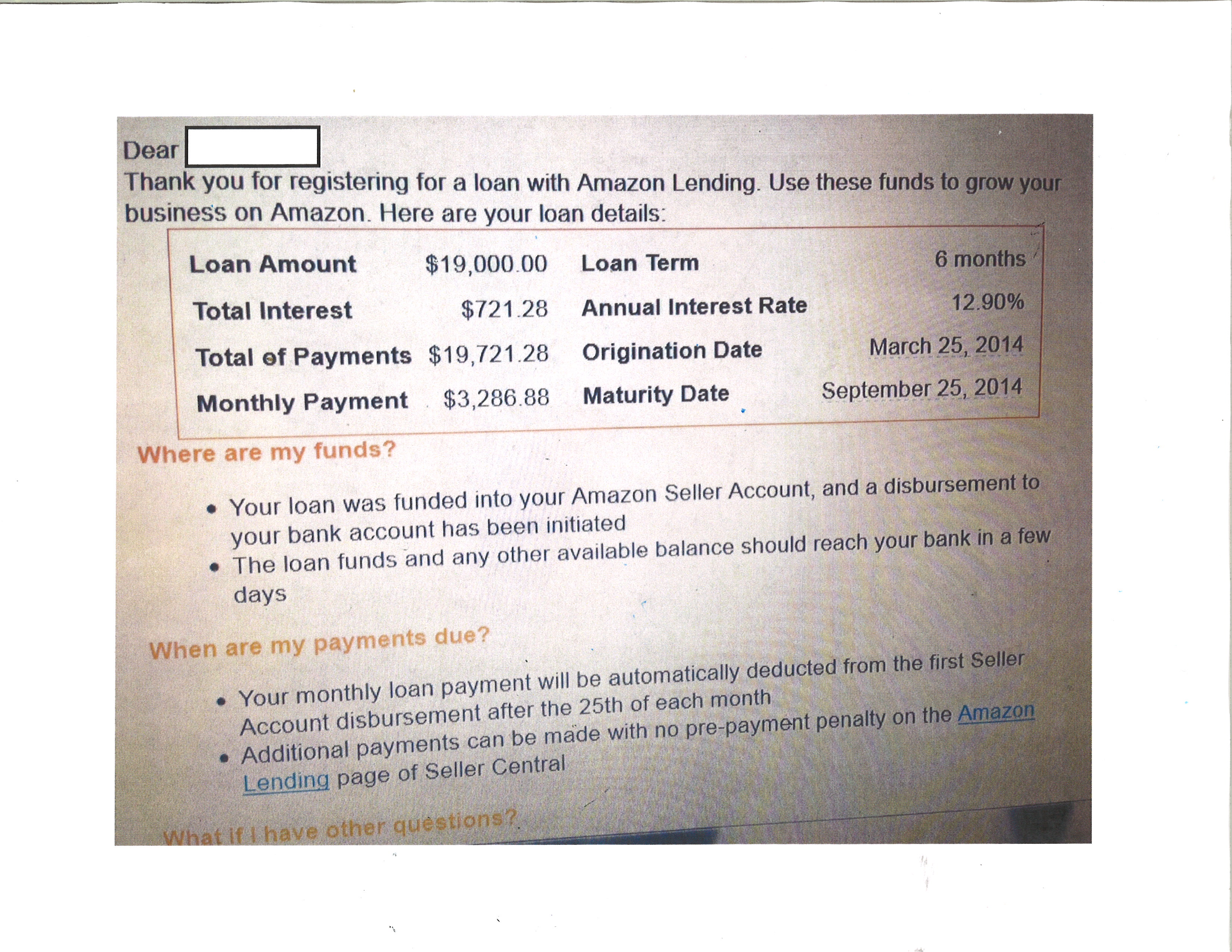 The above screenshot shows a 6-month loan with 12.9% interest rate. You can also pick a 4-month loan with 10.9% interest rate. 12.9% and 10.9% sound high compared to a home mortgage but for a working capital business loan, these are considered very low interest rates.
Once you accept the loan terms, Amazon will check your credit (this will be a hard inquiry) and the loan amount will be disbursed to your account in a couple of days.
Amazon Lending vs other short-term financing options
The following table compares the 6-month Amazon Lending Loan to other short-term financing options we've written about:
| | | | | | |
| --- | --- | --- | --- | --- | --- |
| | Amazon Lending | Square Capital | Credit Card Advance | OnDeck | MCA |
| Repayment | 6 months | 10 months | 6 months | 6 months | 6 months |
| APR | 12.99% | 23.49% | 32.11% | 88.69% | 115.84% |
| Cost of a $10K Loan | $380 | $1000 | $957 | $2,307 | $3,289 |
The Amazon Business Loan costs a lot less than other comparable options. The cost is 40% of a credit card cash advance and is almost 1/10 of a merchant cash advance. It's also lower than the newly introduced Square Capital, although the term is shorter (6 months vs. 10 months).
In addition, Amazon Lending charges no origination fee and no pre-payment penalty. The only thing they charge is the interest accrued on the borrowed amount. Therefore, if you decide to pay back the loan early, your total cost will be even lower.
Note that these Amazon loans are not technically loans. They don't report to credit bureaus to help you build up your credit. If you fail to make the monthly payment, they also can't really collect on you. Instead, they will take your inventory as collateral and sell them to recoup their losses if you have the inventory in their warehouse. This is also part of the reason why they can keep their interest rates so competitive — they have the collateral that has some real value to them but not much value to typical lenders who wouldn't know how to liquidate the merchandise properly. If you do your own shipping and don't pay on-time, your ongoing sales proceeds on Amazon will go to the monthly loan payment first before hitting your seller account. This reduces their risk as Amazon has the highest priority to get paid back whenever the seller makes a sale on Amazon.
---
Overall, Amazon Lending is a very affordable working capital financing option compared to other non-bank financing alternatives. If you've already established a credit line from a bank, that's probably your lowest cost option. However, if you don't have the bank credit line and Amazon invites you, Amazon's loan offer would be one of the best financing options, assuming that you are considering debt financing to grow your business.
This article was originally written on June 25, 2014 and updated on December 17, 2021.
Rate This Article