Advertiser & Editorial Disclosure
You don't have to keep up with the Kardashians to know who Kylie Jenner is, and that her hot makeup line is taking the industry by storm. Even if lip kits and Instagram posts aren't your thing, here's something that might pique your interest—Kylie's business credit score is killer, and might have a thing or two to teach you. But let's start with the basics.
What's a Business Credit Score?
Similar to personal credit, business credit scores and reports offer one way to determine the credibility of a company by looking into how it has handled debts and obligations in the past.
As a business makes payments on business credit cards, loans, trade accounts with suppliers, etc., those payments may be reported to various warehouses that collect business data. Business credit reporting agencies use that data to create a score, which suppliers, vendors, and even business partners can look up.
These scores can determine a business's ability to qualify for funding or trade terms, large work contracts, rates on insurance premiums and more.
About this time, you might be wondering how we got our hands on Miss Jenner's scores. As it happens, anyone can look up a business's credit score, any time they want, without notifying or getting permission from the business. Without further ado, here's Kylie Cosmetics' business score report, and a few insights from the numbers. (Note: All scores are as of Feb. 14, 2017.)
Kylie Cosmetics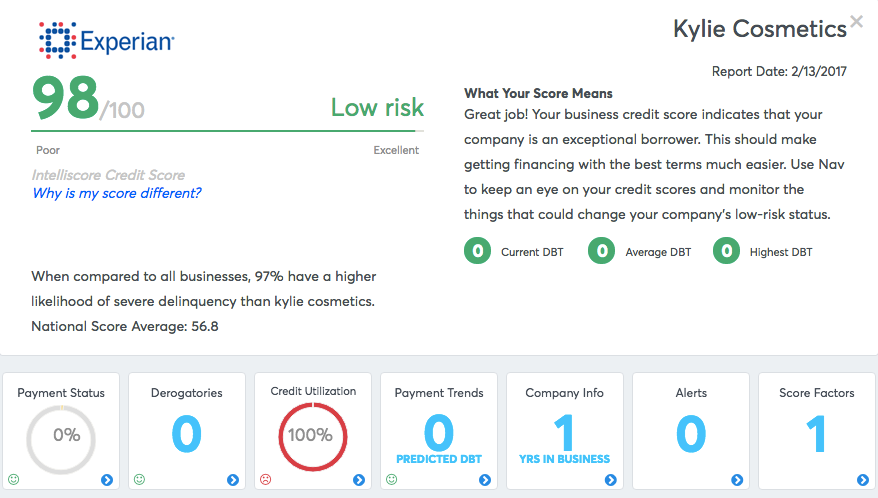 Kylie Cosmetics scores an astounding 98/100, over forty points higher than the national average score of 56.8. Respect.
It must be noted, however, that Kylie's business credit file is surprisingly thin. There's both good news and bad news here, but more importantly, there's a lot to learn from her example.
The good:
Even with little to report in her file, Kylie Cosmetics has a score that's near perfect. Also, the company has no derogatory information to speak of—no tax liens, collections accounts, judgments, bankruptcies, or UCC filings.
The report also indicates that Kylie's Cosmetics has no accounts reporting late payments. Payment history has the largest weight when it comes to factors influencing business credit scores, and her lack of late payments likely has a huge affect on her near-perfect score.
The bad:
Kylie's Cosmetics has only been in business for a year, has no payment trends, and has 100% credit utilization. The high credit utilization is worrisome because it's much more than the recommended limit of 30%.
Upon closer inspection, you'll find that the total debt is only $100, which is surprisingly low for any business, let alone that of an up-and-coming fashion icon.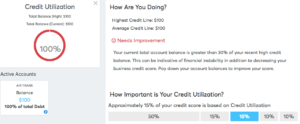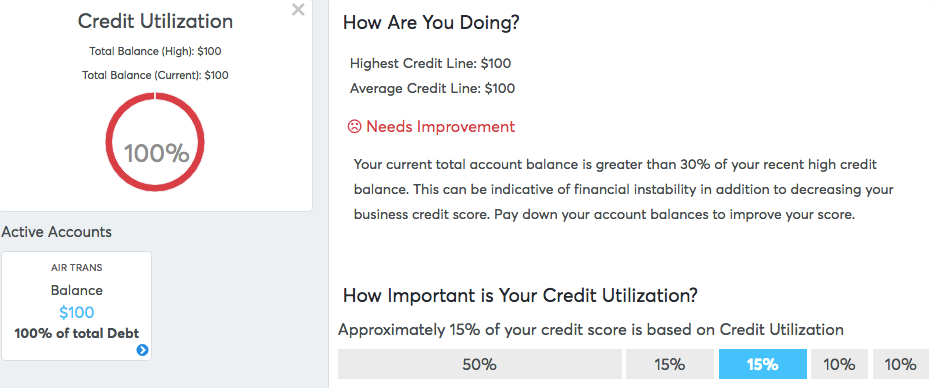 That $100 comes from a sole active account—for a more robust and accurate business credit profile, Kylie will need to either ask more of her vendors and suppliers (if she has them) to report her payment information, or secure accounts, financing, or business credit cards that will report her payment information to business credit reporting agencies.
The lesson:
No matter where you're at on your lip-plumping journey, it's important to start your business credit journey today. For most businesses, establishing business credit is the first step toward building strong credit scores. Separating personal and business expenses, obtaining a business credit card, and opening accounts with vendors and suppliers that report to commercial credit agencies are great first steps. As you start to make payments on your accounts, be sure to make them on time or even early.
It's important to check your credit scores. Be sure to look for any errors or misinformation—make sure the accounts listed are associated with your business, and make sure you don't have any tax liens, collections accounts, judgments, bankruptcies, or UCC filings that shouldn't be there. Inspect your company information, like your SIC code, to make sure you aren't incorrectly identified as a higher-risk business.
So the next time you're flipping through Instagram and see the venerable Kylie Jenner, remember that it's time to check your business credit report to ensure that your accounts are on track. Knowing where you stand, then taking steps to improve your scores will keep your business in good standing, opening doors and opportunities in the future.
This article was originally written on February 17, 2017 and updated on December 10, 2021.
Rate This Article