The Experian Intelliscore Plus℠ Credit Score Explained
by Gerri Detweiler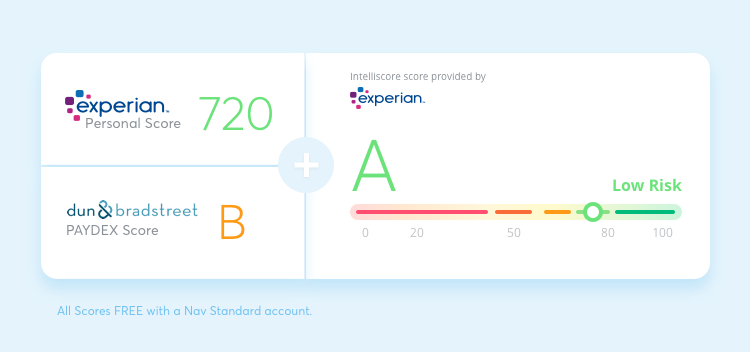 For many consumers and business owners, the term "credit score" is often shrouded in mystery. What is it? How is it created? How can I improve it? Individual consumers typically find that much of their lending life hinges on the FICO score, but what about businesses? As a current or future business owner, what score is important to you?
The truth is, any credit related score should be on your radar, but the Intelliscore Plus credit score, provided by Experian, one of the leading credit reporting agencies in the United States, is definitely a top contender.
What is the Intelliscore Plus Credit Score?
Quite simply, the Intelliscore Plus credit score is a statistically based credit-risk evaluation. The main purpose of Intelliscore Plus is to help businesses, investors and potential lenders make well educated decisions about who they should or should not do business with.
Much like a car dealership can use a consumer's FICO score to quickly determine how much of a risk a potential customer may be, the Intelliscore Plus credit score, which is a numerical score that ranges between 1 and 100, can provide insight on how much of a risk a business or business owner may be.
Related Article: Learn about the FICO® SBSS℠ score used by the SBA.
Get Your Experian Personal and Business Credit Scores for Free
It's free and doesn't hurt your scores to look. Sign up with no credit card in less than two minutes.
By clicking "Sign Up" above, you confirm that you accept the Terms and Conditions, acknowledge receipt of our Privacy Notice and agree to its terms.
Intelliscore Plus Credit Score Range
The Intelliscore scores range from 1 to 100, the higher your score, the lower your risk class. Conversely, the lower your score, the higher your risk class. The chart below outlines each Intelliscore Plus credit score range and its associated meeting.
| Score Range | Risk Class | Risk Description |
| --- | --- | --- |
| 76 – 100 | 1 | Low |
| 51 – 75 | 2 | Low – Medium |
| 26 – 50 | 3 | Medium |
| 11 – 25 | 4 | High – Medium |
| 1 – 10 | 5 | High |
How Is My Intelliscore Plus Credit Score Calculated?
In the credit world, Intelliscore Plus is deemed to be one of the most reliable tools in effectively predicting risk. One of the ways Intelliscore Plus maintains this claim to fame is by identifying the key factors that indicate whether or not a business is likely to pay their debt.
Though there are over 800 commercial and owner variables used to determine a Intelliscore Plus credit score, the variables can be broken down into these key factors:
Payment History: The bureaus calls this "recency" but in the real world, it's nothing more than your current payment status. This includes the number of times your account(s) become delinquent, the percentage of accounts that are currently delinquent, and your overall trade balance. It's the most iIn the credit world, Intelliscore Plus is deemed to be one of the most reliable tools in effectively predicting risk. One of the ways Intelliscore Plus maintains this claim to fame is by identifying the key factors that indicate whether or not a business is likely to pay their debt.
Frequency: Closely related to payment history, frequency accounts for the number of times your accounts have been sent to collections, the amount of liens and judgments you may have, and any bankruptcies related to your business or personal accounts.
Additionally, frequency can also include information about your payment patterns. Were you consistently slow or late with payment? Did you start off paying bills late, but overtime, decreased this behavior? These things will all be considered.
Monetary: This particular factor focuses on how you utilize credit. For example, how much of your available credit is currently in use? Do you have a high ratio of delinquent balance when compared to your credit limits?
If you're about to start a business or are fairly new to this game, the list above may seem a bit overwhelming. If you haven't started or don't have a long history of business based transactions, how will Intelliscore Plus rate you?
Intelliscore Plus addresses these scenarios by utilizing a "blended model" to determine your score. This means that they take your personal consumer credit score into consideration when determining your business's credit score.
How Do You Improve Your Score?
The big question has arrived, and while there is no golden answer, these tips can definitely help you boost your score:
Make your payments on time.

As we just discussed, your payment patterns and history are a driving force in your overall credit score. Overtime, paying your bills on time will help establish your business as one that pays their debts. This will inevitably help push your score up and show other businesses that you are a low risk.

Keep your debt-to-income ratio in check.

The more debt you have on your plate, the more bills you have, and the less disposable income you have. If your total debt comes close to or exceeds your income level, then you're going to be rated as high-risk.

Keep your debts in check and consistently pay them down and/or off to maintain a healthy balance between what you make and what you owe.

Use your credit.

I know what you're thinking. "But you just told me to keep my debts low." That remains true; however, opening and responsibly utilizing business credit accounts can help you extend your available credit and increase your credit score.

Maintain a healthy personal credit profile.

By now, you're aware that your personal credit is fair game when it comes to your Intelliscore Plus score. Running a business is tough work, but don't let your personal finances suffer. Make sure you stay on top of your personal bills, avoid unnecessary credit inquiries, and refrain from sacrificing your personal credit for business needs.

Review your credit reports.

Regardless of what your credit score is, it's important that you remain diligent and review your personal and business credit reports. This can help you spot possible issues and stay educated on your own credit profile.
Rate This Article
Have at it! We'd love to hear from you and encourage a lively discussion among our users. Please help us keep our site clean and protect yourself. Refrain from posting overtly promotional content, and avoid disclosing personal information such as bank account or phone numbers.
Reviews Disclosure: The responses below are not provided or commissioned by the credit card, financing and service companies that appear on this site. Responses have not been reviewed, approved or otherwise endorsed by the credit card, financing and service companies and it is not their responsibility to ensure all posts and/or questions are answered.