Fundera and Lendio are two online marketplaces that aim to simplify the business financing process by cutting down the search and wait time associated with finding a small business loan. Online marketplaces allow business owners to comparison shop for credit from a variety of lenders, including short-term and long-term loans, equipment financing, invoice factoring, lines of credit, merchant cash advances, SBA loans, and more.
Fundera and Lendio each work a bit differently, and if you're considering using an online marketplace like either of these to finance your business, subtle differences could affect your experience of finding the best lender for you.
We'll run through both marketplace options then let you know about another option that might work even better to streamline the financing process for your business.
Fundera: The Application
To get started finding a business loan, Fundera asks you seven questions about you, your business and what you're looking for.
You are then prompted to fill out basic information (email, name, etc.)  to create an account before you can see your available financing options.
Based on how you answered the first seven questions, you'll be able to see a number of available funding options for which you might qualify. Note that you are not necessarily pre-qualified for the options displayed, but based on the small amount of information you provided in the form, Fundera presents likely options.
Below your loan options, you'll see other loan products that you are not likely eligible for. Click the funding option for details about why you aren't likely to qualify and what lenders typically look for.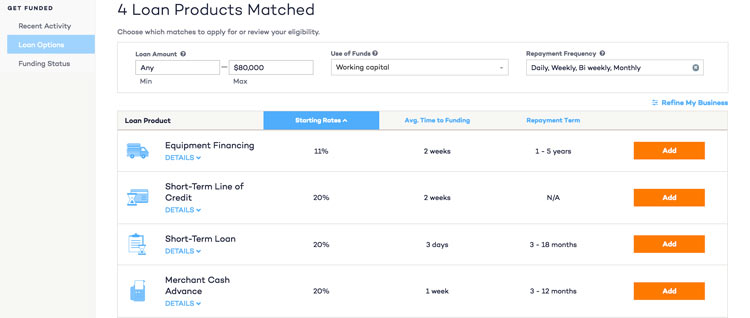 After reviewing your financing options, you can click "Add" to select the options you'd like to move forward with. From my list of loan products above, I added two of them to my account as options in which I am interested. From the image below, I have four potential offers on the table and I'll need to prepare two documents and answer 23 questions to find out which lenders I am pre-qualified for.

To complete the pre-qualification application, you will need to complete Fundera's six-page form asking for detailed business and personal information, financials, owner information, and an authorization to soft pull your personal credit and a service agreement that you have the right to act on behalf of your business. The form takes about 10 to 25 minutes to complete.
Fundera: The Good and Bad
Pro: Fundera lists your available options in a clean table. They show you clearly what type of financing is available for your business, but they don't explain who is providing the financing (remember: Fundera is an online marketplace that matches businesses to financing options).
Pro: The application form is a easy and can be a time-saver, which is strongly noted as a selling point noted by Fundera's customers. It is very easy to see, at a high level, the pros and cons of each funding option, and sort options by what's important to the applicant: rates, average funding speed, or repayment term.
Pro: If you click to see more details about each individual funding option, you'll see an explanation of the pros and cons of each option. Also helpful: Fundera will note what documents you need to prepare for the application and how many questions you'll need to answer to complete the application.
Pro: Once you've submitted your application, you are assigned a loan advisor who connects you to available funding options. Fundera claims that customers seeking a loan "never have to leave our site," thanks to their dedicated loan advisor.
Con: Using Fundera's online application form, it's hard to get a good idea of the annual percentage rate (APR) of each financing product. Fundera shows you the starting rate for each product, which is the rate reserved only for the most qualified business owners. Many businesses may face some sticker shock when they see the difference between what the starting rate is and the rate they are provided. A merchant cash advance, for instance, has a starting "rate" of 20%, but depending on your credit and business data, a merchant cash advance APR could end up being well above of 100%.
Con: The "my profile" dashboard shows what options the applicant is ineligible for, but it's hard to get a firm idea of why. For example, my profile indicates that I am ineligible for a medium-term loan. Below I can see that it may be because of my annual revenue or my personal credit score, despite the fact that I meet the minimum requirements for both. The state in which I incorporated might also play a role in why I'm not eligible. These details suggest to me that there's a good chance I might be eligible for some medium-term loan providers despite the fact that my dashboard tells me otherwise.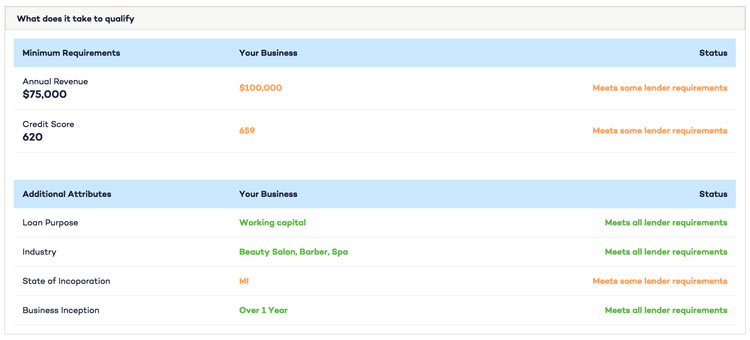 To find out more about the loan providers themselves, you may have to jump through some hoops. For example, I added merchant cash advances as a potential option, and I can see that there are two potential offers on the table. I can click on "Potential Offers" to see who those two providers are, I can delete them from my potentials list, but I can't see any specific details about the lenders themselves.

Lendio: The Application
Lendio makes the start to search for business financing insanely easy.

Enter in how much you're seeking and you'll immediately see a list of potential options. You have the option to add in more details, such as your approximate credit score and monthly sales, and time in business to get a more accurate idea of what you can qualify for. To the left (see below) you can see at a high level what you'll need to prequalify for each funding option. Instead of indicating which options you are ineligible for (as Fundera's application did), you'll see an un-checked box next under "what you need" for a particular criteria, indicating you might not qualify for a particular option. For example, I am likely ineligible for the business credit cards offered through Lendio because my self-reported personal credit score is not 680 or above.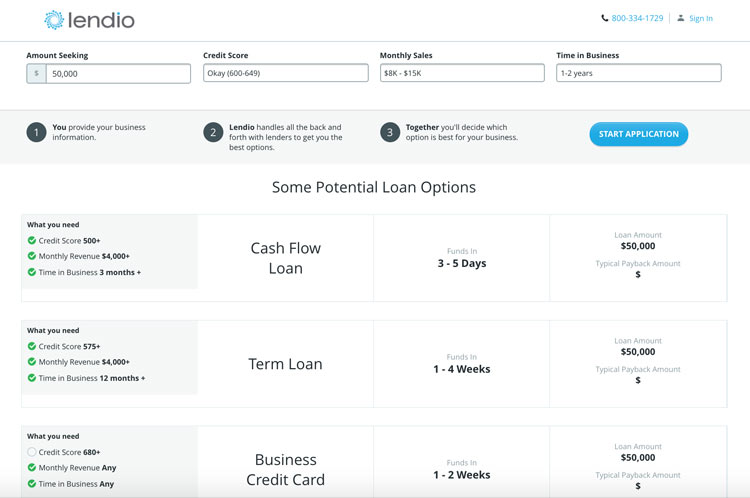 Click "Start Application" to get the process going and you will be prompted for personal information and to provide authorization for Lendio to soft pull your credit.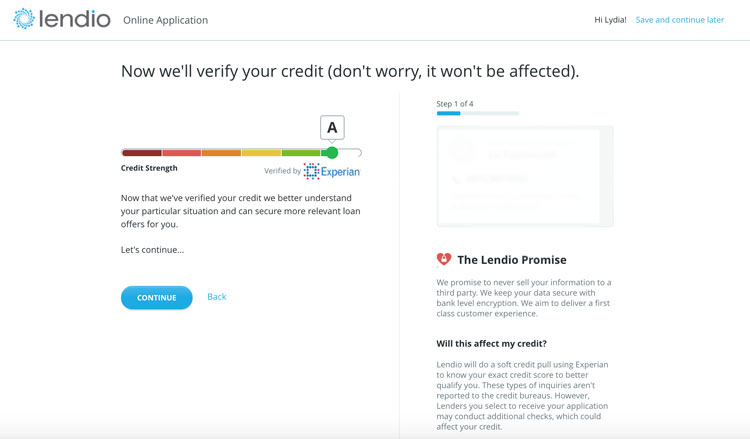 The next steps involve filling out information on your business and business finances. The application form is similar to Fundera's application form to see prequalified offers, and takes about the same amount of time to complete (about 15 to 20 minutes).
Lendio assigns you a personal account manager before you even complete the pre-qualification form. You may view this as a good thing or a bad thing, depending on what stage you are at the financing process and how involved you want your account manager to be. In my experience, my dedicated Lendio account representative seemed overly persistent. Before I even finished my application, I received four calls, two voicemails and two text messages from my account manager within a 24-hour period.
The Bottom Line
Fundera and Lendio are pretty comparable in terms of the funding options available to business owners. Each have available SBA loans, equipment loans, term loans, lines of credit, business credit cards, cash flow loans, and invoice financing. Lendio also offers a commercial real estate loan option.
Both Lendio and Fundera boast, in general, positive customer reviews that note the ease of service and time saved as a common theme. Each pre-qualification application takes about 15 minutes to complete. A notable difference between the two services is that Lendio is more heavily dependent on phone communication with a dedicated account manager throughout the process.
However, there is a notable problem with the traditional marketplace lending model used by Fundera and Lendio, and that is the lack of certainty. All my data is self-reported, and I had to complete a multi-page application before these lenders soft-pulled my credit and provided pre-qualified offers. In other words, marketplace lenders like Fundera and Lendio show you financing options that other business owners with roughly similar business and credit attributes have qualified for, and to see better suggestions I have to complete an application.
But good news: There is an alternative that allows you to see accurate financing product suggestions as well as your chances of approval for dozens of financing options before you even start an application.
Another Option
Nav offers an alternative to the traditional lending marketplace models by bringing more transparency to the process. It's designed to save business owners even more time and money while matching them to the best possible options.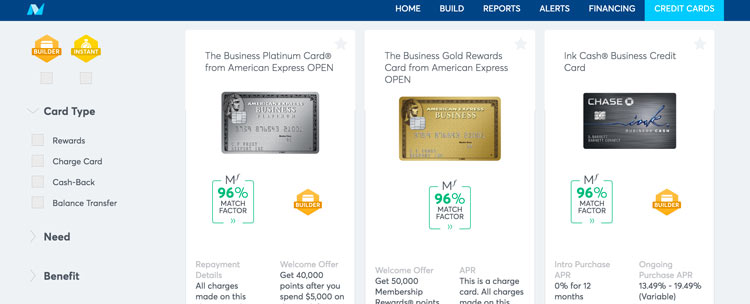 Business owners with a Nav account can use Nav's marketplace to see their MatchFactor, or their likelihood-of-approval rating for dozens of financing options — all without dinging your credit or asking you to complete an application. We do this by using your personal and business credit and financial data combined with machine learning to generate your chance of being approved, or MatchFactor score.
We show you who is providing the financing product, as well as high- and low-level details of each product in plain English, what each lender is looking for, exactly what you need to improve to be approved and, of course, the tools needed to help you get there.
MatchFactor is the only tool that uses such advanced data and technology. This saves you time and money, provides confidence and gives you one less thing to worry about while running your business.
Rate This Article