Everyone says they love the American Dream, but when it comes to financing your own business, the dream and reality don't add up. The stats are dreadful
• On average, it takes 26 hours to search and apply for business financing.
• 22% of business owners have given up on applying because they're discouraged.
At Nav, we're on a mission to materially reduce the small business death rate in America by making it easier to access money. That's why we're psyched to announce the launch of MatchFactor—proprietary technology that instantly filters your most-qualified  matches from dozens of the top business lenders and credit cards.
This saves you a ton of time and money, and lets you apply with confidence.
In fact, Nav customers with a MatchFactor score were over 4 times more likely to be approved when applying for a business credit card.1
MatchFactor is 100% free to use and if you have questions about your matches, you can talk to our unbiased lending specialists. We'll point you in the right direction and help you apply. Over 130,000 small business owners are already using Nav to get their free business credit scores and access financing.
How MatchFactor works
Read below, or check out our
Other business financing marketplaces rely on you filling out a multi-page form before they can even show you offers. And the options you're given might not be accurate because they ask you to provide your own credit scores. What if you don't know them all…or if they've recently changed?
Since Nav is the only site that provides free access to your personal and business credit scores, we can do most of the legwork for you behind the scenes.
MatchFactor's algorithm uses your credit data, along with your business information, and instantly compares it to a lender's known requirements. The closer your profile matches, the higher your MatchFactor will be, anywhere from 0% to a 100%. It doesn't require a "hard" credit pull to use, so it won't hurt your scores.
Plus, we use magic machine learning to continuously perfect our matching algorithm, so your results will get more accurate over time. We've partnered with over 40 of the top business lenders and credit cards. It's one of the web's largest business financing marketplaces.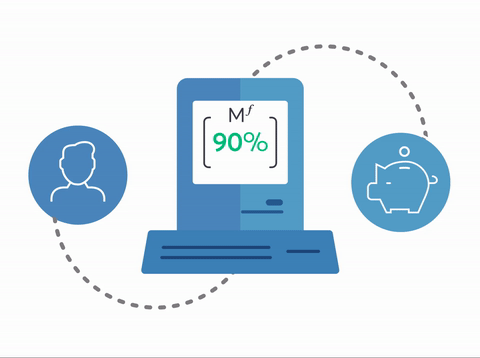 How to use MatchFactor
Easy! Just sign up for a free Nav account.
Your personalized MatchFactor scores are automatically calculated and will appear next to each financing product in our marketplace. Your top matches are displayed first. We also provide details—written in plain english—for each product.
To see MatchFactor in action, check out our
.
Apply with confidence
If you're like most business owners, you barely have enough time to eat lunch, much less 26 hours to spend researching and applying for financing. MatchFactor was made for you. It's free and only takes a few seconds to see your top options, so you can get back to what matters—growing your business.


1 Nav customer data showed a 7% business credit card approval rate in December 2015 (without MatchFactor) versus a 29% approval rate in May 2016 (with MatchFactor).
This article was originally written on July 14, 2016 and updated on July 27, 2017.
Rate This Article