While startup companies are technically a particular type of small businesses, they operate very differently. From how they launch, to how they are funded, they have a unique aspect to them that not everyone understands.
High-growth tech startups, for example, have a significantly different funding strategy that may not even include outside money. Learn why startups are different, and see the top sources of startup funding offered by the finance market today.
Startups vs. Small Businesses
As we mentioned, startups are a type of small business in that they do start as just an idea and a business plan. That's where many of the similarities end, however.
Unlike a small business, which often begins with one or two people, a modest budget, and a steady plan for gradual growth, startups tend to pop up quickly, require a large amount of funding right away, and work toward aggressive growth within a relatively short time.
There are many reasons why a startup needs to gain momentum so rapidly. For one, the nature of many startup industries requires them to be nimble yet disruptive. They often have to be first to market, so that they can lead with their product or service idea. They usually need a large amount of initial funding to get this done.
Get Personalized Startup Funding Matches
*When you sign up for a free Nav account, you'll get personalized financing matches. You'll also get free access to your business credit reports and scores.
By clicking "Sign Up" above, you confirm that you accept the Terms and Conditions, acknowledge receipt of our Privacy Notice and agree to its terms.
How venture capital works
Have you heard the term "venture capital?" It sounds elitist, but it's a more commonly-used term in today's business climate. Venture capitalists seek out high-growth startups, which nowadays has meant almost exclusively tech startups. This makes venture capital a less-than-realistic choice for any startup or young company out of the tech realm.
This type of investment involves the sale of a portion of the company to the investor and may require that you create a board seat for the investor. They want to keep a close eye on their investment and even assert some control to ensure their return.
Venture capitalists are investors or investment firms with sizeable amounts of money to work with. While venture capital investments used to be limited to a few firms, large companies such as Starbucks and Google each have venture funds to get in on the fun.
Venture capitalists use money from other sources to provide relatively large (often in the millions) investments. This type of investment can be a game changer for the business that receives it, but it comes with a challenge and a price.
If you're looking for venture capital, you'll need to be prepared. These are very qualified, intelligent and thoughtful groups of individuals and they will certainly do their due diligence. If you think your business plan is detailed enough, think again.
Be aware that the investor will be expecting significant (think in the neighborhood of 20-30%) returns within just a few years. Do your homework, dive in and do the research, and prepare to wow them and answer their questions.
Keep in mind that very few businesses that seek out venture capital are accepted, and being a startup can further jeopardize those odds. Still, if you think you have a strong pitch and position within your market, it may be worth looking into.
How startup funding stages and rounds work
Getting money for a newly launched venture is a bit more complicated than getting a standard loan for a typical small business. As the explanation of venture capital hints at, there is a bit of due diligence that investors and startups go through to see if they will be a good match for equity partnerships. Here's how the process looks:
The company approaches the chief executive of a venture capital firm or other venture capitalists with their business opportunity

After research and some meetings, the investor chooses to invest

The first round of funding with investors, during the initial launch, is usually called "seed stage funding"

Subsequent rounds of funding are titled with a letter series. The first round after seed stages is "series A funding," for example. Then, Series B funding, etc.

After each vc firm or venture capitalist has been invested for a set time (usually 4-6 years), they can take their exit. This is where they earn their money back through returns on sales of shares through an initial public offering (IPO) or mergers and acquisitions.
How many rounds of funding can a company accept? As many as needed to continue their work. Again, keep in mind that each investor will expect a return. It's not a company's interest to spread themselves too thin with investment partners. While obtaining financing is the main goal, it can't come at the downfall of those who have private equity in the startup.
Incubators and Accelerator Programs
Within the funding world, there are a few other options. Incubator programs are designed to match accepted startups with mentors and tools to get them from the idea stage to working company, and often gives them a bit of seed money to get started.
Accelerators work in the same way, pairing startups with investors and mentors who want to help them reach the next level of growth. A more formal approach to the funding game, these programs require application and acceptance and use a hands-on method of allowing invested parties a way to involve themselves in the success of their chosen startups more carefully.
The Best Startup Funding Options for Small Business
There are over a dozen common ways that small businesses and startups in every industry can get their hands on some financing. The programs vary, however, and many aren't available for new companies.
Furthermore, some of the lending limits for programs won't be enough for the more expensive industries (such as technology or medical) to move the needle. To know which of these options are best for you, ask yourself a few questions:
How much initial funding do I need? How long will that last?

Do I have a community of fans or supportive investors that can pitch in and help?

How long do I need to pay back funds? When will the funding be available as a return for individual investors?

What does my credit situation look like? Do I have an excellent personal or business credit history?
Knowing your exact needs, qualifications, and challenges will help you as you move through this list. Check each option for clues that it may be a good fit for you and your startup needs.
1. Personal savings and loans
If you've ever watched small business reality TV competitions, you've likely heard the term "bootstrapped." This is a common word that conveys a business founder used what they had on hand to get the initial stage of their business off the ground.
In many cases, this could be cash from savings, early cashing out of a retirement fund, borrowing via personal loans, or selling off what they had for extra cash.
This option of funding is the most common and is usually the first stop for getting cash for a startup. Not only is it popular, but it's also often required. Many SBA lending programs won't loan out money until you've exhausted all of your available resources.
The negative to personal assets and loans is just as it would seem. If the business fails, you are left with nothing and are personally liable to continue to pay back on any personally-guaranteed loans or credit accounts.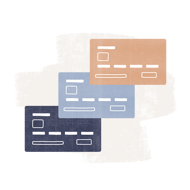 100+ business credit cards in one click
Business credit cards can make sure you always have emergency cash on hand. Browse your top business credit card matches for free and apply in minutes!
Find my top options

2. Family and friends
If you're lucky enough to have the support of your loved ones, it's possible they may invest in your business. This is a tricky area for funding, as mixing business and relationships comes with substantial risk. If your business fails, can your friendships with friends and family survive?
If you do decide to ask for money from people you know, give them the same business documentation you would a typical lender and get your agreement in writing. Treat friends and family as you would any other professional business partner, lender, or investor.
3. Vendor credit from suppliers
If you already purchase supplies, raw materials, equipment, or services for your business, there is an opportunity to get these items for some time and pay for them later. It's called "vendor credit," and it can range from paying 30 days after you take possession of an order to getting months to pay it off. You'll need to ask for this type of credit ahead of time; don't just pay your bills late.
There may be a fee for credit, ranging from a flat cost to an APR interest arrangement. Many of the larger vendors have a process in place for applying for and receiving credit. The good news is that these companies also often report to business credit bureaus. On-time payments will help establish excellent business credit!
4. Business credit cards
This is an easily-explained way to get money for your startup. Like personal credit cards, these give you the flexible purchasing power to buy the things you need in your business every day. While not ideal for cash, due to hefty cash-advance fees, they are great for buying fuel, office supplies, and those expenses that today's businesses make most.
You can also track employee spending, get rewards with every purchase, and get some fantastic perks, such as free checked bags or discounts on popular business services.
Like consumer credit cards, the most popular business credit cards for startups will vary in cost and value. They may have no annual fee or cost hundreds in fees, interest, and employee card costs. Do your research when applying.
Your personal credit usually counts when applying for business cards, so check your free business and personal credit scores before you apply, so you don't run into any surprises.
5. SBA Microloans
One segment of the small business startup loans category is the SBA Microloans program. This matchmaking service attempts to pair qualified small businesses with lenders who have volunteered to be matched as part of the program. While the SBA acts as a way to pair up lender with business, they do not actually give out funds. (This is the case for all of the SBA loan programs.)
Microloans differ from regular SBA loan in that they are smaller, usually under $50,000. They are geared toward startups that may not be well-represented in the traditional lending or small business space; women, veterans, minorities, and those in rural communities may find that their chances are better through these smaller lending programs.
Despite the focus on representation, however, the competition is fierce, and the application process can take months – or even years. This makes it a tough option for those with a startup plan that needs to happen right away.
6. Other Microlenders
The Small Business Administration isn't the only way to get a microloan. Some private organizations, business groups, and industry associations give out microloans to qualified businesses. Major banks have even been known to give out these smaller, business loans – although they might not call them "microloans."
If you already do business with a lender (through your checking or savings, for example), ask what programs they may have available. An increasing number are adding microloans to their service offerings.
7. Crowdfunding
One of the more recent additions to the startup funding arsenal, crowdfunding is a very social way to get fans and early adopters on board with your idea, even possibly giving them a first-try at your product or service if they back you! There are many companies that offer platforms for startups to crowdfund, such as IndieGoGo and Kickstarter.
While the potential for raising money through is great, it can be hard work to get the momentum needed to secure large amounts of money. Even the most buzzed-about, fully-funded goals are made up of hundreds – if not thousands – of small supporters that can feel like friends and family to a worthy small business.
It can take an incredible effort to secure funding this way and may require the help of a PR team or influencer to spread the word needed to succeed. For companies who offer part of the business through specific equity crowdfunding platforms, it can also come at a loss of autonomy or freedom to do as you wish with your startup.
8. Invoice Financing
Another idea for raising money is with invoice financing. This is one of the quickest ways to get access to money, and it only requires that you be in business and actively collecting payments from customers. The program uses your outstanding invoices to calculate what you should be able to borrow safely.
As you collect your invoices, you pay the lender back. While rates can be a bit higher for these loans, the requirements are less strict. Almost anyone who has invoices out can qualify, even if you haven't been in business very long. It's ideal for new businesses.
9. Equipment Financing
Getting a loan for equipment, specifically, is called "equipment financing," and it works like financing any other piece of tangible property. The amount of the loan is based on the value of the item you finance, and the item itself is used as collateral. If you don't pay the loan back according to the agreed terms, you could see your equipment become repossessed.
The rates may be higher, as well, but this type of financing is a good option for new businesses who can't get a multi-purpose loan or straight cash. Using equipment financing can free up money for other things you want to buy and can help establish the business credit needed for a more flexible loan product.
10. Business Term Loans
While not exactly the same as guaranteed startup business loans for bad credit, business term loans do offer a flexible way to buy things you need or launch an expensive new phase of your company. The loan is a lump sum of money given to businesses in as little as 2 business days, offering lower rates than many credit cards, and giving the borrower between one and five years to pay back the money.
As the name implies, there is a set term for repayment. It is expected that the proceeds be used for business purposes, and sometimes, the lender may require the applicant to specify how the money will be used if they are approved. Loan amounts range from $25,000 to $500,00 or more, so a demonstrated business performance is usually required to be eligible.
11. Business Lines of Credit
Similar to a business credit card, the line of credit gives you a way to pay for items as you need them. The business line of credit, however, is also like a traditional loan in that you can easily borrow cash. You can borrow and repay the money as often as you like, provided you don't go over your credit limit. The maximum can range from $10,000 to up to $50,000 or more.
The best part is that you only pay interest on the amount you have out at any one time. Pay it back and stop paying interest. There's no penalty for early payment.
This is a good option for those without excellent credit and who may not qualify for a traditional loan. These lines are sometimes offered to businesses who already do other banking services with an existing institution, so ask your bank if this is an option.
A business line of credit can help with those months where cash flow is a bit tight, and you don't want to go out and do something as serious or committed as a round of investment funding.
12. Small Business Grants
One of the most sought-after forms of funding, the category of small business grants is almost a unicorn in its scarcity and value. This is money that doesn't have to be paid back; the competition for these opportunities is stiffer than any other funding option.
Grants are also limited to companies that can demonstrate their ability to hire a segment of workers, change a community, or offer value to an underserved market, something that startups can rarely prove at such an early stage in their journey. While you shouldn't count out grants as a legitimate way to get cash, pinning your hopes on them as a sure thing isn't recommended.  
Summary
Remember, while some people invest in hedge funds or coins, others are eager to get in on the ground floor of something new and special. There is plenty of money to be given to promising startups with something to offer the world. Research, along with expanding your network, will get you there faster. Many successful companies stress that connecting to those who want to invest in startups is key.
If a traditional or angel investor doesn't work out, however, today's market offers plenty of options for businesses. With over a dozen proven financing vehicles, your next phase of growth may just be an application away.

Frequently Asked Questions
What are the most common startup funding stages?
Getting money from the very beginning, before you've had a chance for your business to grow very much, is called seed stage investing. Those interested in putting money into your initial offering must be passionate about your business before it's offered proof of success. The subsequent startup funding stages are the next stage, or Series A Funding. Then, Series B Funding comes next.
It's possible to get additional funding beyond these stages, as well – especially if a business experiences quick growth in a short time and needs the funding to maintain their business model.
What do people mean when they talk about startup funding rounds?
As explained before, the startup funding rounds are the same as the stages: seed stage, Series A, and Series B. A new round is an opportunity for investors to put money or talent into a startup with the hope to exit down the road for a larger return than what they paid.
What should I do if I can't get startup funding for small business ideas I have?
With so much competition for funds these days, especially among tech startups, your idea may be better suited for a first-time business loan, something that's commonly offered to smaller new businesses. These microloans aren't as massive or public as the money you'd get through a VC funding round. It could be just what you need to achieve the next level of growth, however.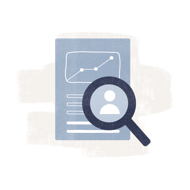 Pro tip: What you don't know can kill your business
Take charge of your financial health today with a FREE Nav account. We'll protect and monitor your personal and business credit, so when it comes time to find financing you're prepared on all fronts.
Sign up now

Rate This Article