American Express Blue Business Cash™ Card
Advertiser & Editorial Disclosure
Update June 21, 2022: Brex has announced it will no longer continue serving customers that have not received funding from angel investors, venture capital firms or accelerator programs. Learn more here. If a corporate charge card is something your VC or angel-funded business needs to manage your cash flow, the… Continue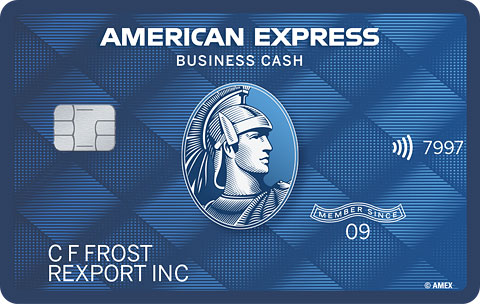 Rates and Fees
| | |
| --- | --- |
| Intro APR | 0% on purchases for 12 months from date of account opening |
| Purchase APR | 17.99% - 25.99% Variable |
| Annual Fee | $0 |
| Welcome Offer | Earn a $250 statement credit after you make $3,000 in purchases on your Card in your first 3 months. |
| Rewards Rate | Earn 2% cash back on all eligible purchases on up to $50,000 per calendar year, then 1%. |
Details
Earn a $250 statement credit after you make $3,000 in purchases on your Card in your first 3 months.
Earn 2% cash back on all eligible purchases on up to $50,000 per calendar year, then 1%. Cash back earned is automatically credited to your statement.
From workflow to inventory to floor plans, your business is constantly changing. That's why you've got the power to spend beyond your credit limit with Expanded Buying Power.
Just remember, the amount you can spend above your credit limit is not unlimited. It adjusts with your use of the Card, your payment history, credit record, financial resources known to us and other factors.
0.0% intro APR on purchases for 12 months from the date of account opening, then a variable rate, 17.99% - 25.99%, based on your creditworthiness and other factors as determined at the time of account opening.
No Annual Fee
Terms Apply
Nav's Verdict
Bottom Line This card offers you one of the highest cash back rates (2%) that you can receive for all purchases on a small business card.
Update June 21, 2022: Brex has announced it will no longer continue serving customers that have not received funding from angel investors, venture capital firms or accelerator programs. Learn more here.
If a corporate charge card is something your VC or angel-funded business needs to manage your cash flow, the Brex Card gives you a fair balance of rewards across several spending categories. With no annual fee or foreign transaction fees, it's an affordable way to finance purchases for a full billing period and build your business credit history, particularly if you are in the technology or life sciences industries.
Pros and Cons
There's a lot to love about the Brex Card, but there are also a few drawbacks to consider.
Perks include:
When you use Cash with Card and make daily card payments, you get extra points in most categories

Higher credit limits than other cards

No personal guarantee needed

No personal credit scores needed

Build your business credit

No foreign transaction fees

No APR

Start using the virtual card right away
Cons include:
Purchases are payable upon receipt of the billing statement

Only available to firms funded by angel investors, VC firms or accelerators
Summary of the
Billed as the credit card for startups, the Brex corporate card is a Mastercard powered business account that charges no interest or fees. Brex cardholders must pay in full every 30 days and have access to higher limits than other cards. 
With instant access to funds upon approval, and a robust Brex rewards points program, it's a new charge card offering that reports to business credit reporting agencies to help build business credit without ever tapping personal credit history for approval or collateral.
Full Review
The "pay in full" credit card — also known as the charge card — is nothing new, but today's entrepreneurs are getting a crack at this useful financial tool. The Brex Card boasts its reputation as the card for startup founders, particularly in tech or life sciences, claiming that its biggest perk is that personal or business credit scores and a security deposit aren't required for approval. Instead, this card uses the cash you have raised and/or equity in your company, alongside your company spending patterns, to determine your credit limits.
Needless to say, this means that it's a card for established startups, and not someone hoping to launch their next big idea.
There are no annual card fees, and since payment in full is due when the bill comes (or 30 days post-purchase), there is no interest rate, either. Team members can have their own cards, either in virtual or plastic form; additional cards also have no annual fee. There are no foreign transaction fees, and the card comes with Mastercard's zero fraud liability protection plan; if you didn't make the purchase, you're not on the hook to pay for it.
While the access it provides to an incredible line of credit, which helps you manage your business' cash flow, is commendable, it's Brex's rewards program that really shines.
Brex Card Rewards System
Cardholders can earn points per dollar on rideshare services, travel, dining out, software subscriptions, and on all other purchases. Cardholders who make daily payments using Brex Cash, a bank account alternative your business can use to deposit cash and pay for expenses, you'll earn even more rewards points.
Points can be redeemed for cash back, gift cards, travel, statement credit, or be transferred to airline miles. Travel rewards are paid out as a credit on travel services booked through the Brex Travel portal. 
The rewards program also includes entrepreneur-friendly cardholder discounts and credits that have been arranged with popular businesses, such as Amazon web services, Google Ads, WeWork, DocSend, and Hubspot. Discounts vary from 15 – 50% off service prices, and they change regularly.  
How is the Brex Card Different from Other Credit Cards?
Brex isn't your mother's credit card. It's unique in that it focuses on specific startup industries, including life sciences and technology. It even caters its rewards program to each: for life sciences businesses, they can earn 7x points on conference tickets like Biotech Showcase, BIO CEO, and BIO Convention, and tech companies earn 2x points on recurring software like Salesforce, Zendesk, Twilio, and more.
Another unique thing about Brex is that it also offers its Brex Cash account, which functions much like a bank account would. When you use that account to pay your charges on your Brex corporate card daily, you can earn even more rewards.
What Types of Companies Should Consider a Brex Card?
For now, Brex focuses on providing corporate cards to startups only, and companies who are registered businesses (LLCs, corporations) are the only ones eligible.
Is the Right for You?
This card is unique in its reward structure and higher spending limits, but it's one of several business credit cards offered to entrepreneurs and startups. With a full 30 days to pay and no interest rate or annual fee, it's an attractive offering that's geared toward high-earning startups ready to jump-start their growth.
Since your approval can be generated in seconds, and a virtual card is ready to be used right away, it's a worthy consideration for tech or life sciences startup.
Frequently Asked Questions
Many consumers have questions about applying for the Brex credit card. Check out the answers to these top inquiries and decide if it's the card for your unique financial situation:
What is Brex?
Brex is the credit card issuer of the Brex corporate card. It was founded by Henrique Dubugras and Pedro Franceschi and is backed by the co-founders of PayPal, Y Combinator, Yuri Milner, Ribbit Capital, and the former CEO of Visa.
How do I qualify for the ?
To apply, you'll need to be a company with a U.S. EIN (Employee Identification Number) and be a registered business (not sole proprietor or partnership). Your personal credit score or personal assets are not considered for qualification. Approval odds vary, and the lender will decide if you are qualified at the time of application.
Can the build my credit profile?
Just like many small business loans and credit cards do, Brex partners with Experian and D&B to report your on-time payments. By being an active and responsible cardholder, you are working to improve your business credit standing, even if you don't have much of a history.
What is a corporate credit card?
Also called a corporate "charge card," corporate cards are issued to businesses with proven revenue histories and usually need to be paid within 30-60 days. Corporate credit cards rarely allow users to carry a balance past 60 days.
Are their earning limits? Do my points expire?
There are no limits to what you can earn in any category with the Brex card. Your points never expire as long as you are an active cardholder in good standing.
Nav's Verdict: Brex Card for Startups
If you're looking for a tool to help you keep cash flow steady, having access to a card like the Brex corporate card could be a good place to start. Whether you're a startup or are the small business owner of an ecommerce site, having a card with great perks and no fee can help you do more.
If a corporate charge card is something you need, the Brex Card for Startups gives you a fair balance of rewards across several spending categories. With no annual fee, foreign transaction fees, or personal guarantee required, it's an affordable way to finance purchases for a full billing period and build your business credit history.
The responses below are not provided or commissioned by the credit card, financing and service companies that appear on this site. Responses have not been reviewed, approved or otherwise endorsed by the credit card, financing and service companies and it is not their responsibility to ensure all posts and/or questions are answered.