Capital on Tap Business Credit Card
Advertiser & Editorial Disclosure
What is the ? The is designed for small businesses. It offers , making it a highly competitive cash back reward card for small businesses.  This card offers a annual fee. There are no FX (foreign transaction), ATM or or hidden fees and you can avoid interest by paying your… Continue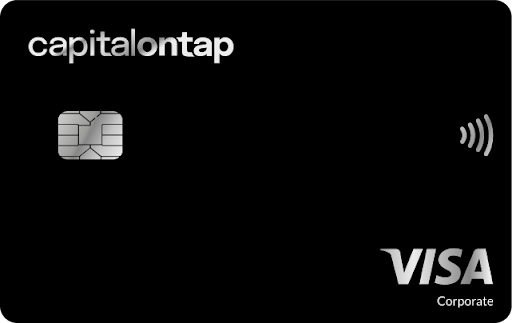 Rates and Fees
| | |
| --- | --- |
| Intro APR | N/A |
| Purchase APR | 17.74% - 35.99% Variable |
| Annual Fee | $0 |
| Welcome Offer | Spend $15,000 in the first 3 months for $200 cashback |
| Rewards Rate | 1.5% unlimited cashback with no annual fee. |
Details
Credit limits ranging from $1,000 up to $50,000
Unlimited 1.5% cashback with no annual fee and spend $15,000 in the first 3 months for $200 cashback
Response within 2 business days and receive your card within 4 business days of approval
Unlimited supplementary cards
Separate your business and personal expenses
Supported over 125,000 businesses in Europe and the US
No FX or ATM fees
Spend management tools to monitor employee cards
Personal guarantee required
APRs ranging from 17.74% - 35.99% variable based on credit profile
Capital on Tap Business Credit Cards are issued by WebBank
Nav's Verdict
Bottom Line The Capital on Tap Business Credit Card is focused on supporting incorporated (LLC/Corp) small businesses - with the goal of saving you time and supporting your business growth. Applying won't affect your credit score. Make purchases immediately with your virtual card.
What is the
?
The Capital on Tap Business Credit Card is designed for small businesses. It offers 1.5% unlimited cashback with no annual fee., making it a highly competitive cash back reward card for small businesses. 
This card offers a $0 annual fee. There are no FX (foreign transaction), ATM or or hidden fees and you can avoid interest by paying your balance in full each month. If you do carry a balance, your interest rate will be between 17.74% - 35.99% Variable depending on your business profile. There's even a welcome bonus: Spend $15,000 in the first 3 months for $200 cashback.

Your small business should have at least three months in business and annual revenues of $30,000 before applying. You (the business owner) and the business must be based in the U.S. and you must be the active director of the company or majority shareholder with at least 25% ownership. (There is a Capital on Tap Business Credit Card available for UK businesses.)
How Does the
Work?
The Capital on Tap Business Credit Card may be used anywhere Visa is accepted. You can also issue employee cards to up to twenty employees, and set spending controls on those cards. 
Benefits of
There are a number of benefits to the Capital on Tap Business Credit Card as a tool for business purchases and, when needed, business funding: 
The application process is fast and simple. There is a personal credit check as well as a business credit check. (Check your business credit rating here.) The personal credit check is a soft credit check that does not affect the owner's personal credit scores. As with most small business credit cards, a personal guarantee is required.
For small business owners who want to use a credit card as a cash flow management tool or alternative to a small business loan, this card allows you to make smaller payments or even minimum payments (interest will be charged), or you can pay in full to avoid interest charges.
There are no foreign transaction fees (FX fees) or ATM fees. (If you use the card to access cash from your credit line, interest will be charged however.)
Earn points on your credit card spending that can be redeemed for cash back, or credited to your account balance instantly as a credit.
Integrate with various accounting software programs, making it easy to manage your business expenses. (At Nav, we recommend business owners use business accounts— including business bank accounts and business credit cards— for business transactions.)
Accounts will be reviewed regularly for interest rate reductions and credit line increases for those who qualify.
The responses below are not provided or commissioned by the credit card, financing and service companies that appear on this site. Responses have not been reviewed, approved or otherwise endorsed by the credit card, financing and service companies and it is not their responsibility to ensure all posts and/or questions are answered.