Costco Anywhere Visa® Business Card by Citi
Advertiser & Editorial Disclosure
This cash-back business rewards card is exclusively for Costco members and gives an impressive 4% cash back on fuel purchases. There's also no annual fee with club membership. Your card doubles as your Costco club membership card. There is currently no sign-on bonus. Pros and Cons Perks include: for Costco… Continue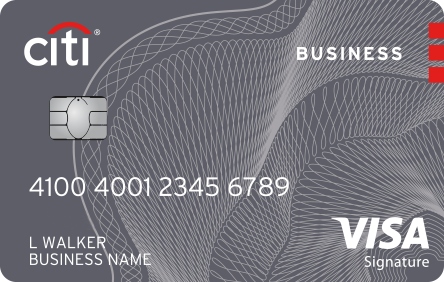 Rates and Fees
| | |
| --- | --- |
| Intro APR | N/A |
| Purchase APR | 20.49% (Variable) |
| Annual Fee | $0 |
| Welcome Offer | N/A |
| Rewards Rate | 4% cash back on eligible gas and EV charging purchases for the first $7,000 per year and then 1% thereafter. 3% cash back on restaurants and eligible travel purchases. 2% cash back on all other purchases from Costco and Costco.com. 1% cash back on all other purchases. |
Details
Discover the only business credit card designed exclusively for Costco members.
4% cash back on eligible gas and EV charging purchases for the first $7,000 per year and then 1% thereafter.
3% cash back on restaurants and eligible travel purchases.
2% cash back on all other purchases from Costco and Costco.com.
1% cash back on all other purchases.
No annual fee with your paid Costco membership and enjoy no foreign transaction fees on purchases.
Whether you're traveling for business or pleasure, enjoy no foreign transaction fees on purchases.
Receive an annual credit card reward certificate, which is redeemable for cash or merchandise at U.S. Costco warehouses, including Puerto Rico.
Nav's Verdict
Bottom Line An excellent choice for those who want to earn the highest rates of bonus cash back from their gas purchases, and strong rewards for business travel expenses. It's the only business credit card designed exclusively for Costco members.
This cash-back business rewards card is exclusively for Costco members and gives an impressive 4% cash back on fuel purchases. There's also no annual fee with club membership. Your card doubles as your Costco club membership card. There is currently no sign-on bonus.
Pros and Cons
Perks include:
for Costco members

Doubles as your club membership card
Cons include:
No sign-on bonus

No lower, intro APR

No spending bonus
Summary
For business owners who already take advantage of big savings opportunities offered by their local Costco warehouse club, it makes sense to use the Costco Anywhere Visa® Business Card by Citi to make these purchases.
There is currently no limit to the rewards cardholders can earn, and payouts occur annually in the form of an annual credit card reward certificate, redeemable for cash or merchandise at Costco locations nationwide. With no additional card fee, it's an easy way to turn your existing Costco club business purchases into cash to reinvest back into your company. Though this card does not have any intro offers or spending bonuses, this is is typical for big-box retail club cards.
Full Review
If you're a frequent Costco shopper who happens to own a business, you've likely been asked to sign up for the Costco Anywhere Visa® Business Card by Citi. This card is marketed to be an automated approach to saving and earning for those who frequently use Costco business membership services. The added benefit is that you can also earn rewards for things you buy every day. With no annual fee for members, it's an attractive option compared to other business cards with annual fees reaching $125 or even higher.
While the percentages earned on select categories aren't the highest in the industry, the APR is competitive. Compared to the 25% or higher interest rate that other retail and big-box card issuers offer, it's a steal at just 20.49% (Variable). Pay it off monthly, and you'll reap the rewards of savings on purchases at gas stations, restaurants, travel websites, and, of course, Costco stores, without putting a penny toward interest or fees. The credit card also doubles as your membership card, making it easy to swipe and pay at Costco locations, kiosks, and self-checkouts nationwide.
Since Visa is the card issuer, this credit card can be used practically anywhere that accepts cards for business and personal purchases, while earning a solid cash-back rate. For that reason, the card is a good addition to your business and personal wallet.
Card Features
There are no foreign transaction fees with this card.
Citi offers other benefits, like its Damage & Theft Purchase Protection, which may cover repairs or refund a purchase on items you buy with your card that are damaged or stolen within 120 days of purchase. You also get access to Citi Entertainment, which gives you special access to tickets for concerts, sporting events, and dining experiences.
How to Redeem your Rewards
Whenever you make a purchase in a qualifying cash-back category, you'll see the balance to your rewards updated on your card statement. Like other club cards on the market, Costco issues annual rewards to its cardmembers every February, in the form of a reward certificate. This certificate must be presented in-store to be used to pay for merchandise, with the balance of the certificate after purchase (if any) given to you as cash.
You may also, under certain circumstances, request the value of the certificate as a check. Only members with both an open credit account in good standing and a Costco membership will be eligible to redeem the rewards. Closing your credit card account or canceling your membership forfeits the balance of your reward certificate.
Is the Right for You?
If you run a business that already uses Costco for office supply purchases, resale merchandise, or even your own personal groceries, you can easily maximize your spending in-club and online with this card. The fuel perks alone, are among the most competitive in the market, and Costco makes it easy to earn and redeem rewards automatically. (Unlike some other cards, there's no need to keep signing up for savings offers or choose earning categories.)
For a truly automated way for Costco shoppers to save, this card is the real deal; if you're a club member in good standing, the perks are well worth opening up an extra line of credit.
Other Options
If you're a business owner who doesn't often shop at Costco, or you prefer to earn cash back in other product categories, you may want to consider another Citibank business card with different savings categories, such as the CitiBusiness® / AAdvantage® Platinum Select® Mastercard®.
If you'd prefer a business card without an annual fee not associated with Costco, check out the Blue Business® Plus Credit Card from American Express. If you do a lot of business travel, Chase offers several travel rewards credit cards with Southwest and United, as well as its Chase Ink business cards.
Frequently Asked Questions
What are the Requirements to Get this Costco Credit Card?
Because this is a business class credit card, there will be some additional steps to apply. You will need to provide:
Verification that you are a business owner with 25% or more control or ownership

Costco membership number

Legal business name and DBA (that's Doing Business As, or Fictitious Business Name)

Business address and contact info

Annual business revenue

Business structure type

Tax ID number

Line of business

Number of employees (and employee info, if you wish to add them as cardholders)

Length of business

Authorized officer information

Personal earnings
The bank may request verification and ask additional questions at the time of the application or before making a final decision. Credit history and previous payments may affect the outcome of your approval.
Can I Pay my Costco Credit Card Balance at Costco?
Payments need to be made directly to Citi and can be done using its online payment portal or by calling 1-855-378-6468.
How long does it take to fill out the application?
If you have all your personal info handy, such as your name, mailing address, Social Security number, and information about your income and business, filling out the form should take no longer than five minutes.
What are the Benefits of a Costco Business Membership?
The biggest benefit is being able to earn rewards in multiple categories for a rewards certificate you can redeem at Costco in the store and online. An additional benefit is being able to use your credit card as your Costco club card.
What Credit Score Do You Need for a Costco Credit Card?
While Citi doesn't explicitly state what personal or business credit scores you need to qualify for this card, other sources state that you have a strong likelihood of being approved if your credit score is 720 or higher.
Can I Get a Costco Business Credit Card with No PG (Personal Guarantee)?
Most business credit cards require the personal income of the cardholder to be taken into consideration for approval. This includes the Costco Anywhere Visa® Business Card by Citi, which asks in the application for this info. It will be used to guarantee the money borrowed, should that be required by the bank.
The responses below are not provided or commissioned by the credit card, financing and service companies that appear on this site. Responses have not been reviewed, approved or otherwise endorsed by the credit card, financing and service companies and it is not their responsibility to ensure all posts and/or questions are answered.