U.S. Bank Business Select Rewards Card
Advertiser & Editorial Disclosure
With a balance of perks including a no-interest promo rate, 20,000 bonus point offer, and no annual fee, the gives you more spending power for your small business. The generous earning tier is an added bonus that can help you get rewards quickly. Pros and Cons Perks include: Redeem points… Continue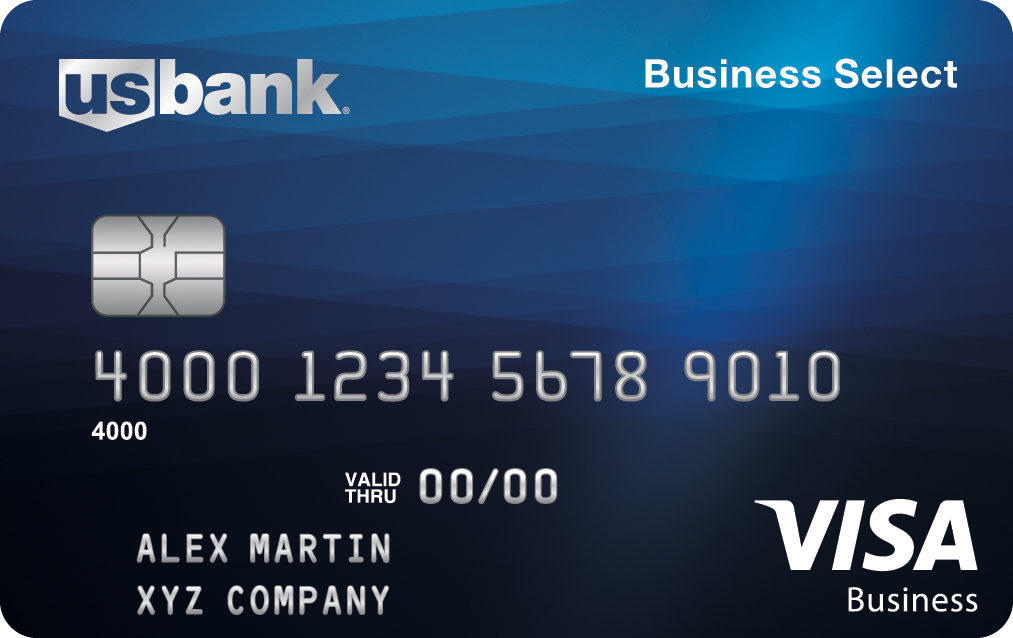 Rates and Fees
| | |
| --- | --- |
| Intro APR | 0% for 9 billing cycles on purchases* |
| Purchase APR | 13.74%-24.74%* (Variable) |
| Annual Fee | $0* |
| Welcome Offer | Earn 20,000 bonus points after you spend $1000 in eligible net purchases during the first 90 days after opening your account. |
| Rewards Rate | Earn 3 points per dollar on net purchases in one category of your choice: Day-to-Day Expenses, Automobile or Travel & Entertainment. Earn 1 point per dollar on other net purchases. No limit on total points you can earn. |
Details
Earn 20,000 bonus points after you spend $1000 in eligible net purchases during the first 90 days after opening your account
Earn 3 points per dollar on net purchases in one category of your choice: Day-to-Day Expenses, Automobile or Travel & Entertainment
Earn 1 point per dollar on other net purchases
No limit on total points you can earn
No annual fee*
Net purchases are purchases minus credits and returns
Nav's Verdict
Bottom Line Great potential to make the most from everyday business purchases.
With a balance of perks including a no-interest promo rate, 20,000 bonus point offer, and no annual fee, the gives you more spending power for your small business. The generous earning tier is an added bonus that can help you get rewards quickly.
Pros and Cons
Perks include:
Redeem points for gift cards, cash back, travel or merchandise
annual fee
Free employee cards
Cons include:
1 point per dollar on other categories
Intro APR doesn't apply to balance transfers

Foreign transaction fees of 2-3%
Summary of the
Not all business owners spend the same, and this card is made to reward those with big purchasing requirements. A very competitive 3 points back on your top spending category means you have the chance to save up for bigger rewards, including statement credit and gift cards. The 20,000 bonus points offer helps sweeten the deal for any cardholder who loves the power of a good reward card. No annual fee helps make it a top choice for small business earning opportunities.
Full Review
This business credit shines in its ability to help you earn rewards quickly, provided the bulk of your business spending is one of the following three categories:
Shipping, advertising, utilities, telecommunications, professional fees/services, and office supplies are considered within the category of "Day-to-Day Expenses."

Fuel, car repairs, car washes, service fees, tolls, and dealership expenses fall into the "Automotive" category.

The "Travel and Entertainment" category covers airfare, car rental, hotels, dining out, and travel agencies.
As you can see, there is a big potential to earn one of the highest earning categories ever for a business card, provided you know your spending habits and pick the category in which you're most likely to earn. For a company with many fleet vehicles, for example, an automotive category makes sense. If you're more the jetsetter type, this card could easily replace your competitive airline or travel-branded reward card. (It does, however, charge travel fees of 2-3%, something to consider if you're going abroad.)
Beyond that impressive earning tier, you'll get 1 point per dollar on everything else. There's also a generous sign-up bonus. You'll pay no annual fee for this card, and an intro APR of makes this card hard to pass up. It's a balanced card with ample perks and the stellar customer service support U.S. Bank is known to offer customers.
Is the Right for You?
There's a lot to consider when picking a card, but if you predict you'll spend a good amount in any of the big three categories mentioned at the 3 points per dollar tier, you'll be hard pressed to find a better offer. That's not to say that you won't find another card to be right for you. These competitive cards are also provided by U.S. Bank and are favorites among business owners.
Another option is the U.S. Bank Business Leverage® Visa Signature® Card, which gives you one point per dollar spent and a big bonus point offer. Earn 75,000 points worth $750 cash back. Just spend $7,500 in eligible net purchases on the Account Owner's Card within the first four months of account opening. It also pays cardholders with 2x points per dollar in your top two categories, whichever those happen to be each month. You'll be earning with most everything you buy.
Frequently Asked Questions
Before you apply for the —or any of the cards in the U.S. Bank business card line—read the answers to these common questions:
How can I improve my chances of meeting the U.S. Bank business credit card credit score requirements?
In addition to having a good to excellent business credit score, it's smart to keep your personal score into shape, as well. Other considerations the bank will use in considering your application include your business assets, revenue, personal assets, type of business, and length of business ownership.
What's the best way to ensure a U.S. Bank business credit card approval?
Ultimately, approval is up to U.S. Bank to determine, but there are many things you can do to improve your chances. First, get your free business credit score and see where you can do better. Things like making on-time payments, asking your vendors to report payments to the credit bureaus, and paying down existing debt can increase your score make a difference. In addition to a good business score, keeping your personal credit in good standing is important to get future business credit card opportunities.
Is there a maximum number of points I can earn? How long do they last?
There are no limits to the reward points you can earn, points expire after five years.
The responses below are not provided or commissioned by the credit card, financing and service companies that appear on this site. Responses have not been reviewed, approved or otherwise endorsed by the credit card, financing and service companies and it is not their responsibility to ensure all posts and/or questions are answered.