LoanMe, founded in 2013, is lender offering both personal and small business loans. Their business loans division offers loans to small companies, including sole proprietorships, up to $250,000 that can be paid back over a repayment period up to 10 years. The loans are repaid via a fixed monthly payment and businesses can be funded as soon as the same day of application.
What will a LoanMe small business loan look like?
LoanMe offers loans from $3,500 – $250,000, with repayment terms between 2 – 10 years. Their interest rates span 24 – 149% plus a 5 – 10% origination fee. There is no prepayment penalty, so business owners can pay back the loan anytime.
I'll hand it to LoanMe because they are transparent about their rates—they list their rates prominently on their website and it's easy to tell what fees they charge. However their rates are expensive, and you'll be paying a hefty origination fee up front—many other online small business loan lender will charge an origination fee between 1 – 5%.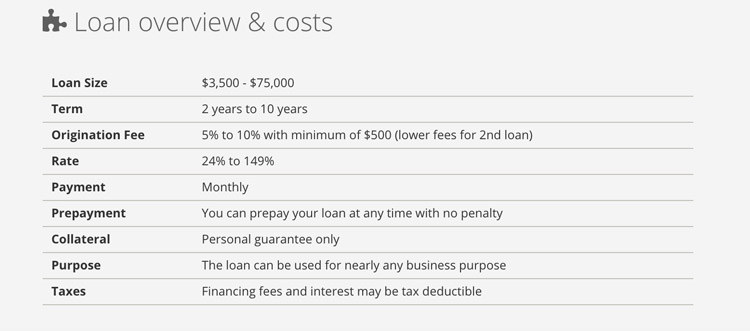 *higher loan size and lower rates (but higher origination fees) available in some states.
Let's say you're qualified for a $50,000 loan from LoanMe with a 5 year repayment schedule. Based on the rates above, your APR could be anywhere between 26 – 166% depending on how they rate you as a borrower. That means a total financing cost between $38,804 – $327,832 if you pay back your loan according to 5 year repayment schedule. (LoanMe encourages borrowers to repay early as there is no prepayment penalty.)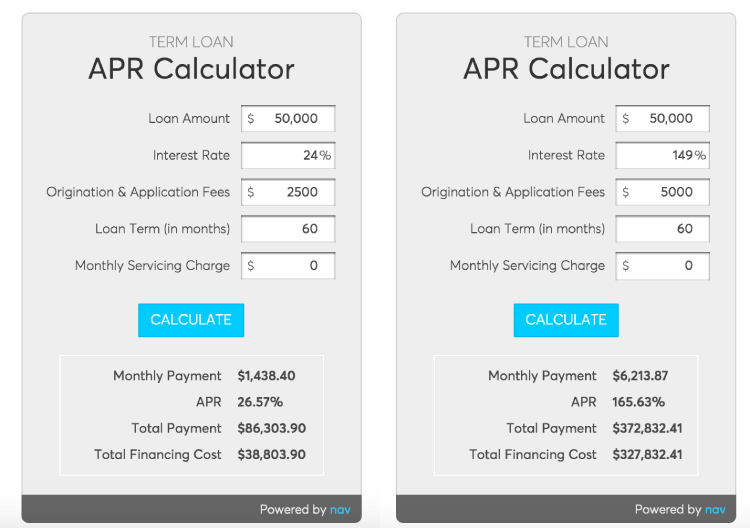 Test Nav's calculators out yourself or here or learn about how the math works.
How will my rate be determined?
There are a number of different factors that will determine your rate, including personal credit worthiness. LoanMe will allocate your business a score from A – E, "A" being the least risky applicant and "E" being the riskiest. Here's what the rates look like at each tier.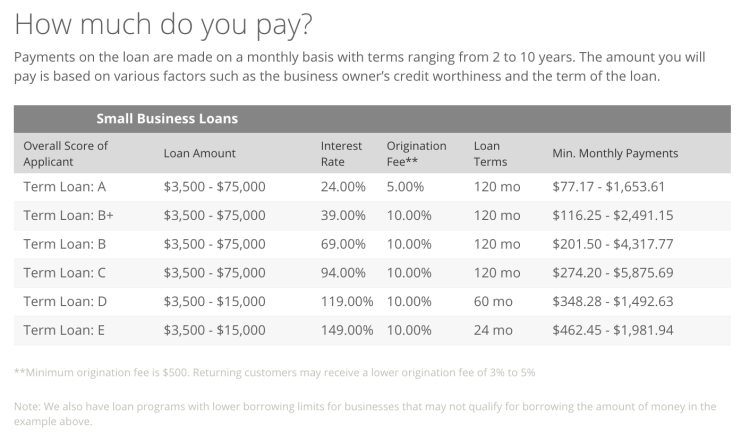 Although LoanMe offers these loans at higher rates than most online term loan lenders, they will not charge a prepayment penalty for borrowers who pay back their loan early. You could save tons of money by paying back your loan early, but be wary of the fine print under this table, which notes that the minimum origination fee is $500. Thus, even if you get a $3,500 loan and are given an "A" rating, you still have a $500 fee to pay regardless of the 5% origination fee listed above.
Requirements to qualify
To qualify for a small business loan from LoanMe business owners must have a business bank account that was opened at least two months ago.
LoanMe
Other online term loans
Merchant Cash Advances
SBA Loans
Loan amount
$3,500 – $250,000
Up to $500,000
Typically up to $250,000
$50,000 – $5M
Interest rate
14 – 149% interest + 5 – 10% origination
7 – 30% APR
15 – 150% APR
6 – 13% APR
Speed of funding
Within a day
2 – 7 days on average
1 – 7 days
1 – 3+ months
Loan duration
2 – 10 years
1 – 5 years
Up to 2 years
5 – 25 years
Credit score needed to qualify
500+
600 – 640+
500+
FICO SBSS score of 160 or above
Requirements
 – must have a business bank account that has been open for 2 months

– applicant must be authorized to obtain credit on behalf of the business

– 2 years in business

– $50 – $75K or more in annual revenue

– no history of bankruptcies, delinquencies, or current tax liens

– must accept credit cards

– sometimes personal guarantee required

– available to startups & established businesses, but many providers require 2+ years in business

– no existing debt obligations to U.S. gov

– do business in the U.S.

– read more requirements here.

Collateral needed?
No
Personal guarantee generally required
None
When available, yes
Prepayment penalty?
No
No
Sometimes
No
LoanMe might be an option to consider if (1) you can pay back the loan early, (2) you need the money the same day, (3) you are unable to secure lower cost financing and (4) you are using the loan proceeds to fund something that will produce a very significant return on investment.
However, as you can tell from the above table, the cost of a LoanMe small business loan looks similar to the cost of a Merchant Cash Advance than that of an online term loan. No matter where your credit stands, there are other options that will likely have a lower APR and lower up front cost that will transfer funds to your account within a few days of receiving your application. There are a number of funding options for business owners with bad credit (even ones for which there is no minimum personal credit score required) which you should consider. Be sure to look into different options available to you before signing a term sheet with a lender.
This article was originally written on February 17, 2016 and updated on December 29, 2021.
Rate This Article