SBA Loan by SmartBiz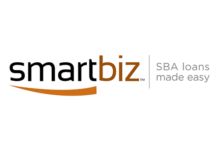 SmartBiz combines the benefits of a traditional SBA loan with shorter application process (typically 60-90 days). Since SBA loans are government-subsidized, their rates are among the most favorable for lenders. SmartBiz's application is fully online and automated and, if approved, you get your loan in less than one month from start to finish. Their list of requirements are long, but their online application takes out a lot of the pain typically associated with SBA loans. Pay attention to the requirements list on the right to make sure you qualify before you try applying. The requirements are strict so you can save yourself a lot of trouble by making sure you qualify before starting down this road.
9
/10
Bottom Line
One of the most affordable loan products available if you meet their requirements
Pros
APR as low as 8.27% with monthly repayment plans up to 10 years. Ability to be pre-approved and review terms and conditions before needing to provide a full list of financial documents.
Cons
Lengthy application process (60-90 days) with lower approval odds. Requires more documents than other Bank Loan products.
Qualification requirements
Time in Business
Minimum 2 years in business with 2 years of tax returns filed.
Cashflow
Personal and business financial information required
Citizenship
US business owned by US citizens.
Personal Identification
Social security, valid driver's license or passport information, birthdate
Contact Information
Business name, applicant name, and contact details
Personal Taxes
Past tax returns (we can retrieve electronically)
Business Taxes
Past tax returns (we can retrieve electronically)
Owners
Names of business owners and ownership percentages
Business Details
Tax identification number, type of business, date of inception
Incorporation
Formation and other business documentation
Credit Report
Personal and business credit report (can retrieve electronically)
Allowed Use of Proceeds
Funds cannot be used for business acquisition, debt refinancing, change in ownership, or real estate acquisition. Must be used for working capital, including: business expansion, hiring, inventory, marketing, operational expenses, equipment purchases, etc. More than $10,000 of the proceeds cannot be used for construction.
Repayment Duration
Monthly payments for 10 years
Funding Amount
$30,000 - $350,000
Reviews
Reviews Disclosure: The responses below are not provided or commissioned by the credit card, financing and service companies that appear on this site. Responses have not been reviewed, approved or otherwise endorsed by the credit card, financing and service companies and it is not their responsibility to ensure all posts and/or questions are answered.