Advertiser & Editorial Disclosure
They look similar, swipe the same and may even offer similar terms and rewards as personal credit cards, but business credit cards have a few distinct differences that can trip up a new business owner looking for a credit card.
Business credit cards can be a great way to build a credit history for your business, so finding the right one can be key to getting better interest rates on other business financing options down the road and even on securing partnerships (many businesses do credit checks on potential partners as a form of background check).
When it's time to get a business credit card, it can be too easy to just fill out an application and click on the "submit" button. Instead, you need to take the time to do some research, learn about how small business credit cards work, and find the one that's right for your company's needs.
| | |
| --- | --- |
| | Nav's MatchFactor technology is the only place that instantly shows your approval odds for business loans and credit cards before you apply. See my match scores for free. |
Here are eight things that you need to know before you apply for a business credit card.
1. You don't need to be incorporated.
You might think that your company needs to be incorporated to apply for a small business credit card, but it doesn't. You can apply for a small business credit card if you have an LLC, a partnership, or as a sole proprietor.
2. You don't need an Employer Identification Number.
While business credit card applications will ask for your company's Employer Identification Number (EIN), you won't have one if you are operating as a sole proprietor. You can use your Social Security number (SSN) instead.
3. Business credit cards aren't covered by the same rules as personal cards.
The CARD Act of 2009 created some new rules that credit card issuers had to follow, but it also carved out some major exceptions for business credit cards. For example, the CARD Act requires a minimum 21-day grace period (for cards that offer one). It also makes card issuers apply payments to the highest interest rate balances first and give customers a 45-day notice before raising rates on future charges. Yet small business credit cards are exempt from these requirements. Thankfully, many credit card issuers have chosen to voluntarily apply these rules to their small business cards.
4. Your personal credit will likely factor into whether you get approved.
Most small business credit cards are approved based on your personal credit score and require your personally guarantee to open an account. Some cards will report to your personal credit report, your business credit, or to both — here's a quick cheat sheet on major issuers' policies.
5. There are business credit cards for different types of credit.
Just as with personal credit cards, there are business credit cards that are tailored to your credit profile. For example, Capital One offers its Spark Classic card for small business owners with average credit. It has a $0 annual fee, and offers a modest 1% Cash Back on every purchase, every day.. But for small business owners with excellent credit, Capital One offers the Spark Cash card that features 2% Cash Back on every purchase, every day. with an annual fee of $0 intro for first year; $95 after that.
6. Business credit cards can offer promotional financing.
If you're looking for a small business credit card to help you finance your company expenses, consider a card that offers an interest-free financing period. Small business credit cards can come with 0% APR introductory financing on new purchases, balance transfers, or both. For instance, the American Express Blue Business Plus card currently offers new applicants 0% on purchases and balance transfers for 15 months as of February 20th 2018, with a balance transfer fee of Either $5 or 3% of the amount of each transfer, whichever is greater. as of October 20th 2017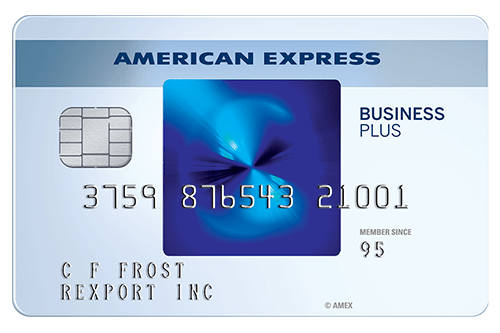 7. You can combine your business and personal rewards.
If you enjoy using your personal credit card to earn points and miles with your favorite airline or hotel loyalty program, you can add to your rewards with a small business credit card. When you apply for either a personal or a business credit card that's co-branded with an airline or hotel, you will be asked for your loyalty program number. Since you'll use the same number for the rewards you earn from both your business and personal credit cards, all of your points and miles will be pooled.
And if you're earning rewards directly with a credit card program, you'll also have your points combined. For example, the American Express Membership Rewards and the Chase Ultimate Rewards programs both allow you to combine the rewards you've earned from your personal and business credit cards.

8. A business credit card might duplicate the benefits of your personal credit card.
Many business credit cards are nearly identical to the personal version. For example, the Delta SkyMiles Reserve card from American Express comes in both a business and a personal version, each with a $450 annual fee. Both cards offer priority service when flying Delta as well as access to their SkyClub lounges, regardless of which credit card you use to pay for your tickets. Therefore, you might want to think twice before getting both the business and personal versions of the same card.
More Business Credit Card Offers to Consider
Rate This Article