Each week, Nav brings you relevant small business news from across the web that we hope you find interesting!
Why Women Need Half as Much as Men to Start a Business
A recent survey found that the typical woman reported she needed only $10,000 to start her business; half the amount men in the survey said they needed. Women are also nearly twice as likely as men to rely on family members to fund their new businesses, and young men age 18 to 24 are about twice as likely to start a business as young women of that age.
There are a number of factors that could be at play here—perhaps women are more efficient with their money when it comes to launching a new company, or maybe they had less access to capital and were wary about the financing process.
There are a number of actions business owners can take to get financing-ready, and we recommend starting with getting your personal and business credit in order. Nav can lend a hand with this.
Presidential campaigns likely to shift focus to small business owners
Here's what business owners are saying about the presidential candidates, an overview of the candidates' platforms, and how their experience could help shape their actions once in office.
[VIDEO] How the Gig Economy Is Changing the Way We Work
A panel from the Inc Vision 2020 Conference, which included the CEOs of Gravity Payments, Business Talent Group, and Shyp, discusses their area of expertise: the "gig economy." Here about all the moving parts that are making it more possible for the 1099 workforce to thrive, as well as the challenges that the gig economy faces versus the traditional W-2 workforce.
CFPB Unveils Overhaul of Debt Collection
The Consumer Financial Protection Bureau is an agency of the U.S. government responsible for creating and enforcing consumer protection laws in the financial sector. The CFPB just announced a new set of rules meant to protect consumers from aggressive debt collection tactics by third-party debt collectors, or, in other words, the people who collect debts from consumers on behalf of a creditor. The new rules are meant to help consumers see more specific information about the debt they owe, the process to repay the debt, their rights, and, interestingly, "once the collection process begins, collectors would be limited to six communication attempts a week to reach the consumer."
How to Use Facebook Live for Your Business
Facebook Live is Facebook's newest feature that allows you to stream videos to your followers in real-time. Use this feature to show your customers a "behind the scenes" look into your business, host a low-budget talk show, start a Q&A, and more. Here's your guide to promoting before your stream, optimizing your stream, and best ways to end and follow up after your live stream.
Speaking of Facebook…
Check out this video on how why small businesses are crucial to Facebook's future, how other businesses are using video via Facebook to connect with their customers, and the basics of how small businesses can target potential customers via Facebook Advertising.
Our favorite Tweet this week came from serial entrepreneur and investor Mitch Kapor.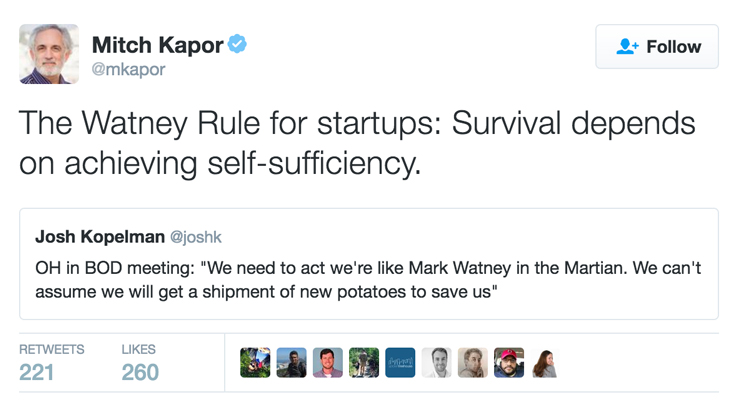 This article was originally written on July 29, 2016 and updated on January 27, 2021.
Rate This Article