The easiest way to run a B2B business is to require an upfront payment from all customers.
In today's environment, however, this is often not realistic. Customers who do not pay upfront request 30 or more days to repay their outstanding bills, upsetting their vendors ability to sustain and grow their business. This can turn a profitable, growing business into a slow, ticking time bomb of cash flow emergencies.
That's the reason for a number of inventive invoice, or accounts receivable, financing companies that have made their way into the alternative lending sphere. Invoice factoring, aka invoice financing, allows businesses to make payroll, buy more inventory, make a new hire, all while waiting for payments from their customers to show up in their bank accounts.
Two such invoice financing companies are Bluevine and Behalf. These two lenders work differently, thus it's likely that only one will fit your business's needs. Continue on to find out which one is right for you.
Bluevine
Bluevine provides B2B businesses with an upfront payment on outstanding invoices. In other words, they advance part of the invoice to ease a business's cash flow while they wait for their clients to pay. Bluevine will fund 85% of the invoice amount up to $100,000. Then, when your client pays, the money will go directly to your Bluevine account. After Bluevine deducts their fees, you will get the remainder of what's left from your invoice.
For example, if you have a $10,000 invoice due in 8 weeks, you can get an $8,500 advanced payment. After your customer pays the invoice, you will get an additional $700 rebate, bringing the total cost of financing the invoice to $800.
By connecting your invoice accounting software, you can set up your Bluevine account to pay whichever invoices you have that you would like covered. They currently work with Intuit Quickbooks, FreshBooks, and Xero accounting software services.
One aspect of Bluevine that bodes well for business owners is that they are transparent about cost. Use their cost calculator to find out how much you will pay for your invoices — there are no hidden fees.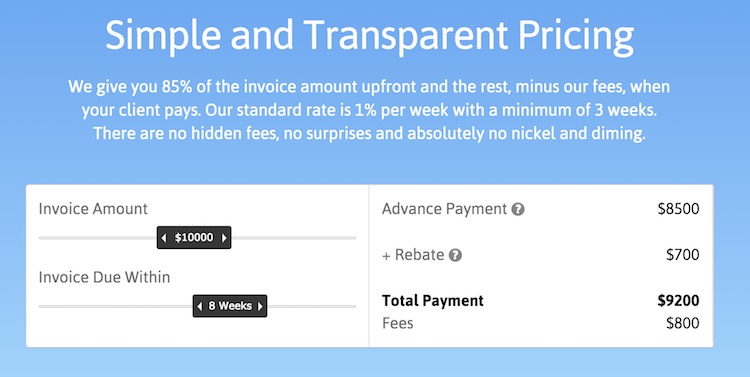 Behalf
Behalf works a bit differently from Bluevine. Instead of providing you cash while you wait for your customers to pay, they provide a payment to your vendors for any business related purchases while you work on selling your product or service.
Behalf claims that they work with almost any of your vendors, whether you're buying inventory or paying for services such as payroll and accounting. Instead of the 30 days or less that you have to pay your vendors, Behalf will extend your repayment plan to 30 – 150 days, and provide you up to $50,000.
Behalf charges 1 – 3% per month of the borrowed amount. For example, if you borrow $10,000 over 60 days, your fee will be somewhere between $100 – $300 per month, or $200 – $600 total.
Behalf also works with select vendors to allow you to get shorter terms (Net 15, 30, 45) interest free. Once you create an account with Behalf, you can look up which vendors offer these terms.
Which one works best for you?
Behalf
Bluevine
Minimum Requirements
Any U.S. resident with registered U.S. business + U.S. bank account + social security number.
U.S. business with U.S. or Canadian customers. B2B businesses only.
Credit Minimum
Not specified
530+
Amount
Up to $50,000
$5,000 – $100,000
Cost
1-3% per month

12-36% APR

1% per week

Up to 60% APR

Cost of a $10,000 loan over ~3 months
$300 – $900
$1200
Repayment timeline
30 – 150 days
1 – 12 weeks
Early repay penalty
No
No
Time to fund
Instant
Same day
Like with all the lenders we've compared, which invoice factoring product you go with will be determined by your exact needs. Both Bluevine and Behalf can get you the cash you need within the same day if you qualify.
If your business has some of the following characteristics, Bluevine might be a better choice for you:
Your clients don't usually submit their payment to you within 30, 60, or 90 days, and you need a way to cover cash flow.
Your invoices amount to more than $50,000.
On the other hand, Behalf might be better if:
Your product is costly or time intensive to produce or sell, and while you work to sell the product you need a way to cover cash flow.
You need less than $50,000. Behalf will likely be slightly cheaper than Bluevine.
Your personal credit score is less than ~530. Behalf accepts a high percentage (about 40%) of loan applications.
Keep in mind that invoice factoring is not always the cheapest option for businesses. If you have a few years of business under your belt, and/or you have a good personal and business credit score, you might want to check out other options.
A final word of advice: Make sure not to confuse your business's profitability with cash flow. Just because you're selling product, doesn't mean that money is in the bank yet. Do the math beforehand, and if you find that you need a way to cover the lag between when you sell your product/service and when you get paid, check out invoice factoring from Bluevine and Behalf.
This article was originally written on September 16, 2015 and updated on January 31, 2023.
Rate This Article