Many small businesses are rooted in family traditions, and Russo's Ravioli is no exception. Based in Cincinnati, Ohio, this mother-son operation has been churning out homemade ravioli for the masses since 2014. But, the recipe is anything but new. Armed with a decades-old family recipe and a bevy of knowledge from other Russo restaurateurs, Diane and Garrison Russo are keeping the tradition alive. 
They've experienced great growth since opening up shop five years ago, including getting their product into a local grocery store. Diane quit her full-time job in February 2019 when it became too much to do both, and now focuses on the ravioli full time.
Russo's Ravioli very deservedly came away with second prize in this round of Nav's Small Business Grant. They took some time to share some of where their business came from and how they plan to use the prize money.
Is there any inspiration for your business' name or concept?
All of our products are handmade from scratch. Our recipes date back to the 1940s and have been used in previous family restaurants as well.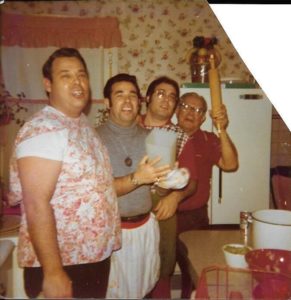 How did you get the money to start the company? Have you used any form of financing?
We used personal savings to start the business, and have never used any form of financing. 
What do you love most about your business?
There's nothing more rewarding than working alongside the ones you love, and we're steadfast in keeping family traditions alive!
What's the most challenging thing about running the company?
It's a lot of long hours, and our particular product requires a lot of very physical work. When we started we definitely underestimated just how physical the work would be. 
What's the most rewarding thing about running the company?
Customer feedback! We love making our customers happy. 
What was the smartest thing you did when you were first starting out?
We took time to meet with members of the SBA (local retired corporate leaders) who gave us great advice. 
What advice would you give to a new entrepreneur?
Be prepared to put in the work! It takes long hours and determination. Give it time, it won't happen overnight. But, don't give up. When things get tough, remember why you started. Use a picture or quote to keep you motivated. 
What's next for your business? How will you use the prize money from Nav?
The prize money will go toward updated product labels. We plan to purchase a ravioli machine to increase productivity. This will allow us to hopefully get into bigger markets and lower the retail price. 
This article was originally written on September 25, 2019 and updated on December 10, 2021.
Rate This Article