Each week, Nav brings you relevant small business news from across the web that we hope you find interesting!
What's Happening This Week
U.S. Small Business Friendliness
This week Thumbtack released its 2016 Small Business Friendliness Survey, which pulled over 12,000 small business owners from across the U.S. The survey graded both states and major cities on issues such as overall business friendliness and labor regulations. The states receiving the highest grade (A+) include Utah, Texas, and Tennessee, while California and Illinois received the lowest (F).
Bank Regulators Aim at Online Small Business Lending
Bank regulators are questioning "whether borrowers have the tools to assess fully the terms of their deals, which can come in several different forms, from conventional loans with monthly interest payments to cash advances with upfront fees."
Nav's cofounders, Levi King and Caton Hanson, spoke in depth on this topic early last month when the Consumer Financial Protection Bureau filled a new position related to small business lending. Find out what regulation already exists and what new regulation could mean for small businesses here.
While the rest of the industry struggles, this store has created the 'best business model in apparel'
Wonder who's crushing it in the retail industry? Zara sets their company apart for their customers — namely millennial women — and shareholders alike. They do this by controlling inventory, keeping a close eye on new fashion trends, and adjusting quickly to those new trends.
Advice to Live By
"The fastest way to change yourself is to hang out with people who are already the way you want to be."
Reid Hoffman, from his book The Start-up of You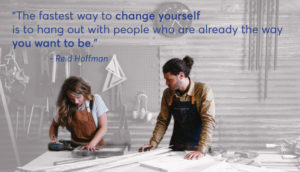 Whether it's someone you consider to be a mentor, peer, peer advisor, etc… surround yourself with people you admire and learn from them.
A Podcast You'll Want to Listen To
StartUp – Kitchen Confidential
StartUp is a podcast that highlights real experiences entrepreneurs face when trying to get a business off the ground.
This episode, Kitchen Confidential, takes "A rare and intimate look into a startup…"
… That announced they were shutting down their app the day after this podcast aired earlier this month. It's an intimate look into the sometimes painful situations entrepreneurs have to face while running a business.
Crushing it On Company Culture
Make It Great: Company Culture Tips From the Best Places to Work
Here are tips from leaders at companies deemed some of the best places to work. From creating transparency to integrating work with play — every workplace is different, but some advice on creating a company culture will be true of all organizations.
Levi King, founder and CEO of Nav, recently shared a personal story in relation to creating a healthy culture — where all employees feel comfortable progressing professionally without fear of being "kicked," creating an environment that is "diverse yet united, tolerant yet practical, actively moving forward, and always hungry." Read more wisdom here.
This article was originally written on June 24, 2016 and updated on July 12, 2019.
Rate This Article