Advertiser & Editorial Disclosure
Trying to figure out how to handle your business debts? Expert advice for your small business debt is available. Here's how to get the answers you need. 
Michael Bovee has decades of experience helping small business owners in financial crises. He started helping them with their debts in 2001 after the "dotcom" crash. In 2008, he was flooded with requests for help from plumbers, framers, landscapers and "basically anyone working in the housing industry," he says. An expert in debt help and negotiation, he's part of the front line solution for individuals and small business owners seeking guidance resulting from the coronavirus financial crisis through Resolve, a Nav partner. 
Ask Bovee about the difference between the coronavirus crisis and previous situations like this he's experienced, and he answers quickly: technology. "We now have a platform that can immediately provide information and present tailored options for dealing with your debts," he explains. 
Resolve's award-winning technology, combined with the expertise of debt relief experts, can help you navigate your way to financial health. As a public benefit corporation, Resolve has helped tens of thousands of people resolve more than $1.5 billion of debt. 
How It Works
Using Resolve's online platform— available 24/7— you enter information about your debts. Resolve's decision-making engine goes immediately to work, using historical collections data and algorithms to present you with options you can compare. You'll get unbiased recommendations based on your unique circumstances. 
With Resolve, recommended solutions may include: 
Credit counseling. This is where you pay back personal debts through a non-profit counseling agency often at reduced interest rates.
Debt settlement. This allows you to resolve your debts for less than the full balance owed. 
Bankruptcy. When other options aren't a good fit, it may suggest you talk with an attorney to find out if it makes sense to file for legal protection either to restructure your debt or to eliminate bills you can't pay. 
Hybrid solutions that may encompass workout arrangements with some vendors, and negotiated settlements with others.
Need to talk to someone? Resolve also offers access to debt experts who will provide free, unbiased advice based on your specific circumstances and goals.
I set up a sample account to experience the platform myself. Here's how it worked. 
First I was asked to answer a few questions about your goals. Here's a screenshot of the first part of that questionnaire: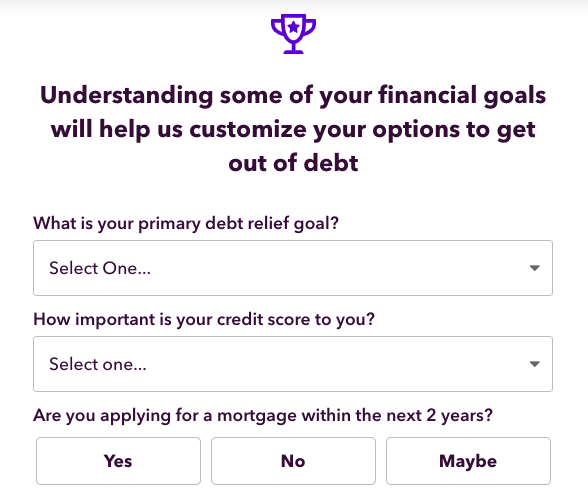 Then I was asked to answer some basic financial was then asked some basic financial questions about my income: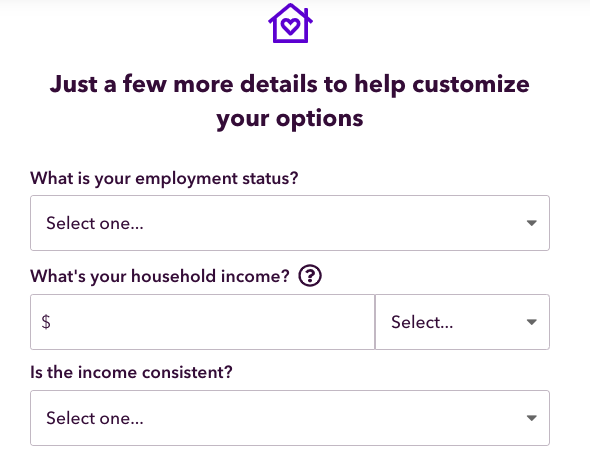 After that I was given the opportunity to let information about my debts be imported from my credit report, or to enter them manually:

I chose the manual option and entered $25,000 in credit card debt on a couple of credit cards from major issuers. Resolve recommended the following options: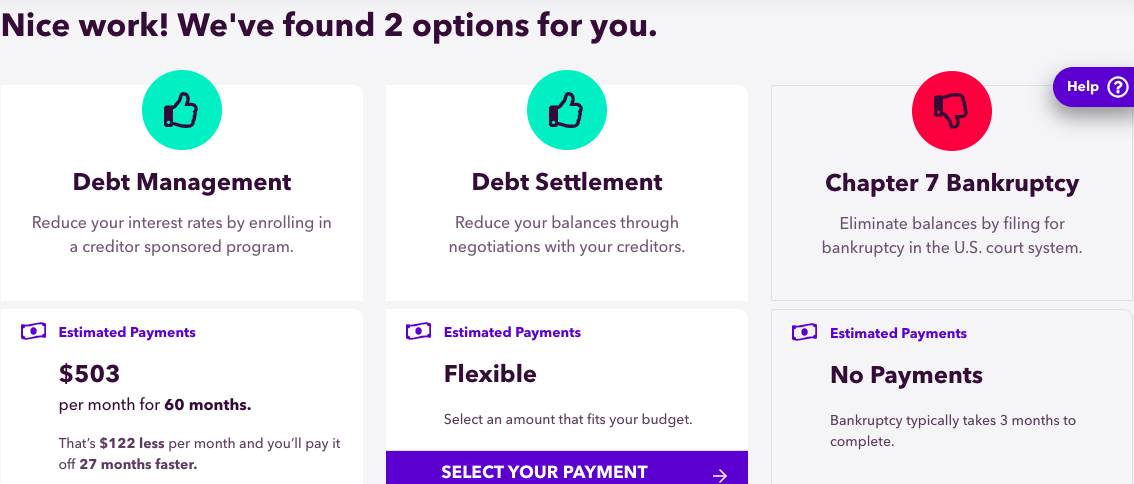 Each option provided additional details including estimated savings, risk of being sued and likely credit impact. It was easy to compare each option. 
How Much Does It Cost?
This service is free for debt comparison, expert consultation and educational tools. The only cost is if you decide to work with a partner, such as entering into debt settlement. Even then, Resolve aims to keep costs as low as possible with fees based only on the amount you save, and at a lower rate than the industry average. 
Running a business is stressful. Dealing with debt from that business is even more stressful. If you're struggling and can't get affordable financing, consider all your options— including services like Resolve to get the advice and help you need. 
This article was originally written on March 19, 2020.
Rate This Article