Advertiser & Editorial Disclosure
Here's one of most common questions we get from business owners: "I have been working in my industry for a long time. I have this great idea and I am ready to strike out on my own. I need $20,000 to start up my business. Where can I get a loan?" Before the business is established, it's unlikely for you to get a $20,000 loan from a bank or even from non-bank lenders like LendingClub or FundingCircle. However, if you have good personal credit, we have a fairly painless solution for you: credit cards.
Having emergency cash on hand can be your key to managing cash flow.
Fortunately, business credit cards can help—Browse business credit cards to find the right card and qualify in minutes!
I know if you are Mark Cuban, you will scoff at the idea of getting a loan for your startup. I do agree business owners should save up before they start up. But I also believe it's a great idea to have the credit options available to smooth out the bumps in the road of business ventures.
So how does it work? Basically, you will get a few credit cards that have at least one of the following features:
low interest rates, preferably 0% introduction offer for a long time.
no cash advance fees
no balance transfer fees.
same interest rates for cash advance and purchases.
Basically, you will put most of the purchase on the 0% credit cards. If it's something like payroll, you can take the cash out of the no cash advance fee cards and then transfer the balance to the card with 0% interest rate.
Let's use a concrete example on how this can be implemented.
Where to get credit cards with no cash advance fees
I have been looking for no cash advance fee cards for a while. But ultimately, I found that the best place to go is to get a credit card from your local credit union. Credit Unions are membership organizations that offer good credit products for their members. It's not hard to find a local credit union who would offer credit cards with 0% cash advance fees and offers the same interest rates for both cash advance and credit card purchases. Their interest rates on credit cards are usually lower than big banks too (less than 10% vs. 15+%).
One example is StarOne Credit Union, which is the credit union I belong to. Their Signature Visa Rewards cards charge a 8.75% interest rate for both cash advances and purchases and $0 fees on everything: no annual fee, no balance transfer and no cash advance fees with $5000 minimal credit limit.
In addition, they also offer personal credit lines and personal loans up to $40K, provided that you have a checking account with them. The rate is (Prime + 5%) = 8.25% currently. Once you 0% introductory offer runs out, personal loans from credit unions can be a good option.
Keep in mind that if you get a personal credit card or personal loan from your local credit union (or anywhere else), that card is meant for personal use. Use it for business purchases sparingly, and once your business is in a position not to use it anymore, try to stick to business credit cards and business loans (read here about why it's important to separate personal and business finances).
Where to get 0% interest rate business credit cards
This is relatively easy to find, but you need to know your credit score and the credit requirements for the card provider. (A free Nav account can show you how closely your business data matches a credit card provider's requirements.) Here are a couple with long introductory periods:
The Blue Business Plus Credit Card from American Express. This card features great rewards, and new applicants receive 15 months of 0% APR on new purchases. There's also no annual fee for this card.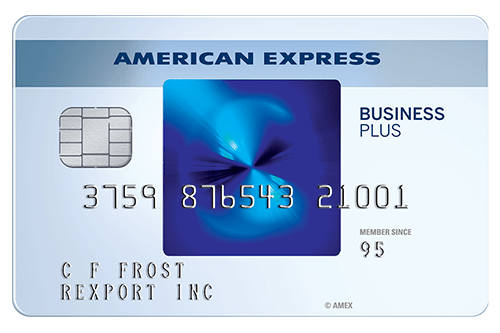 The GM BuyPower Business Card from Capital One. This card has good rewards for those spend at gas stations, restaurants, and office supply stores. They also have a 0% APR financing offer on new purchases for 12 months.
Capital One Spark Cash Select for Business. This card has a promotional financing offer of 0% APR for 9 months. In addition, it has great cash back rewards and no annual fee.
Using the two cards together to get a 0% credit line
With a local credit union credit card and a business credit card with a promotional APR, you can use the business credit card for all the purchases that can be put on credit cards. You can get cash from the local credit union credit cards and then transfer the balance to the business credit card. You can do this repeatedly for the first X months (depending on the introductory financing offer) without incurring any financing cost. You can then switch to another 0% introductory offer card and continue this 0% borrowing.
Once you are two years in business, have hundreds of thousands of revenue and profitable, you will have a lot more business financing options. The goal of this article is to help you get there as a startup.
| | |
| --- | --- |
| | Nav's MatchFactor technology is the only place that instantly shows your approval odds for business loans and credit cards before you apply. See my match scores for free. |
Borrowing responsibly
Having a $20,000 credit line available for your startup business is nice. But at the end of the day, it's DEBT that has to be paid back. Most startup businesses fail. Use the credit line responsibly and spend it on the right things that will take your business to the next level.
Rate This Article