This review was last updated in February 2015 and prices were updated December 2015. Check with the email service provider to verify feature changes.
Over the past three weeks, we have compared 3 different email marketing services in our Email Marketing Review Series: (1) MailChimp (2) Constant Contact and (3) AWeber. All 3 services are pretty friendly to beginners, but they do have their differences. Here is a side-by-side comparison of these 3 popular services — hopefully this will help you choose which one is best for you!
Price Comparison
Here's the price comparison across the 3 different services:
| | | | |
| --- | --- | --- | --- |
| | Constant Contact | MailChimp | AWeber |
| Free Version | 60-day free trial if under 100 subscribers | Up to 2,000 subscribers & 12,000 emails per mo. | 30-day trial period for $1 |
| 0-500 subscribers, unlimited emails | $20/mo | $10/mo | $20/mo |
| 501-2500 subscribers, unlimited emails | $35/mo | $15-$30/mo | $30/mo |
| 2501-5000 subscribers, unlimited emails | $55/mo | $35-$50/mo | $50/mo |
| 5001-10000 subscribers, unlimited emails | $85/mo | $55-$75/mo | $70/mo |
Basic Features Included in Each Basic Service
| Feature | Constant Contact | MailChimp | AWeber |
| --- | --- | --- | --- |
| Templates | 400+ | 300+ | 700+ |
| Template Customization | Code your own or have Constant Contact create one for you for $399 – $599. | Code your own or create your own from a plain or pre-existing template. | Code your own or create your own from a plain or pre-existing template. |
| Surveys | Yes – $10 additional monthly cost | Yes – free integration with SurveyMonkey | No |
| Image Hosting | $5/mo for 50MB | Free unlimited | Free unlimited |
| Customer Support System | $85/mo | $55-$75/mo | $70/mo |
| Do users have to confirm their email to opt-into my email list? | Very active, helpful, personal — they reach out to you to set up an appointment with one of their reps. | Inactive – available via "Support" tab with videos, articles, and FAQs. May contact MailChimp personally as last resort. | Active – helpful video introduction tutorials during initial signup. Also have people available by contact via phone, email, or live text chat. |
| Speed of Delivery | ~15 minute delay | Instantly | Instantly |
| Can I easily preview my email before I send it out? | In-app preview for desktop version, and test email. | In-app preview for desktop AND mobile version, and test email | In-app preview for desktop version, and test email. |
| Are my email addresses verified as I add them to my list? | No | Yes – MailChimp verifies if the email is already on your list + if it is a known invalid email address. | Yes – you must fill out a form of info about the email address and the recipient must verify their email address. |
| Mobile App? | Yes | Yes | Yes |
User Experience + Platform Usability
All three email marketing services have an easy-to-use interface. Constant Contact and MailChimp both have a more updated, visually appealing interface relative to AWeber, which seems a bit out of date, however the user experience is still friendly to beginners.
The lack of easy, code-free email template customization in Constant Contact was a bit disappointing. Being able to customize a template from an existing template or blank email in MailChimp and AWeber saves email marketers a lot of time — time they can instead spend on creating the perfect content for each individual email.
I had a huge issue with AWeber's picture editing tools, which are essentially non-existent. To get the perfect picture, I needed to edit the photo in a different application, re-upload it to AWeber, and cross my fingers that I got the sizing right. Even if the sizing is right, the mobile version of my email might not look how I want it to look. Constant Contact and MailChimp both have the same, wide range of photo editing tools that make creating the perfect picture painless.
Being able to preview both the desktop and mobile version of my email in MailChimp is very useful. AWeber and Constant Contact don't allow you to preview the mobile version of your email on their online platform. To see the mobile version, I had to send myself a test email and open my phone to check the email.
Constant Contact did, however, have a very beautiful mobile design. In fact, it was the only service that didn't give me any problems with the mobile version of my email, and the mobile version looked just as good as my desktop version. MailChimp and AWeber gave me problems across mobile and web design, and I ran into inconsistencies between what my email looked like on the platform preview and in my inbox.
Lastly, each service offered something slightly different in terms of reporting and analytics. MailChimp has very visually appealing reports, with graphs and a world map of clicks by location. Even MailChimp's free account seems to offer a bit more than Constant Contact and AWeber's paid accounts, both of which have very similar reporting metrics. Constant Contact's reports were lacking a graphical representation of clicks and opens over time, which proves to be a useful feature for many businesses to see when is the best time to send their email. In AWeber, I am able to see a chart or graph version of all metrics offered. All three services allow the use of Google Analytics with your email marketing account, although only MailChimp and Constant Contact offer direct integration with Google Analytics.

Canceling the Service
MailChimp:
I deleted my MailChimp account in 3 simple steps. I went to my account, and under the drop-down menu selected "Pause or delete account."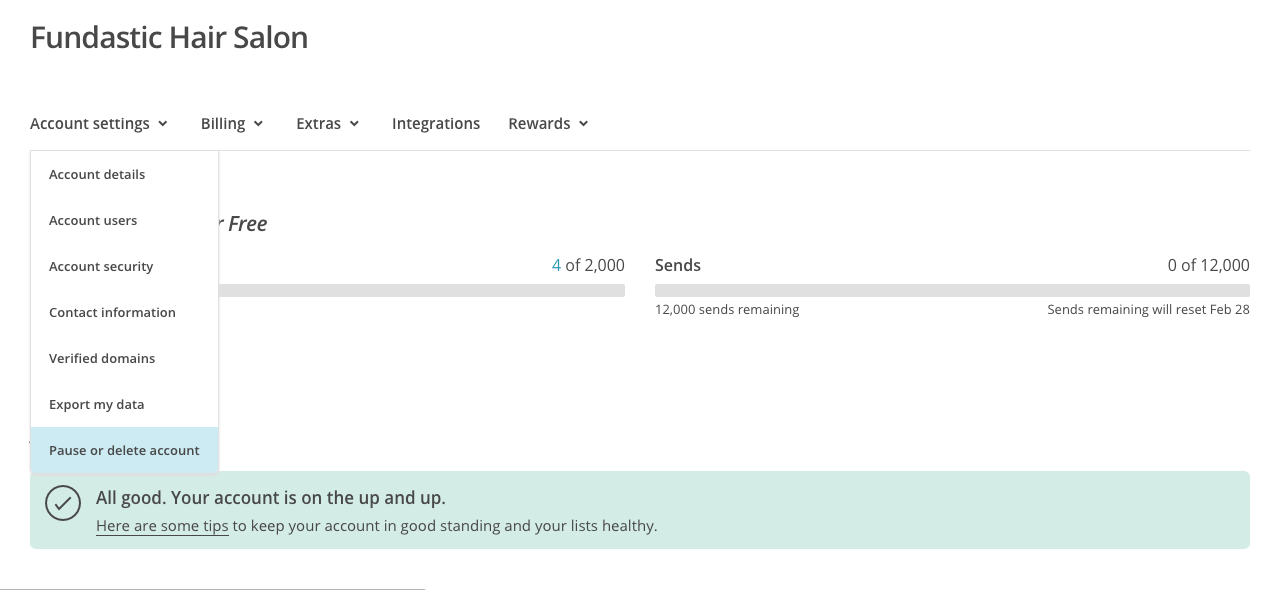 I was asked exactly what I wanted to do.
Then I was asked to confirm one more time, and account was deleted.

Constant Contact:
I couldn't find a way to cancel my Constant Contact account, so I decided to use their Live Chat Support to contact a representative about it.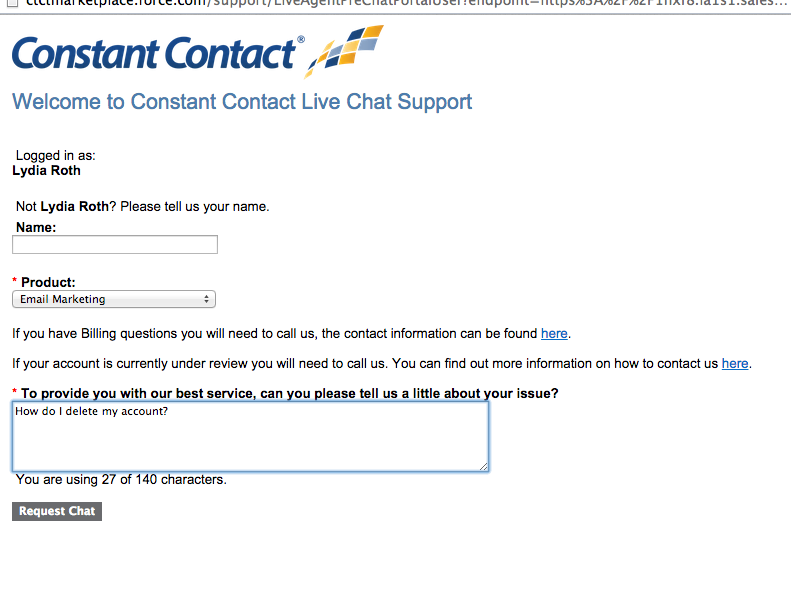 In short, the representative told me that I would have to cancel my account by contacting over the phone — there is no way to do so online. The call only took about 2 minutes, but I still found this frustrating because it's something that would be much easier to do online.
AWeber:
AWeber's account cancellation was just as simple as MailChimp's. I went to my billing settings, and clicked "Close My Account."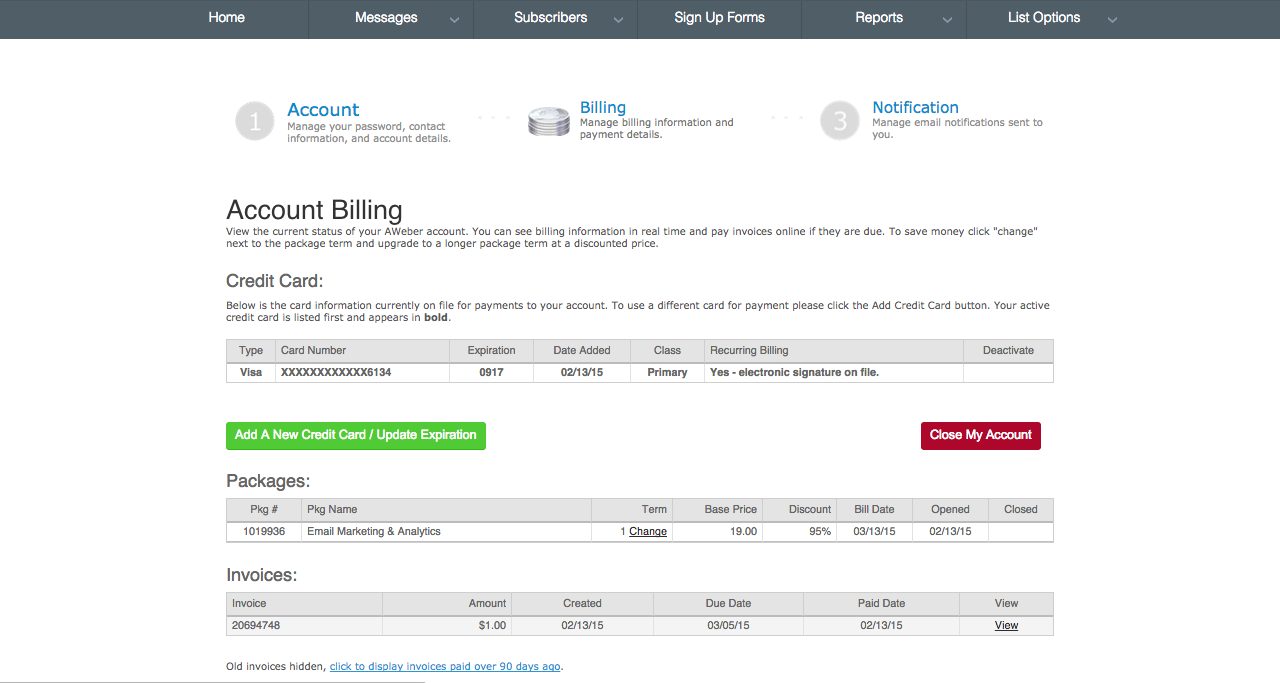 I was asked why I wanted to cancel my account, and if I wanted to put my account on hold instead for an added fee.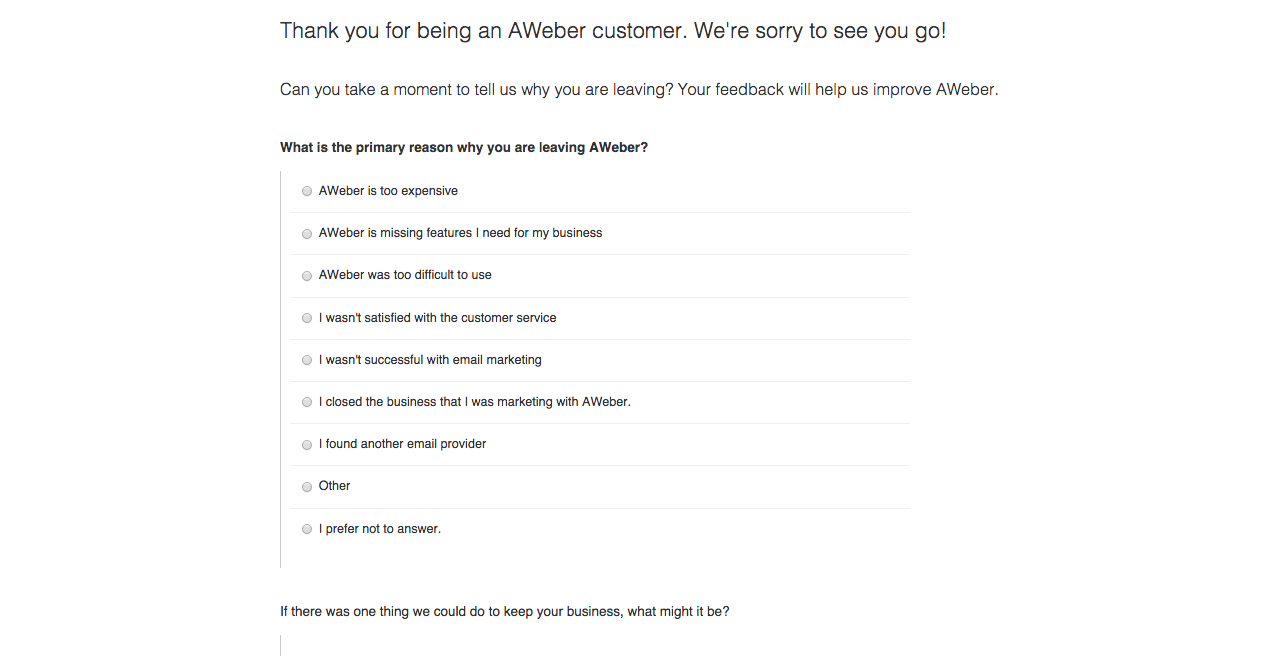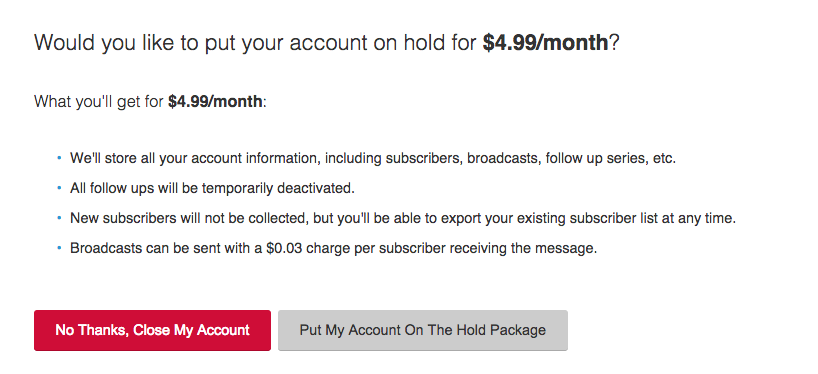 And that was it!
The Verdict
MailChimp, Constant Contact, and AWeber all offer user-friendly email services that are easy to set up. Which one you choose will depend on your business. For example, back when we had less than 10,000 subscribers, MailChimp was the most cost effective email service, and we loved their clean email reports and easy-to-create personal templates.
Having said that, if you are someone who tends to heavily utilize a service company's customer support system, MailChimp might not be for you. Their support system is essentially searchable blog posts about problems you may have, and they only suggest contacting them via email if you don't find exactly what you need. Constant Contact designates you your very own customer service representative that is willing to make appointments with you (using his/her accessible online calendar) who checks in regularly. AWeber representatives are easily contactable too, and they also offer a beginner walk-through and video tutorials/webinars on virtually anything you might struggle with.
Our best advice is to take a look at the feature table above and decide which features you need for your business. If you want quality email subscribers who need to opt-into your email list, then AWeber might be right for you. If you find that most of your customers read your emails on a mobile device, Constant Contact's clean mobile design might be best for you if you can front the higher cost, because it will give you less of a headache in the long run than the other services.
If your business has an email list, it is important that you strongly consider an email marketing service. Remember that, by law, you need to offer a way for your customers to unsubscribe from your email list. These email marketing tools ensure the deliverability of the emails and offers metrics on open rates and click rates, giving you will have a good idea if people respond to your emails with the marketing tools. In the long run, using any of these email marketing service will save you time and help you grow your business!

This article was originally written on February 26, 2015 and updated on December 17, 2021.
Rate This Article