Bond Street, a business lender which made its first loan a year ago recently closed $110M of financing from Spark Capital and Jefferies. From the first look, they are an online term loan lender just like FundingCircle or Dealstruck. We decided to do a deep dive on their application. Here is what we found.
Rates & Fees & Requirements
Their APRs are between 8-25% for loans that will be repaid in 1-3 years. The basic requirements are 2 years in business with 200K+ annual revenue, 640+ FICO and owners' personal guarantee. Overall, it's very similar to most other online term loan lenders.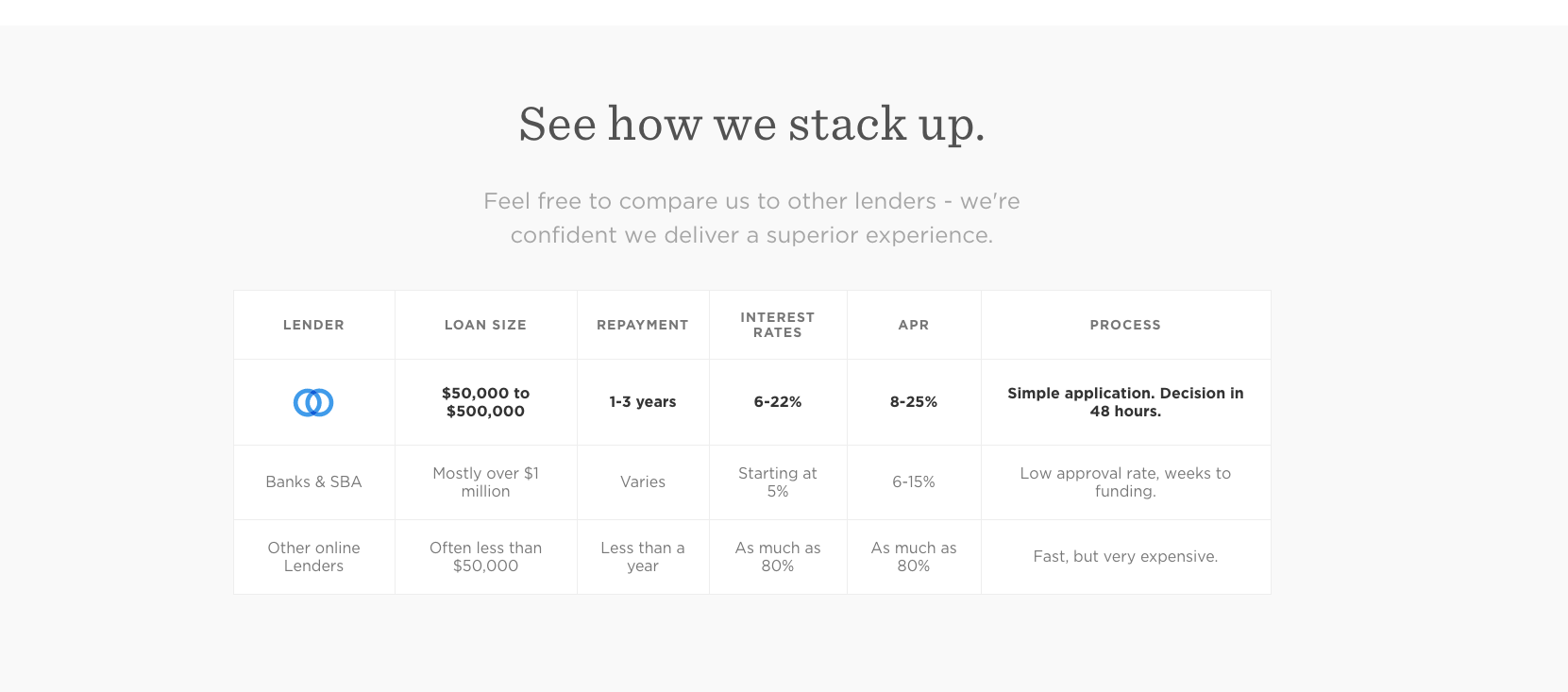 The Application
First, we created our account with an email and password.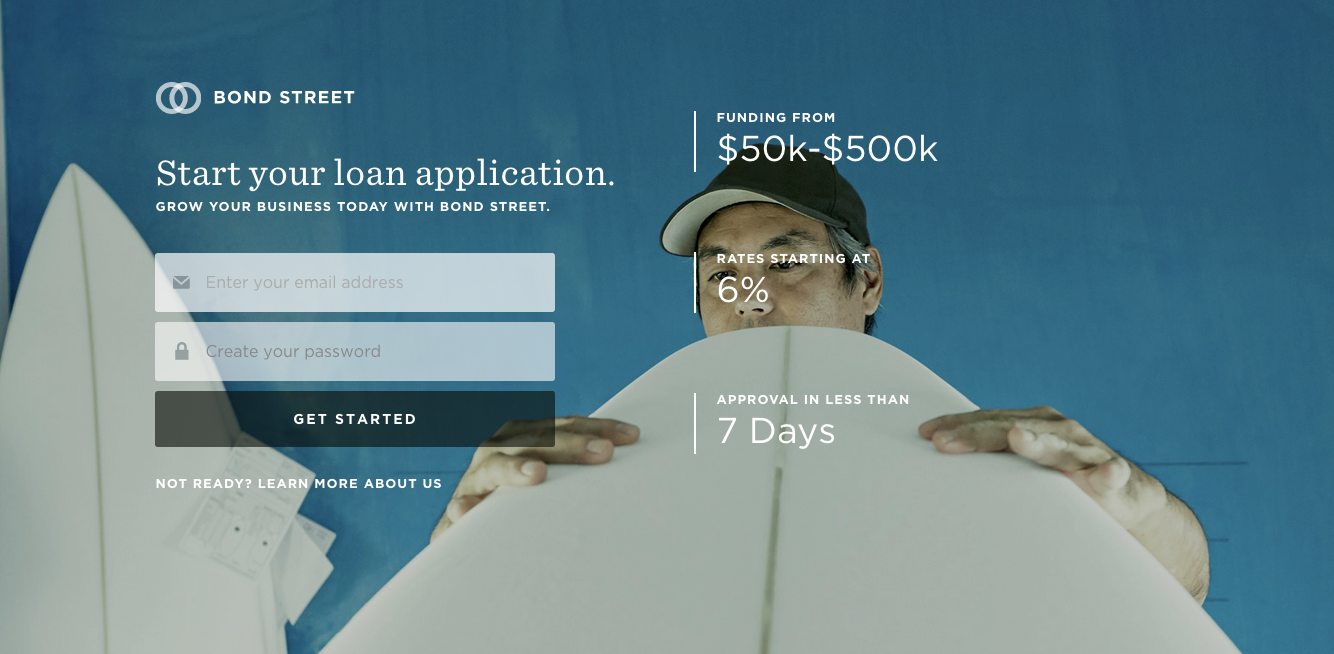 After the account is created, we entered our loan request. It's a $50K 3 year term loan for remodeling my hair salon.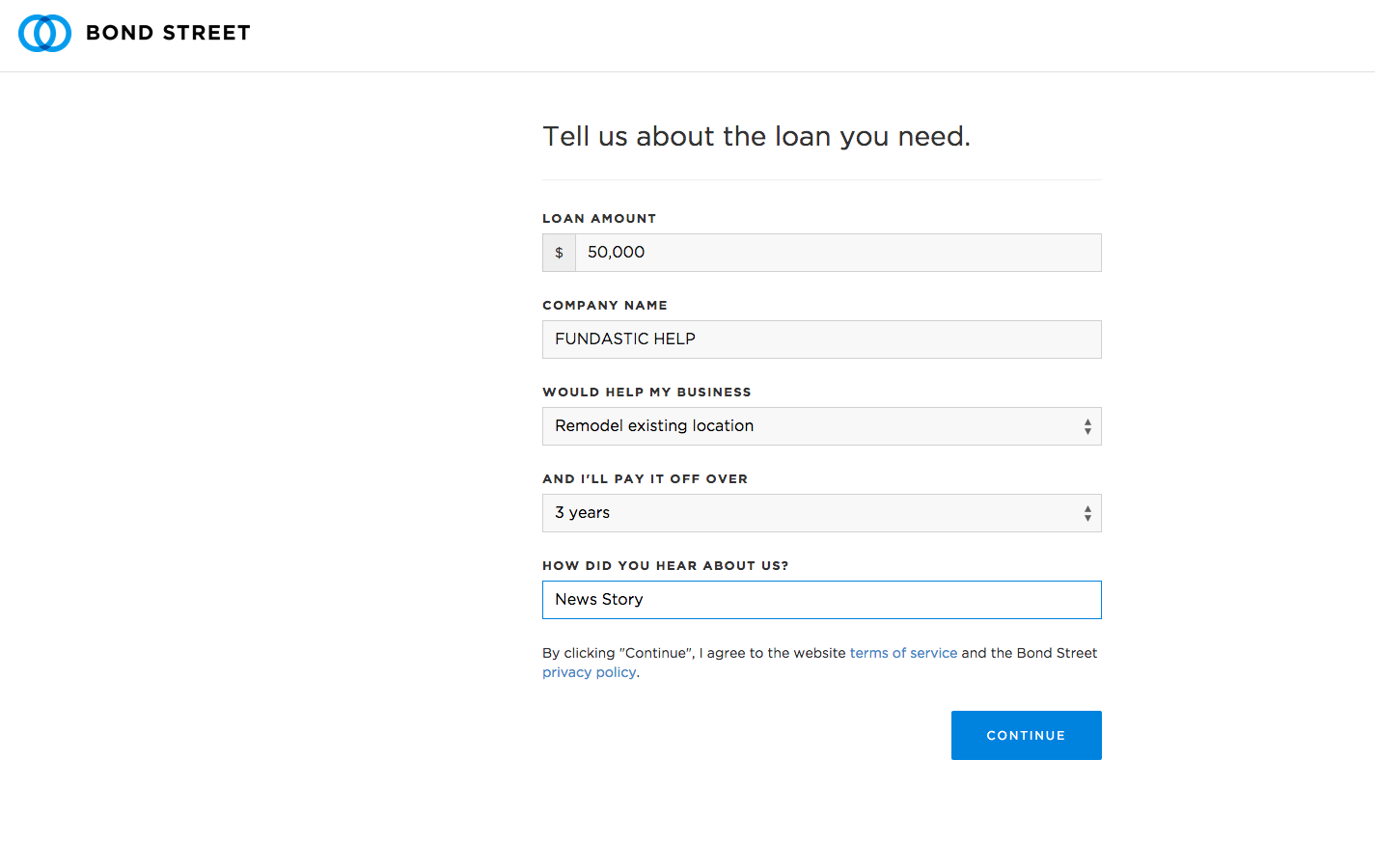 Put in my personal information.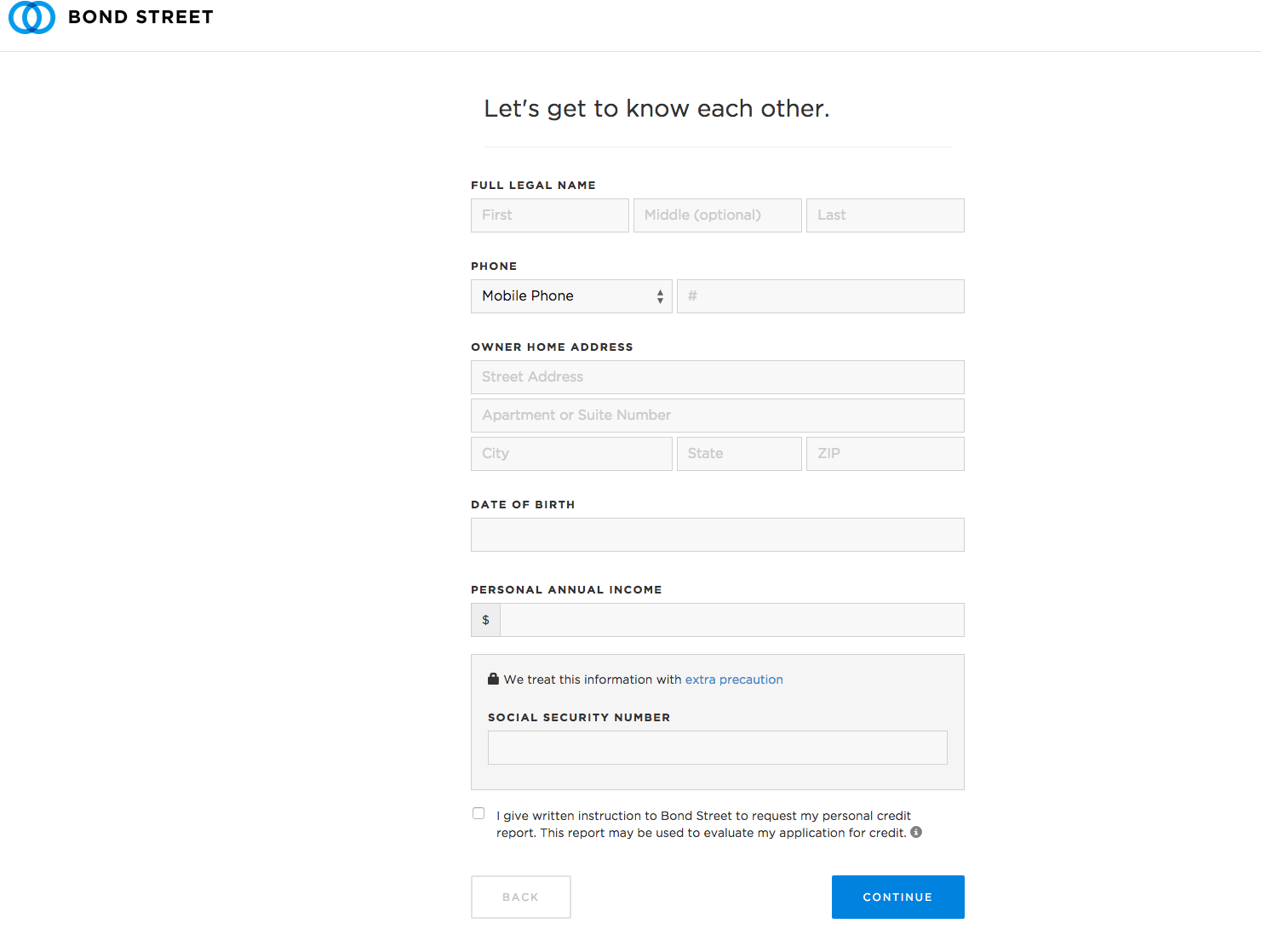 Put in business information.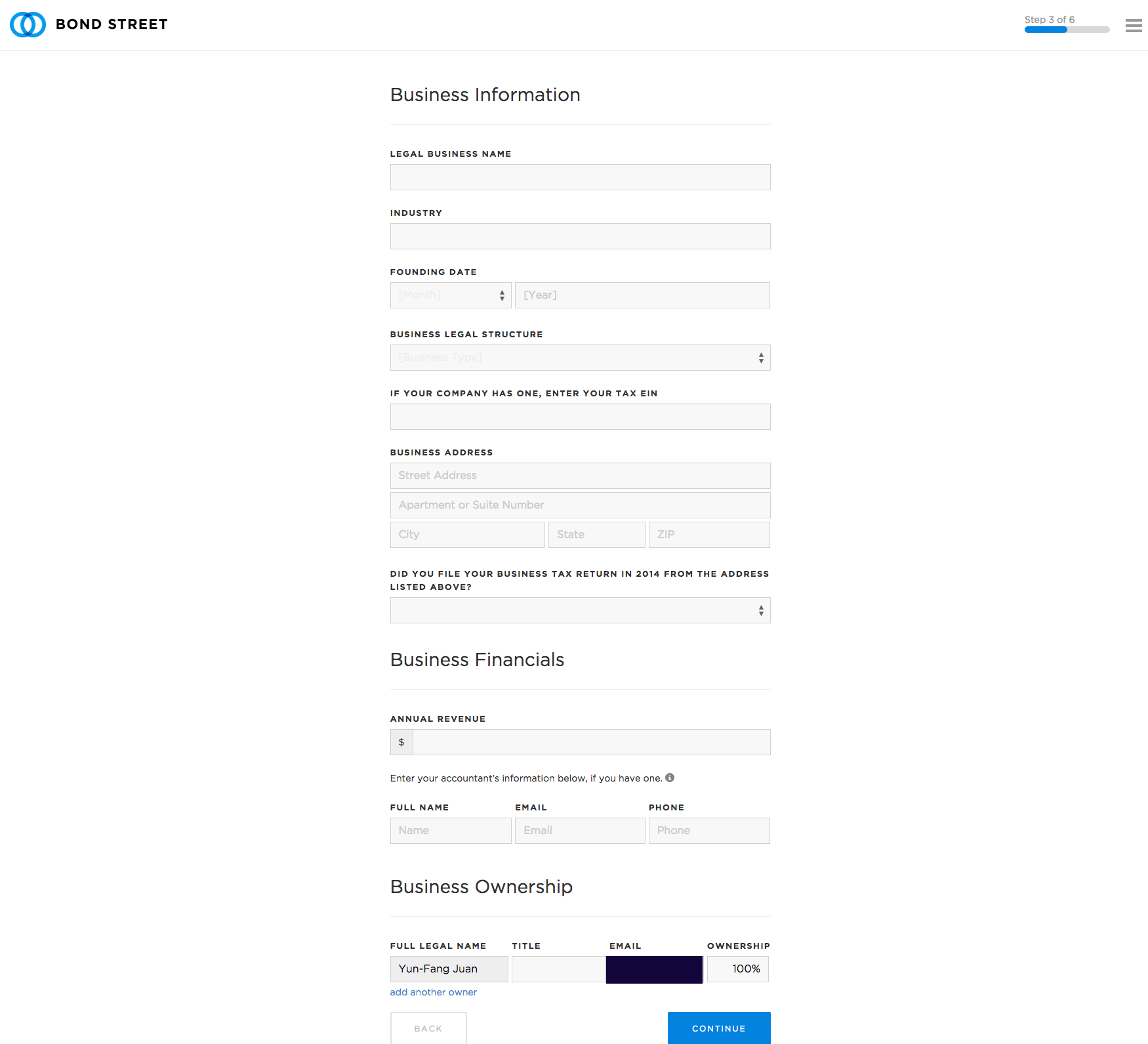 It asked me to link accounting software. But … I don't use cloud accounting software. I clicked on "Not Sure".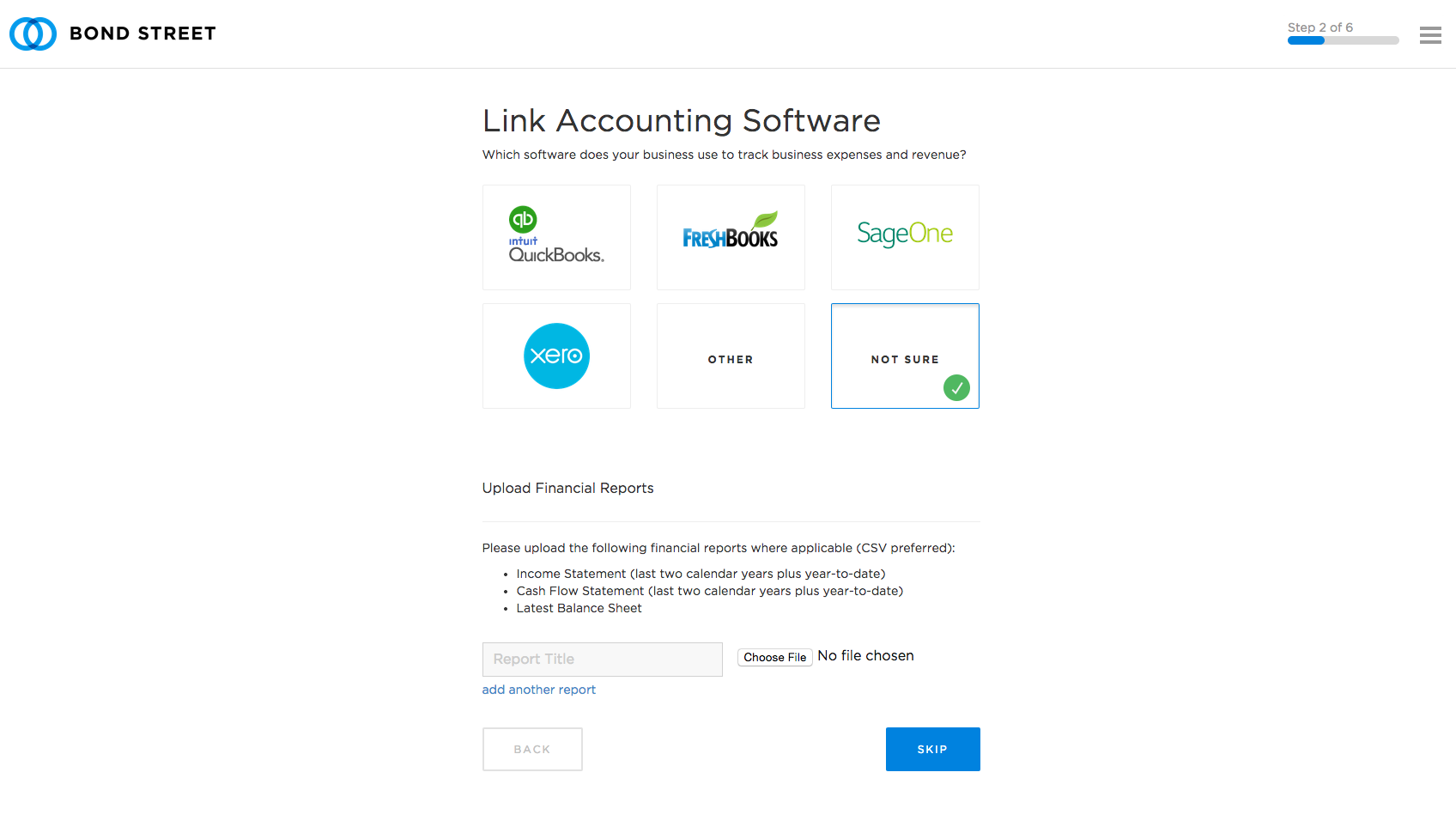 They wanted me to authorize them to request tax returns from IRS directly.

Sure. I will do it.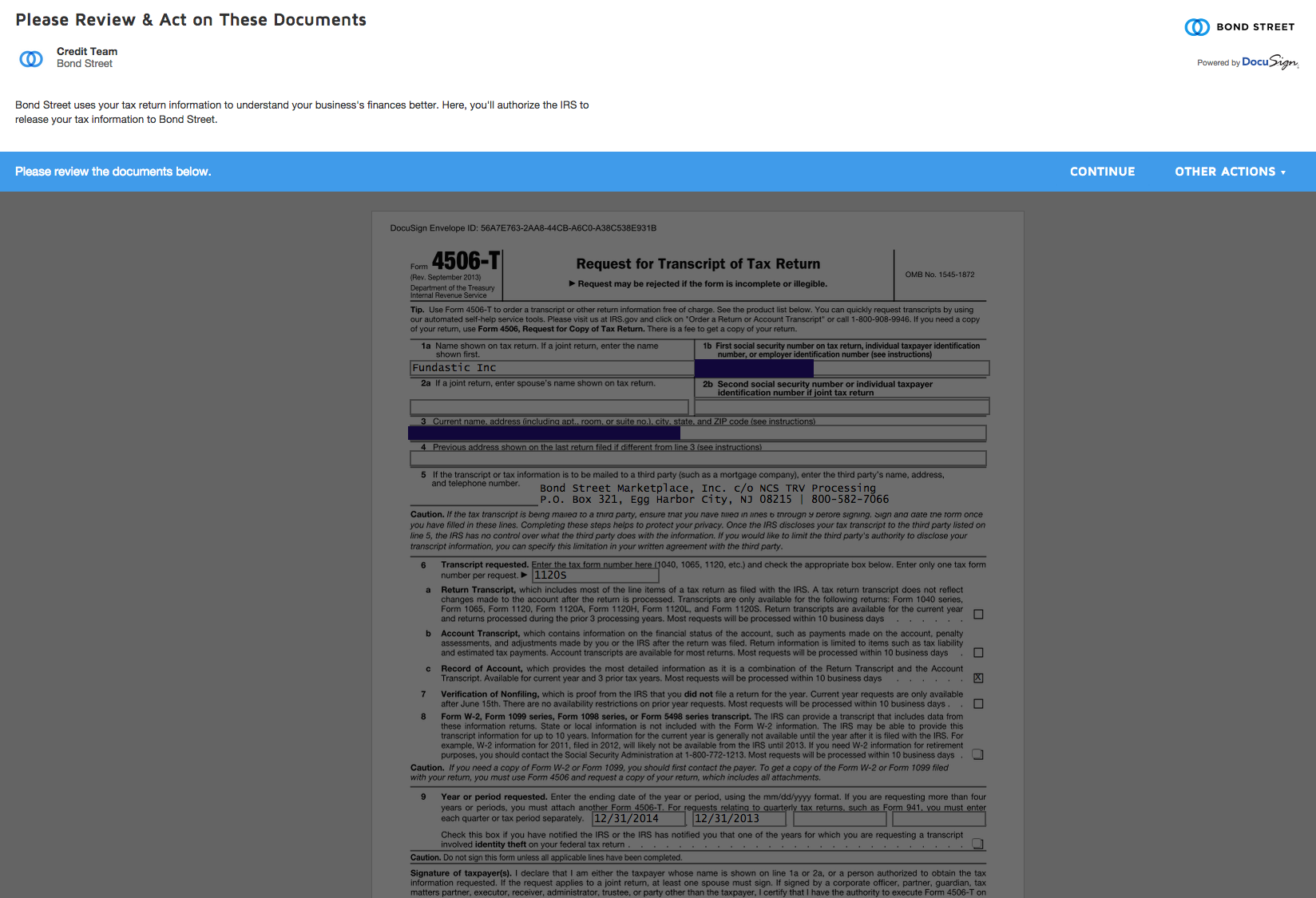 Next, they want me to connect my bank account.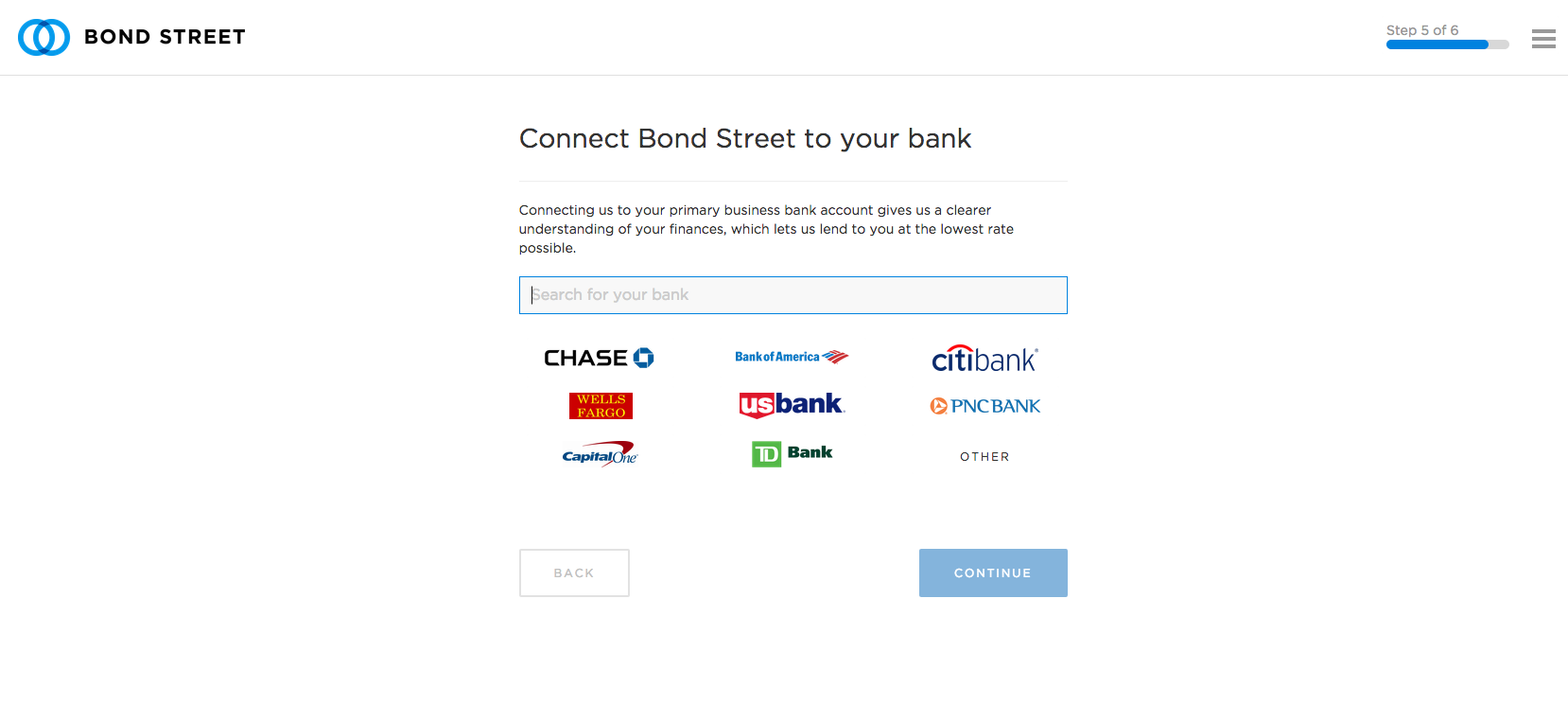 I logged into Chase.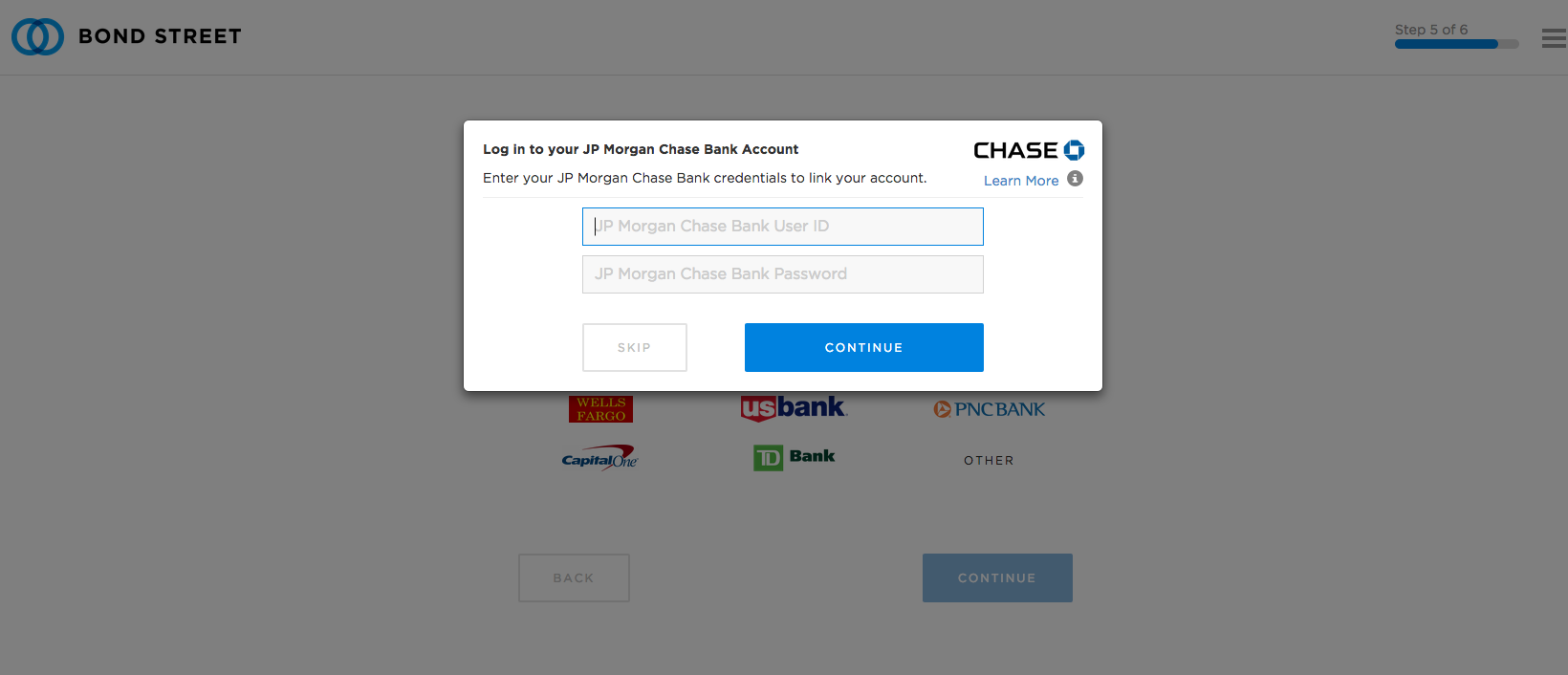 That's it. Time to review my information. I clicked on Submit.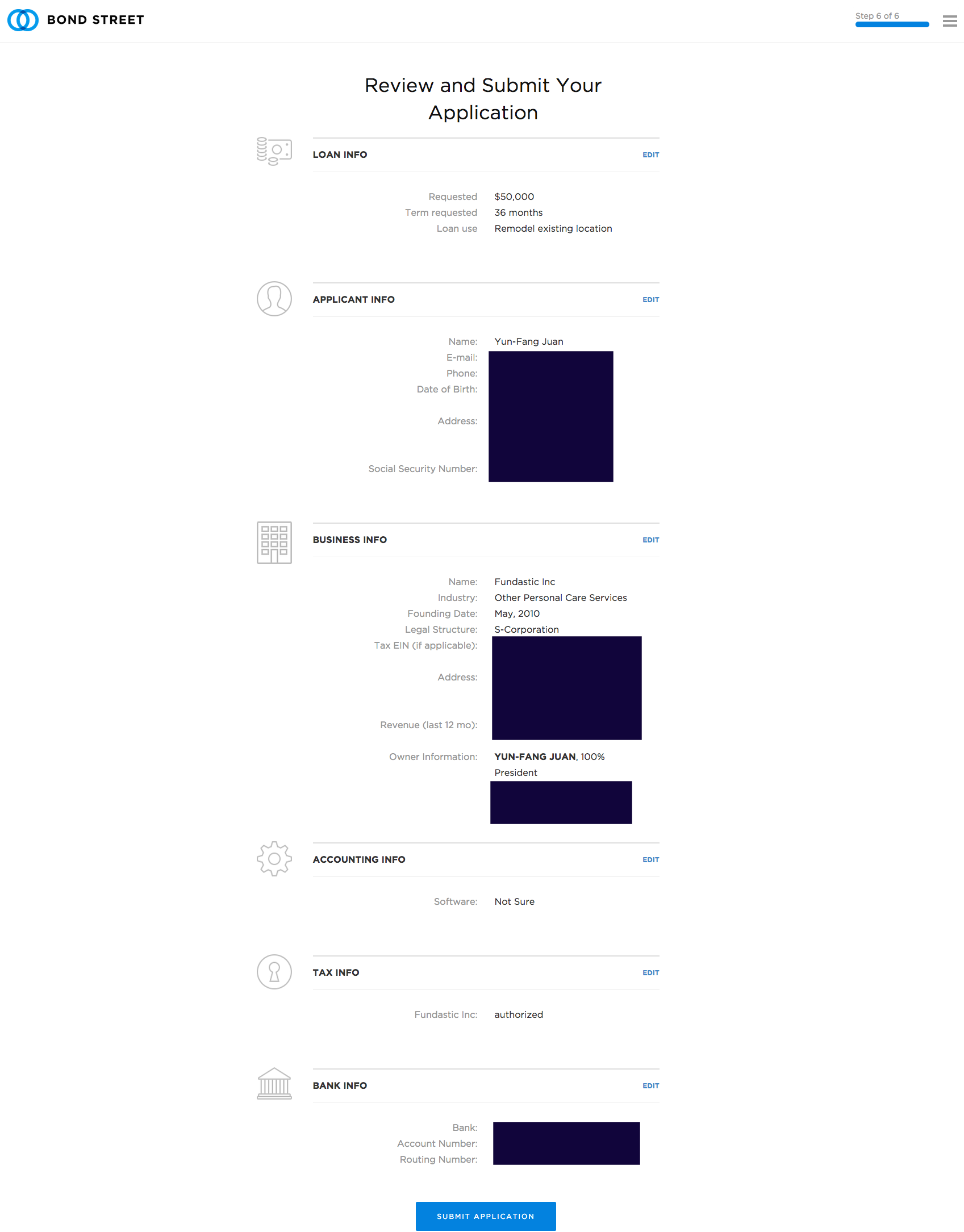 Application sent!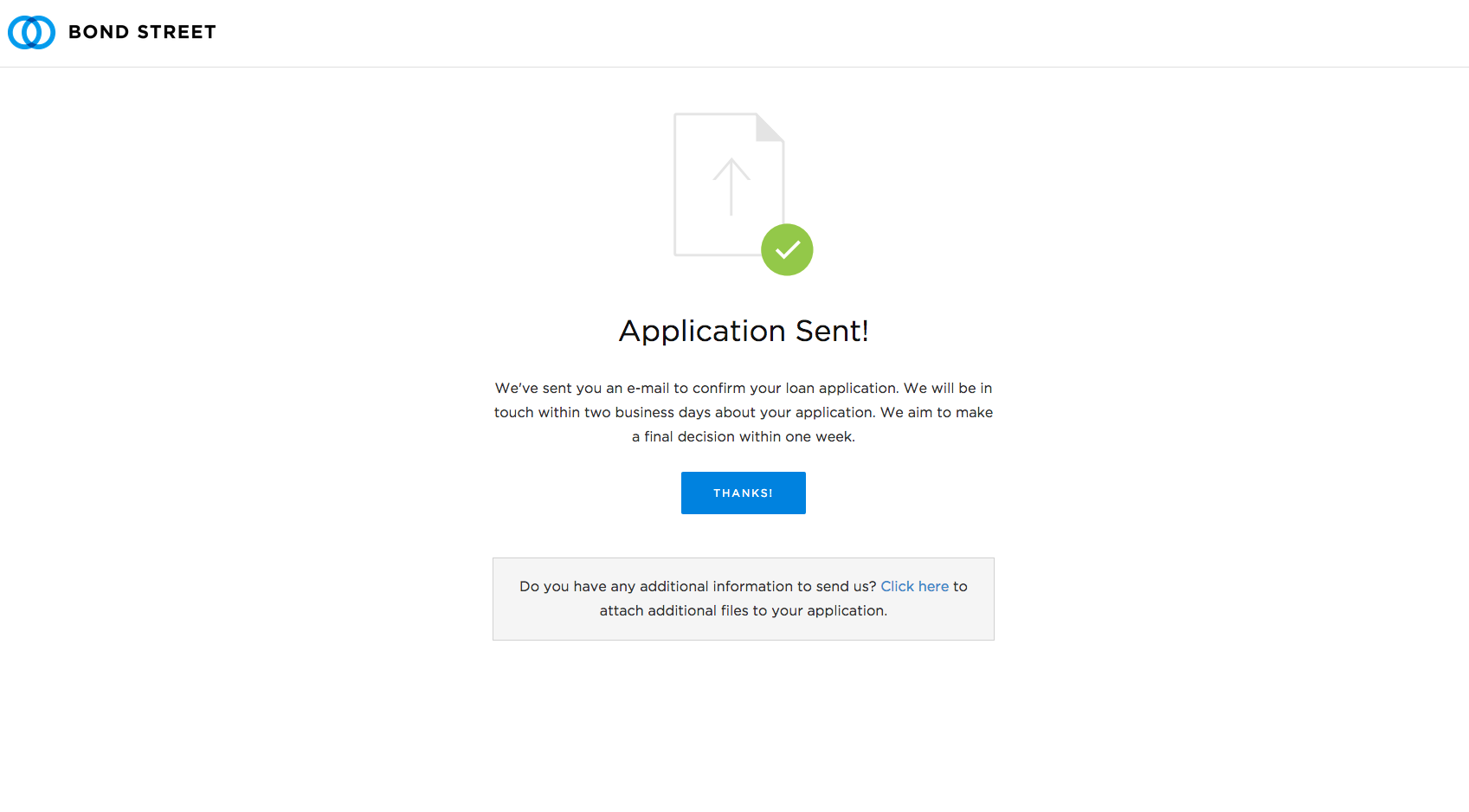 I should attach additional files. I am not sure what this is but I suppose bank statements and financial statements will need to be uploaded at some point.
The application is very simple. But I suppose some of the information is moved to offline if you didn't have the accounting software integration. It also didn't give us an instant quote on the interest rate so we were not clear what interest rate we will be getting with our business/personal financial profile.
I spoke to a Bond Street representative on the phone. He said they would follow up with a phone call after the application is submitted. Once they have all the financial and credit history information available, they can price it within 48 hours. Once all the financial statements, bank and tax return information is obtained, verified and approved, they can send the money in just a couple of days. It all sounds very similar to other online term loan lenders but it's good to have another option to go for.
Conclusions
Overall, Bond Street seems like a very reasonable term loan product for more established businesses. From my brief phone conversation with the rep, he told me they lend to most industries but they like to help businesses expand to multiple locations or refinance their existing debt. They are still relatively new in the market but they wish to create a product with great user experience and business first mindset. We will keep Bond Street under our radar. If you are an established business, it could potentially be a good financing option .
This article was originally written on July 23, 2015 and updated on December 14, 2021.
Rate This Article