This is the fourth article in the Nav Decoding Series, following Decoding a Loan Offer from OnDeck Capital


---
If your business is well established and you don't want to wait for months to get a bank loan, it's worth considering LendingClub's Business Loans. On the low end, their APRs are competitive with banks, and the application process is a lot more pleasant. The range of loan sizes is also smaller: $15K – $100K, which banks typically don't like to issue.
I went through the online application myself and was able to get pre-approved. My FICO scores are in the 780-800 range. It appears that, during the application process, LendingClub soft pulled my credit report (which doesn't impact my credit score because it's a soft inquiry). The following are the numbers I entered into the application:
Amount requested: $50K
Purpose: Working Capital
4 Years in Business
3 full time employees including me
$500K annual revenue
$75K annual business operating profit
$100K annual individual income in addition to the business profits
$1,500 monthly rent with no business lease or business debts.
81-100% Sole Proprietor
Here is a snapshot of the main application screen: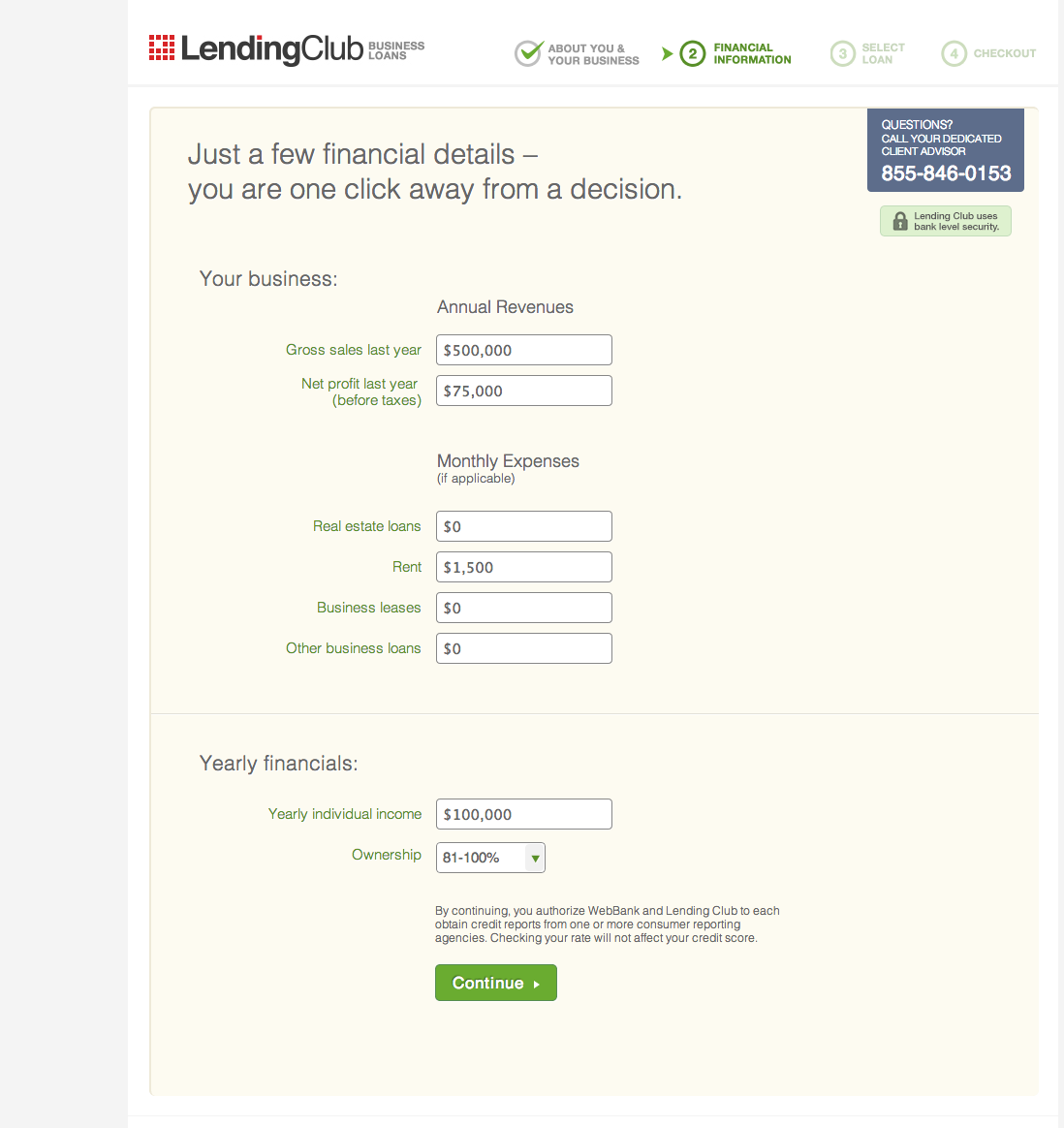 After I hit submit, I got an instant response on the loan offer: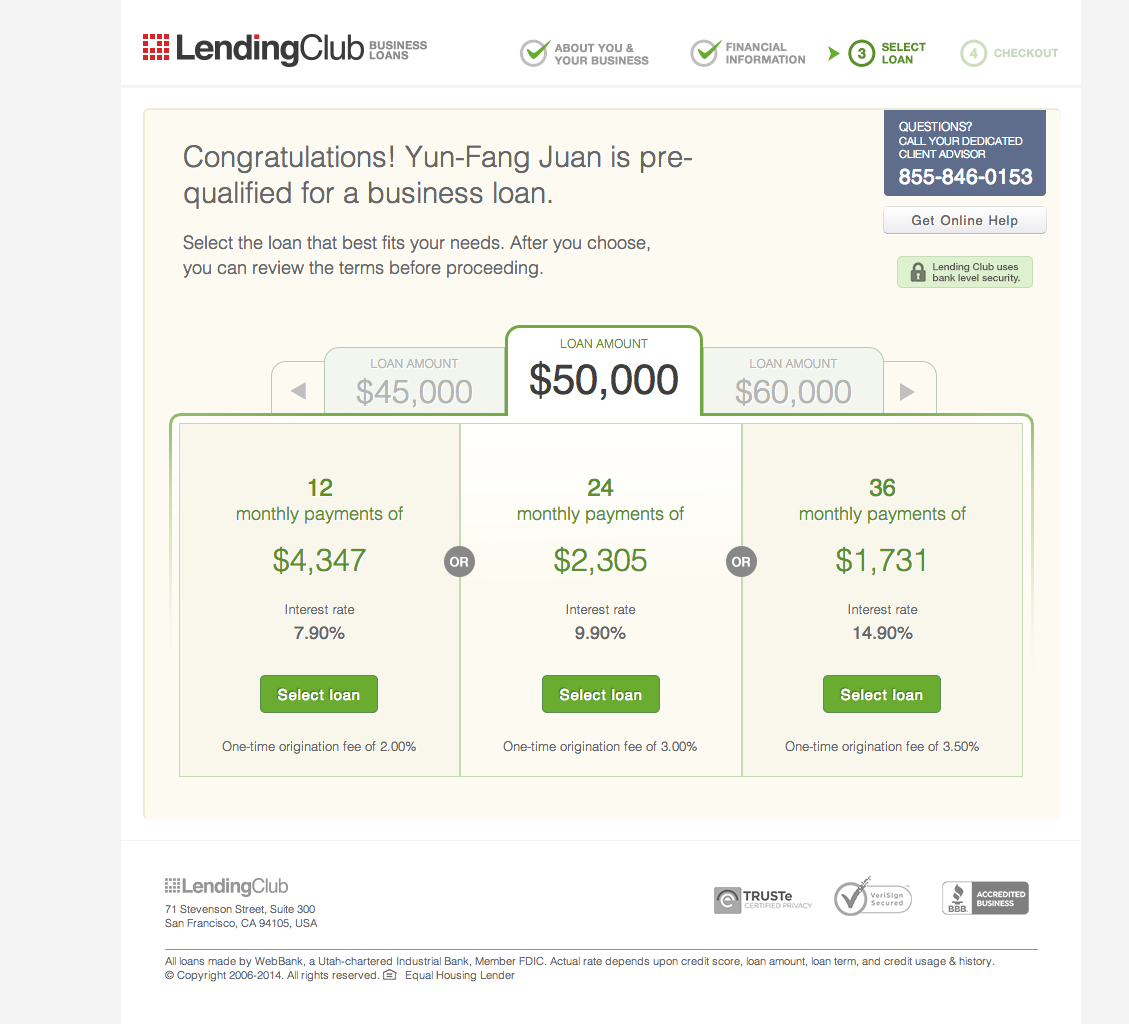 I can also increase my borrowed amount to $75K with the same interest rates: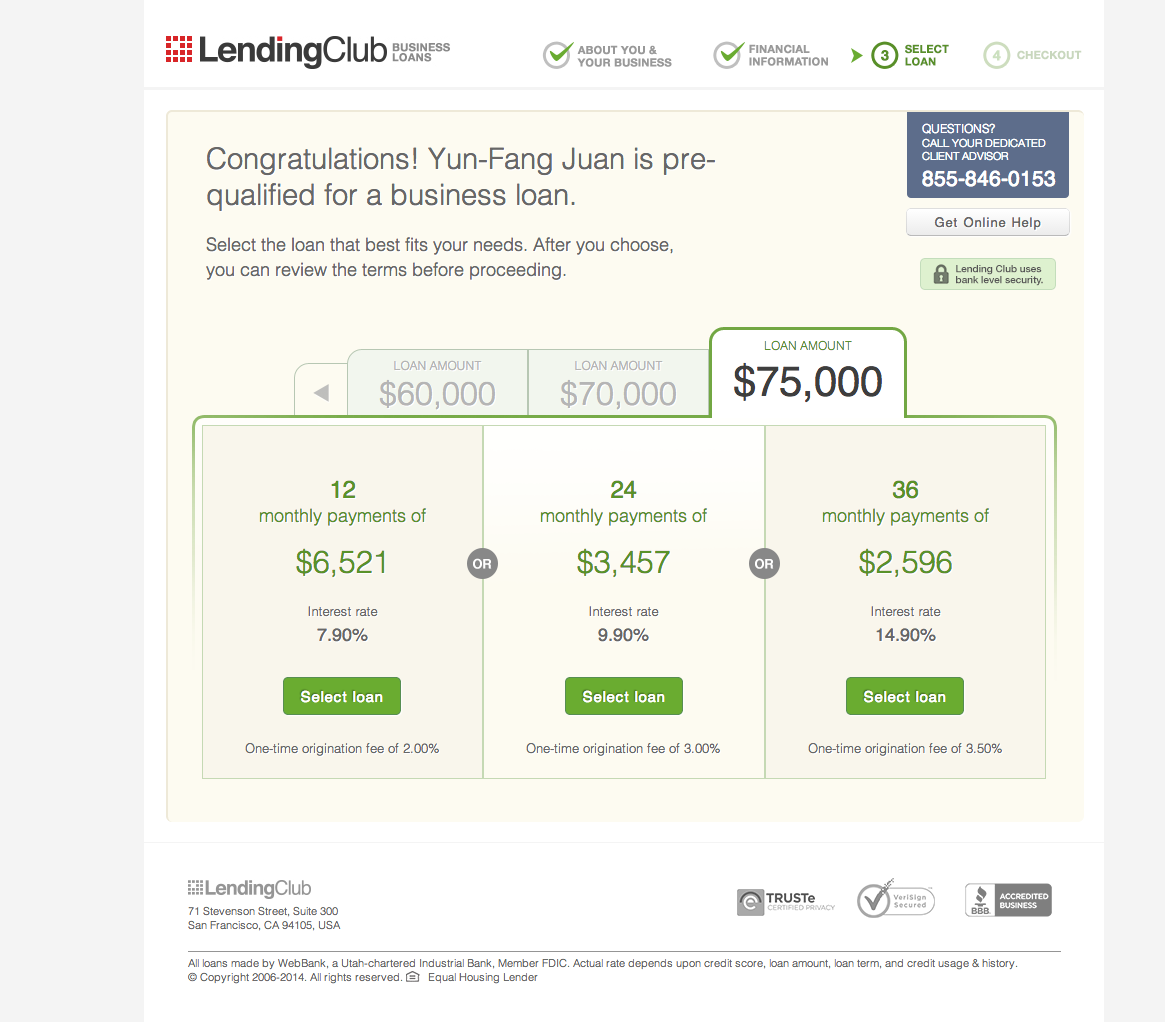 Using the following calculator, we calculated the costs of the 3 different loans (see results in the table below). You can run them yourself by entering the numbers from the screenshots above. LendingClub doesn't charge a monthly loan servicing fee so enter $0 there.
The following summarizes the cost of a $50K loan for different terms:
| | | | |
| --- | --- | --- | --- |
| | 12 months | 24 months | 36 months |
| Interest Rate | 7.9% | 9.9% | 14.9% |
| Origination Fee | 2% ($1000) | 3% ($1500) | 3.5% ($1750) |
| APR | 11.71% | 12.96 % | 17.43% |
| Monthly Payment | $4,347 | $2,305 | $1,731 |
| Life Time Cost | $3,165.32 | $6,818.54 | $14,059.48 |
| Life Time Cost per $10K disbursed | $645 | $1,405.8 | $2913.88 |
As you can see, the APR ranges from 12-18%. This is actually really affordable for an unsecured business loan. It is more expensive than a typical bank loan, which has APRs less than 10%, but it is comparable to SBA's Microloan program where the community lenders usually charge 8.5-15% interest rate with 2-5% closing cost. Since LendingClub's rates start at 5.9%, you could try them first and see if you qualify for low rates. If you don't like the interest rate they offer you, you can still go to a bank and see if they'll approve and issue your loan quickly enough for your needs. If you are approved by both LendingClub and your bank, there will very likely be a trade-off between speed and interest rate. It's up to you to decide what's the best option for your business.
Note that although the 36-month loan has the highest APR, its monthly payment is the lowest. In addition to financing costs, you should take into account how much you can afford to pay each month. The 12-month loan has the lowest APR but the monthly payment is 2.5X the 36-month loan. You should think hard about whether you have the cash flows to pay down the debt while optimizing costs.
LendingClub vs other short-term financing options
The following table compares the 12-month LendingClub Business Loan to other short-term financing options we've written about. The LendingClub Business Loan costs the least and has a longer repayment period (12 months instead of 6). However, they approve fewer loans and have more documentation requirements — you have to submit your bank statements and tax returns. As always, we recommend that businesses shop around to find the best option for their specific needs.
| | | | | |
| --- | --- | --- | --- | --- |
| | LendingClub Business | Credit Card Advance | OnDeck *** | MCA |
| Repayment | 12 months | 6 months | 6 months | 6 months |
| APR | 11.71% | 32.11% | 88.69% | 115.84% |
| Cost of a $10K Loan | $645 | $957 | $2,307 | $3,289 |
It's worth noting that LendingClub doesn't charge any prepayment penalties. You can pay off the principal balance of your loan, plus accrued interest, anytime. Your total borrowing cost is decreased if you decide to pay back early. This is very different from a typical merchant cash advance where your payback amount is fixed, even if you decide to pay back early.
Unlike banks, LendingClub doesn't require collateral — though business owners still have to personally guarantee the loan. Overall, LendingClub Business Loans offer reasonable terms with an efficient application process. It's a great alternative to a bank loan if you can't get one or are short on time.
This article was originally written on June 18, 2014 and updated on December 17, 2021.
Rate This Article