Launching a business takes more than just a good idea – it usually requires serious cash to make that dream a sustainable reality. This is where a lot of people get in trouble. The SBA has found that the No. 2 reason companies fail is insufficient business financing.

You can keep yourself out of the "failed" boat by taking a little time to calculate your start up costs. It varies by industry, but here are five basic tips to help you get off on the right foot:
Check out the infographic at the end of the article.
Jot Everything Down
Write out all of your expenses and prioritize those responsibilities in list form so you have transparency over your costs. This includes all of your must-have, ongoing expenses, such as utilities and payroll, because those are going to be fixed into your budget for a significant period of time. Yet you can't forget any one-time costs like equipment leases or incorporation fees.
Research Competitors' Costs
If your competition has certain expenses, chances are you will too. Research to determine what the average costs are in your industry. Many of the fixed or one-time expenses can be easy to find. While, some costs – such as for logistics and payroll – might be harder to learn. Talk to your peers to get a feel for how much they are paying for these costs.
Include Long-Term Ongoing Expenses
Always take into consideration the cost of growth and future operational needs. A good rule of thumb is to factor in six months to a year of expenses, including for marketing and inventory. If you don't have a financing plan for growth, things can stagnate quickly.
Know Your Total Costs
This is pretty simple: Just add everything up. As you build a little operating history, be sure to adjust expenses once you know what the true costs are.
Build Business Credit
Building a strong business credit profile that's separate from your personal credit is the first thing you should do after launching. Leveraging business credit can help you secure more financing, at better terms, and lower your costs in the future.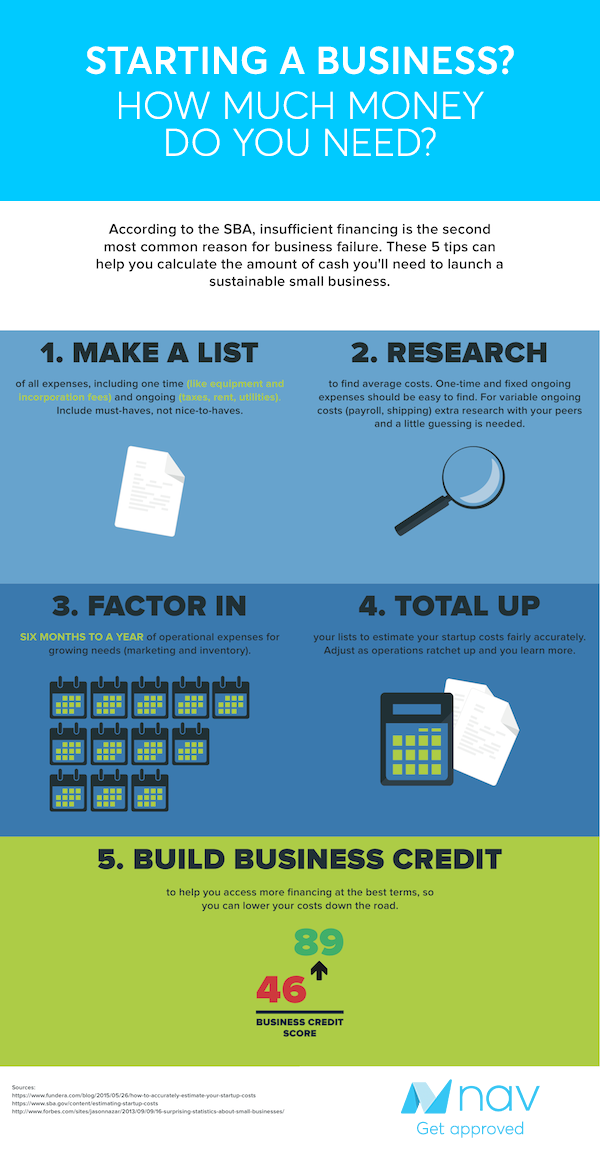 This article was originally written on June 16, 2015 and updated on July 5, 2017.
Rate This Article