When Leigh Wilkins started making scones from her kitchen in Plainfield New Jersey, she had no idea it would turn into a business. "I like to cook," she says. "It's a passion of mine." But when friends tasted her fresh baked scones, they told her she should sell them.
She listened, and now is the "Scone Diva," selling scones in traditional flavors as well as unique ones she's created like "GuavaBrie" and "CherryLemonGinger."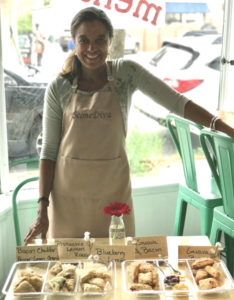 Wilkins took the time to set up her business properly, forming an LLC. She realized she also needed a professional option for answering business phone calls. "I didn't want people calling me on my private number, " she explains. She researched a variety of options and chose a service called Sideline, which gives her a business telephone number that routes to her cell phone. It allows her to tell which calls are business and which are personal, and she can choose how to handle them. "It's beautiful," she says.
Wilkin's clients primarily buy her handmade scones directly from her, and she's started using a Sideline feature that allows her to blast announcements to customers when fresh scones are available. I'll say, "Here's what I just baked. Come and get them," she says. And they do.
A GoDaddy survey found 86 percent of small business owners use their personal smartphone for both business and personal calls and texts. It makes sense that they would look for flexible services that allow them to talk to their customers wherever they are.
Even better, many newer solutions are less expensive than traditional business landlines. For a small business, every penny counts. Spend less and your cash flow will improve and you'll have more money to invest in things that help your business grow.
Here are five professional phone solutions to consider:
Google Voice
A free service from Google, a Google Voice number is designed to be a number that will follow you everywhere. It can work as simply an online phone number, but you can also set it up to ring your cell, landline (if you still have one!) or any number(s) you choose simultaneously. You can record a business-appropriate voicemail message for calls to your Google voice number.
It comes with call screening which lets you hear who is calling and decide whether to take the call or send it to voicemail. Messages are also transcribed.
However, it's not specifically designed to be a business solution and there are some downsides. The number displayed on the recipient's phone will not be your business number; for example, it more likely will be your personal cell phone number. (If it's a text message you're sending, it may even be another number entirely, apparently generated by Google Voice.) There have been complaints about call quality as well, since Google Voice works over Voip.
Pricing: Free for most calls within the US and Canada.
Sideline
Developed by former telecom executives, Sideline is a flexible solution for small business owners that uses the cell phones they already have. Business owners can choose a second number with a local area code or port in their existing number, and connect it with their cell phone, or that of an employee. It uses your cell phone carrier (and minutes) for better quality than some solutions that work over wifi.
You'll know which calls are business calls, and which are personal calls. In addition, when you place business calls using Sideline, your business number will be the one your customers see.
Features include the ability to send an automated text message if you can't take a call. You can customize it to create automatic responses to common questions. Enterprise solutions allow employers to manage up to 200 phone numbers, to allow a phone number to ring multiple employees at once, and the ability to reassign numbers, say, if an employee leaves.
Pricing: Starts at $9.99 a month with a free 7-day trial.
SmartLine
SmartLine, a service of GoDaddy, allows business owners to choose and set up a business phone number, then use the SmartLine mobile app on their cell phone to text, listen to their separate business voicemails, and take and place calls with that number. Calls are placed over your cell phone carrier's network.
You'll know whether incoming calls are business or personal calls, and the business phone number will show up on Caller ID when it's used to text or to place a call. Voicemail greetings can be customized, plus business hours can be set. In addition, voicemails are transcribed so they can be read at a glance.
Pricing: Basic service starts at $3.99 a month, and includes 100 minutes and 100 outgoing texts per month. Unlimited talk and text starts at $9.99 a month. Both include a free one-month trial.
eVoice
eVoice offers a full-service cloud-based business phone system. Choose a toll-free or local number (or port your own) and eVoice will record a professional greeting with a menu of extensions. Route calls to colleagues, cell phones etc. either simultaneously or sequentially. You can set up different rules for different times or days of the week. Audio files of calls will be available immediately, and transcription (voicemail to text or voicemail to email) is also available.
You can take and place calls from your cell using your business phone number. Plans are based on minutes used which include inbound, outbound or faxing. eVoice plans include a certain number of minutes; for any beyond that, there will be a per minute charge.
Pricing: The basic plan starts at $12.99 a month for 300 minutes, 6 numbers and 2 extensions. There is a 30-day free trial.
Grasshopper
With Grasshopper, you can choose a toll-free or local number for your business, or port in your own. You can add extensions for employees or departments. Extensions can forward calls to any phone number, anywhere, including Skype.
You can use Grasshopper on your cell to place business calls, check your voicemail and send text messages from your business number. Voicemails and faxes will be transcribed and emailed to you.
Features include call announce to let you know who is calling so you can decide whether you want to take the call or want to send it to voicemail. You can also set up extensions with answers to commonly asked questions such as hours or directions.
Pricing: Solo pricing starts at $24 a month for one number with up to 3 extensions and unlimited minutes. There is a 30-day money back guarantee.
Dial My Calls
It's far more expensive to acquire a new customer than to keep an existing customer, and now it's even cheaper to get more revenue from your existing customers. For only a few cents a call, you can send special announcements and messages to your customers using Dial My Calls.
They also offer services for schools, day cares, and religious organizations to notify individuals of upcoming events, but it can also be used by your business to send hundreds of notifications to customers reminding them of an upcoming sale or to promote a new product.
Rate This Article