Advertiser & Editorial Disclosure
StreetShares loan information updated 02/16/17.
Whether you are a small business owner or government contractor, finding financing that will keep it growing is a challenge. Traditional bank loans can be hard to get. Payday lenders can be extremely costly.
That's where StreetShares comes in. StreetShares is an online, veteran-run, peer-to-peer lender, focused on providing working capital to growing businesses, with a particular emphasis on veteran-owned businesses. However, StreetShares is open to all small business owners.
StreetShares offers three financing products:
Simple Term Loan: one lump sum of funding, paid back via fixed weekly payments.
Patriot Express Line of Credit: draw funds only when you need them. No maintenance fees.
Contract financing: based on future invoices.
Below we'll go over StreetShares' products, as well as a bonus program offered for veteran business owners.
Overview
| | | | | | | |
| --- | --- | --- | --- | --- | --- | --- |
| | Amounts | Cost | Repayment Period | Turn to Fund | Prepayment Penalty? | Collateral/Guarantee |
| Simple Term Loan | $2,000 – $100,000 | 8 – 35% + 3.95 – 4.95% origination fee | Weekly, 3 – 36 months | Days – 1 week | No | Personal guarantee required on all loans. |
| Patriot Express Line of Credit | $5,000 – $100,000 | 8 – 35% + 3.95 – 4.95% origination fee | Weekly, 3 – 36 months | Days – 1 week | No | Personal guarantee required on all loans. |
| Contract Financing | Up to $500,000 per invoice | 10-12% | Based on invoice terms | 15-45 days | No | No personal guarantee required. |
What StreetShares Products Look Like
StreetShares Simple Term Loans are offered $2,000-$100,000 with repayment terms ranging from three months to three years on a fixed, weekly payback schedule. Their rates range from 8-35% with origination fees ranging from 3.95-4.95%.
Remember that rates are not the same as annual percentage rate (APR), thus do not reflect the total cost of the loan. Use Nav's business term loan calculator to calculate the total cost of your loan.
StreetShares Patriot Express Line of Credit amounts range from $5,000-$100,000. Instead of an upfront lump sum, you'll be able to access your account and draw only what you need from the line. Weekly repayment commence once you've drawn from the line, and you only pay interest on the amount you've drawn. As you pay back the line of credit, your account replenishes and you can draw again when needed.
If you're not careful with your payments, your business can be subject to other fees. There is a $10 charge for failed payments or payments that are more than seven days late.
StreetShares Contract Financing offers up to $500,000 per invoice. You are able to borrow up to 80-90% of your invoice amounts. Rates range from 10-12%. StreetShares specializes in prime federal contracts and Fortune 500 sub contractors.
Requirements to Qualify
To qualify for a StreetShares Simple Term Loan and Patriot Express Line of Credit products, you must be one or more years in business, and there is an annual revenue requirement that is based on the business's current annual revenue. The business guarantor must have a personal credit score above 600 (and in some cases, 640).
Please note that most StreetShares borrowers have several years in business and over $800K in annual revenue. In order to apply, you'll need your most recent personal and business federal tax returns, six most recent business bank statements (which can be linked instantly) and total outstanding business debts. Some businesses will be required to submit business financial statements as well, including P&L and a balance sheet.
To qualify for StreetShares Contract Financing, there are no revenue or personal credit requirements and no personal guarantee is needed. However, you will need to be a prime government contractor or a subcontractor to a Fortune 500 company.
The Application
If you have all your personal and business information in front of you, StreetShares' application form should take less than 10 minutes to complete. First, they'll collect your name and email address, or you can connect your LinkedIn account.

Next you're asked about the amount of funding you're looking for, what your ideal repayment term is, general information about your business and information about the borrower. Businesses can request up to $100,000 with a repayment period up to 36 months in the application.
The helpful hints on the side remind you that StreetShares loans have no early repayment penalty, and the requested amount should not exceed 20% of your business's annual revenue.

Step two on the form requests additional information, including the total amount of existing business debts and documentation — your most recent tax returns as well as the most recent six months of business bank statements. The last question asks how you're planning to use the funds.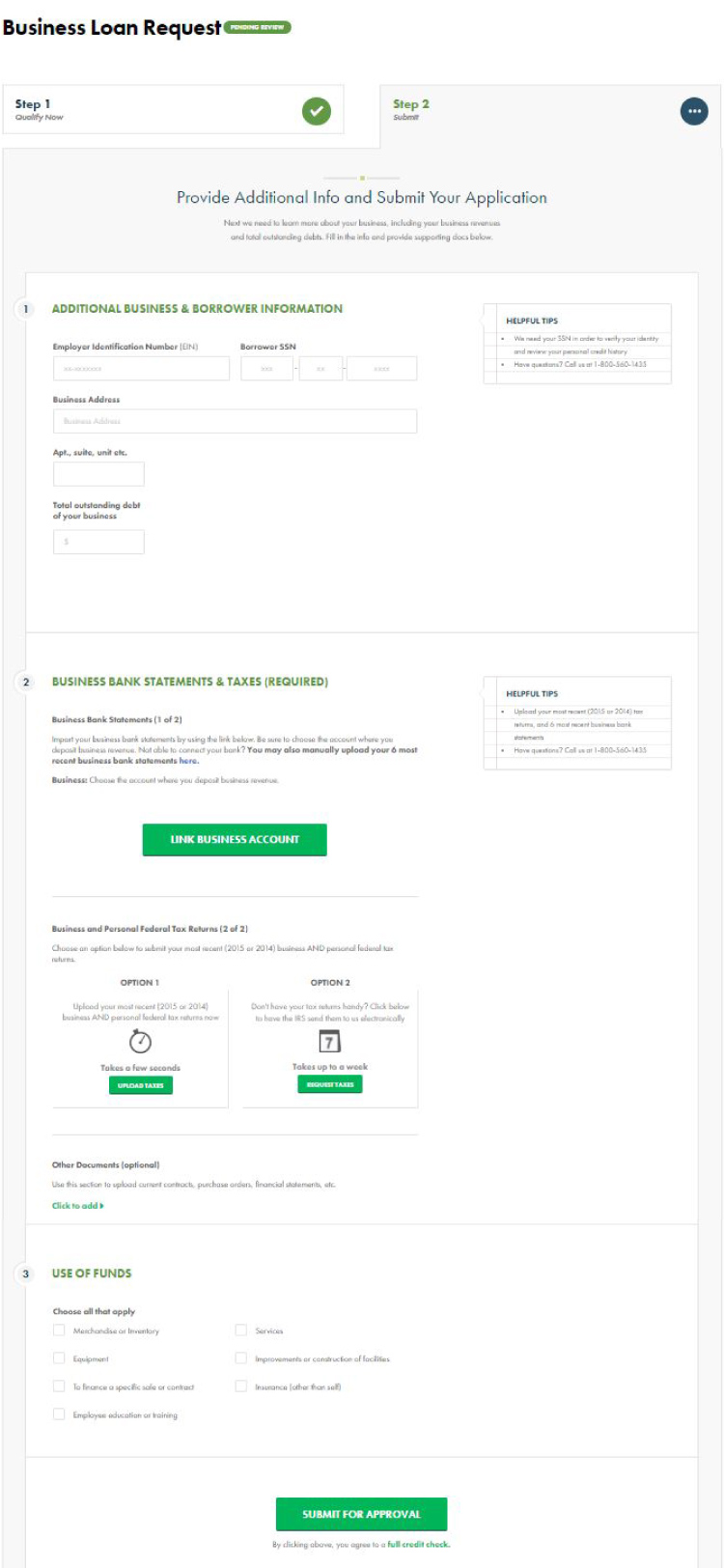 Bonus: StreetShares Veteran Small Business Awards
StreetShares recently announced the launch of a special award program open to veteran or active-duty business owners and spouses of military members or veterans. Each month, the StreetShares Foundation selects five to 10 finalists for a public vote, the final three will be awarded $5,000 for first place, $3,000 for second and $2,000 for third.To qualify for the award, business owners must take advantage of StreetShares educational resources, then submit a short summary and video showcasing the company. Read more about this program here.
The Verdict
The Streetshares Simple Term Loan and Patriot Express Line of Credit could be a good option for you if:
Your company is established and growing.
You need <$100,000.
You need the funds quickly.
StreetShares' Contract Financing is a good option if:
You are a prime government contractor or a Fortune 500 subcontractor.
You have current or upcoming contracts/invoices.
You like to receive funding options all in one place: loans, lines of credit, and contract financing. Established business with excellent credit and can wait longer for funds may want to consider less expensive options, such as an SBA or bank loan, which will require more time and effort but offer more flexible repayment terms at a lower cost. However, given StreetShares' quick funding and no-prepayment penalties, StreetShares is an ideal option as an SBA bridge solution. Before you choose a lender, make sure it's the right fit. Nav shows you the likelihood you'll qualify for different term loan and lines of credit providers before you even start an application. Sign up for a free account to see your likelihood of approval for StreetShares and other financing options.
This article was originally written on June 6, 2019 and updated on September 9, 2022.
Rate This Article