Each week, Nav brings you relevant news to from across the web to small business owners that we hope you find interesting!
What's Hot
Don't Have a Credit History? It Just Got a Lot Easier to Build One
Just yesterday FICO announced the launch of an alternative personal credit score, titled FICO Score XD. This new score will adopt a principle that many alternative lenders have already adopted to start evaluating applicants — it will use "public records, as well as a consumer's phone, cable and utility payment history to devise a number on the same 300-850 scale used for the standard FICO scores."
Many small business and personal loan lenders have already turned to alternative data, such as monthly cash flow, social media, and more. It will be interesting to see where FICO goes from here and how the Score XD comes into play.
11 top small-business owners give tips for success
See what these 11 amazing small business owners have to say about managing employees, dealing with the ebbs and flows of business, and handling customer relationships.
Next week is National Small Business Week, a week-long celebration held by the SBA to celebrate small business and entrepreneurship. Check out this killer list of events — many are available online, and some may be in your neighborhood!
Speaking of small business week, Staples is celebrating with the Make More Happen Contest, a contest that will award grants to businesses who are "making more happen." To enter and find more details, check here.
Top Tweet
Chris Guillebeau is a great Twitter follow because his feed is filled with advice on making your business dreams come true, and creating a business that runs successfully without running you. He is also author of Born for This and The New York Times' bestseller The $100 Startup.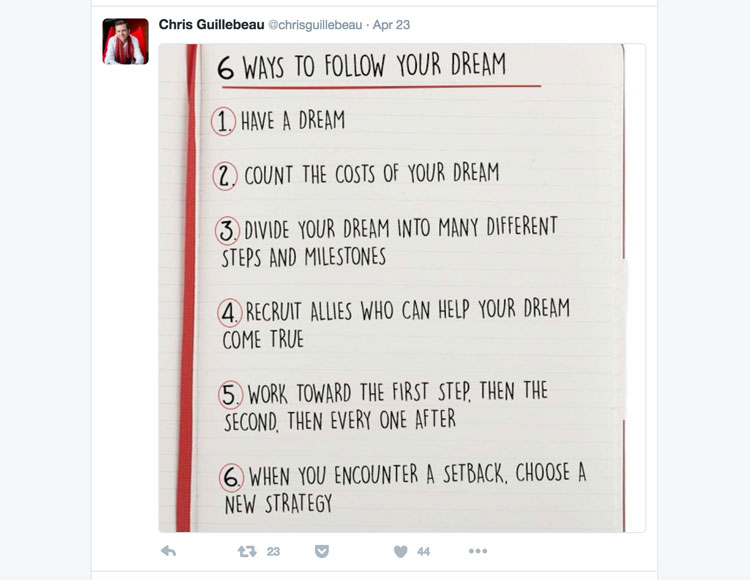 Business Spotlight
Plastiq is a new app launched last week that allows you to pay any bill with your credit or debit card just by snapping a photo of the bill. After you capture a photo of the bill, choose to take care of it now, or pay it later and Plastiq will notify you before the due date that you have a bill to pay.
Rate This Article